Airline Digital Cabin Talks: The Importance of Innovation, the 'Negative Space', and Collaboration
Henry Harteveldt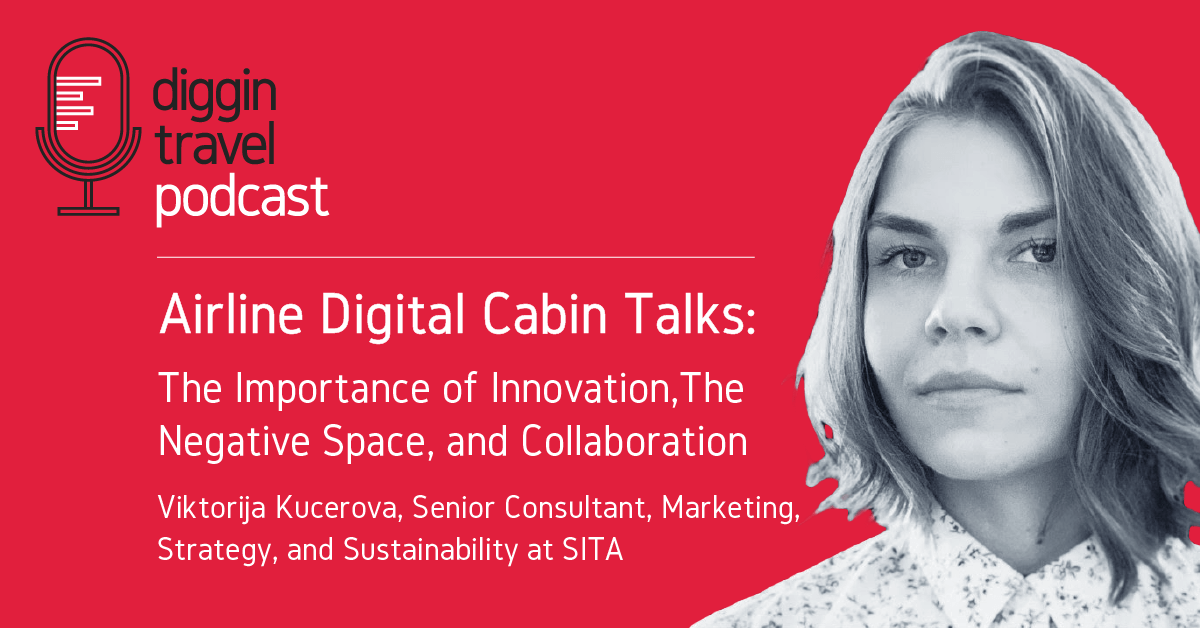 Welcome to the third episode of the Airline Digital Cabin Talks, sponsored by SITA CrewTab. We're pleased to have Viktorija Kucerova, Senior Consultant, Marketing, Strategy, and Sustainability at SITA, as our guest for our third conversation.
For this podcast, Iztok and I decided to make a slight adjustment to our format. Unlike our first two podcasts, where we brought you two great guests with tons of airline retailing experience, this episode is an interactive conversation about the key learnings so far and important trends for the future.
Airline Digital Cabin Talks – A chat about airline onboard retailing with Viktorija Kucerova, Henry Harteveldt, and Iztok Franko
Listen to the new episode of the Diggintravel Airline Digital Cabin Talks Podcast about airline digital and onboard retailing via the audio player below, or read on for key highlights from our talk:

Remember to also subscribe to the Diggintravel Podcast in your preferred podcast app to stay on top of airline digital product, analytics, innovation, and other trends!
The Importance of Product Development, Testing, and Innovation
The focus for these podcasts is airline digital retailing, with a particular emphasis on ways to incorporate digital retailing more effectively into the onboard experience. Henry opened our conversation with this observation:
One thing I would say has impressed me is both of our two guests have worked for airlines that have really, really pushed forward with not just the ancillary marketing at the point of first reservation on the website but thinking through steps to take with the onboard experience. Also, post-booking ancillary marketing and sales opportunities. I think both of these areas – the post-booking and the onboard experience – are very ripe for further development, testing, and innovation.

What I also like is that we are looking at companies that are using elements of technology such as artificial intelligence and data analytics and more to refine all aspects of what they do, both on the plane and off the plane. Airlines don't always get the credit they deserve, and I think that these two guests certainly have great experience and showed examples of some airlines that are really trying to be, and are being, pioneers.
In our interview with James Lee Barrett, he shared that VivaAerobus began working with elements of AI starting in 2015 as part of its digital commerce efforts, making the airline a pioneer in the use of this technology in digital retailing. Iztok built on our discussion about this:
Lee talked about [being] one of the early adopters of AI more on the ecommerce front, where they're experimenting with and testing ancillary flows, calculations for different propensity for different people. These are maybe some of the concepts we can then apply to other touchpoints – like you said, onboard, post-booking. I think with Lee, we talked about airport a little bit.

What I liked from my side was also this contrast – I think especially Emilio worked both for traditional airlines and low-cost airlines, and this different mindset, change of mindset. At least, I see this with my digital analysis on the websites: how low-cost airlines have a digital-first mindset and they really do things differently. I think it's reflected even more in the onboarding and retailing focus for the low-cost airlines compared to the traditional airlines. In both worlds, both in digital and ecommerce and in onboard retailing, I think the traditional airlines are trying to catch up.
The Importance of Making the Passenger's Journey as Unique as Possible
We then turned the discussion over to Viktorija. A key area Viktorija focused on was the need for airlines to find the value they offer to their travelers once aboard their flights – and how that value will vary from one traveler to another, increasing the importance of airlines having and using addressable data to, if not personalize the experience, somehow make it noticeably more relevant to each passenger, as she observed, "Make sure that [the passenger's] journey is as unique as possible." She continued:
The common theme between our conversations with [James Lee Barrett and our first podcast guest, Emilio Chacon Monsant] was how you capture a customer onboard. The customer goes through so many stages before they even reach boarding. They've already come through the airport. They've experienced all the things you can experience at the airport. They've engaged with so many stakeholders there. Now they finally arrive onboard, and what do you do? How do you highlight, even for the short-haul market, that this 1- to 2-hour flight is the key to capturing their attention?

One theme that stood out to me – neither mentioned it, but how I saw it is that what we're all trying to do is find the value that we all can bring to a passenger. Passengers would like to have a different perspective of what is amazing for them, but what we're trying to do is give it to them, make sure that their journey is as unique as possible. Emilio and Lee mentioned data many, many times. But what do we do to make sure that we translate it in a unique value for the passengers in-flight, during the stage where they've come through the airport, they've boarded the cabin, and they're flying? What happens then? This is, I think, what we need to understand to make things different for every single passenger on the flight.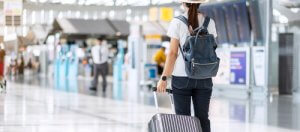 The Importance of the 'Negative Space'
Viktorija's comment prompted Henry to respond with a point about airlines needing to focus on the "negative space," looking at not only what their passengers buy, but also at what they do not purchase. In any kind of retail, it's important to understand what customers want and don't want – and why. Too few airlines, unfortunately, appear to do this, especially with their onboard experiences and retailing, potentially missing out on additional sales and revenue. In our first podcast with Emilio, we discussed the opportunities that selling bundles brings to airlines. And while that conversation focused on food and beverages, an airline could, in theory, use its various data sources to bundle almost anything it believes a passenger would value and pay for that the airline can credibly deliver.
Iztok continued by pointing out how the cabin is often a "digital black hole," a part of the journey where too often transactional data is not associated with a passenger and that traveler's purchase history with the airline. As a result, passenger profitability and lifetime value (LTV) calculations are inevitably understated. This undermines an airline's ability to be a more effective retailer. For example, if an airline knew a passenger routinely spends a lot of money purchasing onboard services and amenities, such as pre-reserved seats, in-flight Wi-Fi, and in-flight meals and beverages, it might choose to offer that passenger either a dynamically discounted lower base fare with a customized marketing message ("Thanks for being such a good customer; we're taking $5 off your fare if you book within the next 30 minutes") or a dynamically-created bundle that incorporates the base fare and key onboard services at a special price ("Book your flight, seat, Wi-Fi pass, and meal/beverage vouchers within the next 15 minutes and we'll take $5 off the total price").
The Importance of Focusing on the Cabin Experience and Cabin Crew
It was at this point Viktorija reminded us that airlines are in "extreme recovery" from the financial damage that the COVID pandemic inflicted on the industry. As a long-time provider of technology solutions to airlines, helping airlines generate revenue – something that is especially critical now – is where SITA has always focused its attention. Viktorija also discussed how the role of cabin crew and the cabin crew workgroup itself is often overlooked by airline management as they develop airline digital retailing strategies and programs.
What we know is that the cabin crew is not really attached to the whole scheme of events. The cabin crew is once again this black gap in the middle of everybody. There are people on the ground who are preparing the flight; there are people looking at the flight when it flies; there are people at the airport who are looking at the flights and airlines. But when it comes to the cabin crew, it's not a big scheme of events. It's not considered this influential moment because the passengers are already there. They already arrived, they're already seated, and this already happened. They're already going from A to B. That's it. There's not much to do.

But what we're trying to do is educate that that's not the thing. Your cabin crew translate into so many things. How do you put the value in your lifetime customer? How do you measure that? If somebody liked flying with you the first time and they come a second time and they become a lifetime customer, how do you measure that? This is what we specialize in.
Let's focus for a moment on how the cabin experience is too often not considered an "influential moment" and how cabin crew are often left out of the digital retailing equation. Where is most of the passenger's time spent with the airline? On the plane, of course. Hence, it is frustrating to see the many marketing, customer experience, and digital oversights that exist. Atmosphere's research of airline passengers in 12 countries shows that 40% or more of a leisure passenger's satisfaction with their flight is related to the on-board experience. It's even higher for business passengers and premium leisure passengers.
The Importance of Cabin Crew Digitization
Cabin crew digitization would, of course, enable airlines to meet, and perhaps exceed, passenger expectations. Unfortunately, our group agreed that cabin crew digitization is probably not a priority for airlines right now. Few airlines today will want to change – or possibly disrupt – their operations if they don't believe the financial gains are compelling enough. As Viktorija noted:
Everybody's got a different style of operation. Everybody's running their crew differently, everybody's selling different stuff, everybody's buying different stuff, everybody is offering their passengers different stuff. The complexity just goes on and on and on. It's an exponential explosion of different possibilities that you can account for. Understanding the role of the cabin crew is way beyond in the moment, being there for the passenger just in-flight. The interactions they will have with the passenger will impact many things, from the ground to the post-flight to how the passenger saw the experience overall to how the airline is operating.

This I think is the thing we start with: How well is an airline aware of the impact the cabin crew is having when they're in-flight and interacting with their passengers? Do they understand that it's a massive decision-maker post-flight? Do they understand that they bring value beyond any operational stuff? Do they understand the passengers will be retained and will stay with them after a successful interaction, and that this value will translate into overall success and brand recognition and word-of-mouth and will cascade down into more value that they can put down as ROI?

This is [another] point I wanted to bring you: the ROI. How do you express the cabin crew interaction with passengers in monetary volume? Every single decision, every single investment needs to be made with the fact and with the considerations that it's going to be returned in very good value.
Iztok observed that this is where, why, and how effective retailing helps:
What you're talking about in terms of customer satisfaction, customer retention, lifetime value – I've worked in digital marketing for a long time, and I know these calculations are not so straightforward, not so simple. And I'm not saying you shouldn't do it. Of course you should. But it's a lot of time. It's also a long-term investment.

But when we are talking onboard retailing or retailing in general, if you can prove, "We increased the retailing by X amount in a short amount of time." I think this can help with ROI.
Iztok makes a very good point here. Smart retailing is about having all the items your customers know they want as well as a critical mass of the items that they don't know they want but would like to have. You've got to be able to sell it and make money on it. Granted, the logistics and complexities of doing this at an airline, especially aboard an aircraft, are very different than in a store. Compromises will understandably need to be made. Henry continued with an observation about the complexities of determining the ROI:
Whether it's an advance seat reservation, priority boarding, Wi-Fi, seat upgrade – whatever it is that's associated with the onboard experience, you also have to look at the larger ROI: Does the passenger feel they're getting good value from the airline (the airline is offering the services and amenities whether it's included in a fare or sold as extra) that distinguish the airline, that make the airline tangibly better and more relevant to that customer, so that ultimately when that customer is shopping, price isn't necessarily the most important thing, even for a budget airline?

The customer says, "I know when I fly this airline, yes, I'm getting a good fare, and yes, they fly me from the airport between points A and B I'm traveling to that day" – but there are these other matters, both very rational and some emotional, that come together, and the traveler says, 'Aha, yes, this is why I prefer this airline over others and why I will give it more of my business and maybe even pay a premium relative to the average customer on that airline or to other airlines that are in the market.
The Importance of Collaboration
We concluded with an excellent assessment from Viktorija:
One of the values [SITA] stands for is helping airlines with collaboration. Airlines are extremely different in the way they operate. Some of them have a Chief Digital Officer…who looks at all the tools, all the data, all the amazing digital things an airline can do to make sure they succeed. Some don't. In our attempts to communicate, we're trying to bring the collaboration aspect to [the cabin]. We're trying to highlight, coming back to the cabin crew – if you give digitalization to the cabin crew, it not only digitalizes the cabin crew, [the data] also goes to the [managers] at your airline. Think about all the reports that are being produced, all the passenger information that's being generated. All of a sudden [that information] becomes digital and can be directed to anybody who is involved.

We have to make sure people understand that digitalization of the cabin crew translates into digitalization of many parts of different airline departments. This is the thing that we're trying to break. You don't have to look at your part of the organization in a siloed way. Digitalization can bring many people and many stakeholders together.
Do You Want to Listen to More Airline Digital Talks?
If you want to learn from airline leaders about airline onboard retailing, ecommerce, digital marketing and ancillary revenue, or if you want to be the first to know when our next Airline Digital Talk will be published, please:

Henry Harteveldt
Henry Harteveldt is a well-respected travel industry analyst and President of Atmosphere Research Group, an independent strategic travel industry marketing research and advisory firm. Prior to starting Atmosphere, Henry ran Forrester Research's global travel industry research. Henry's airline industry experience includes various Marketing roles at Continental, TWA, and American. To learn more about Henry's research, you can either email him (henry@atmosphereresearch.com) or get in touch via LinkedIn.