Airline Digital Retailing Talks: Insights for Ancillary Revenue and Airline Onboard Retailing
Henry Harteveldt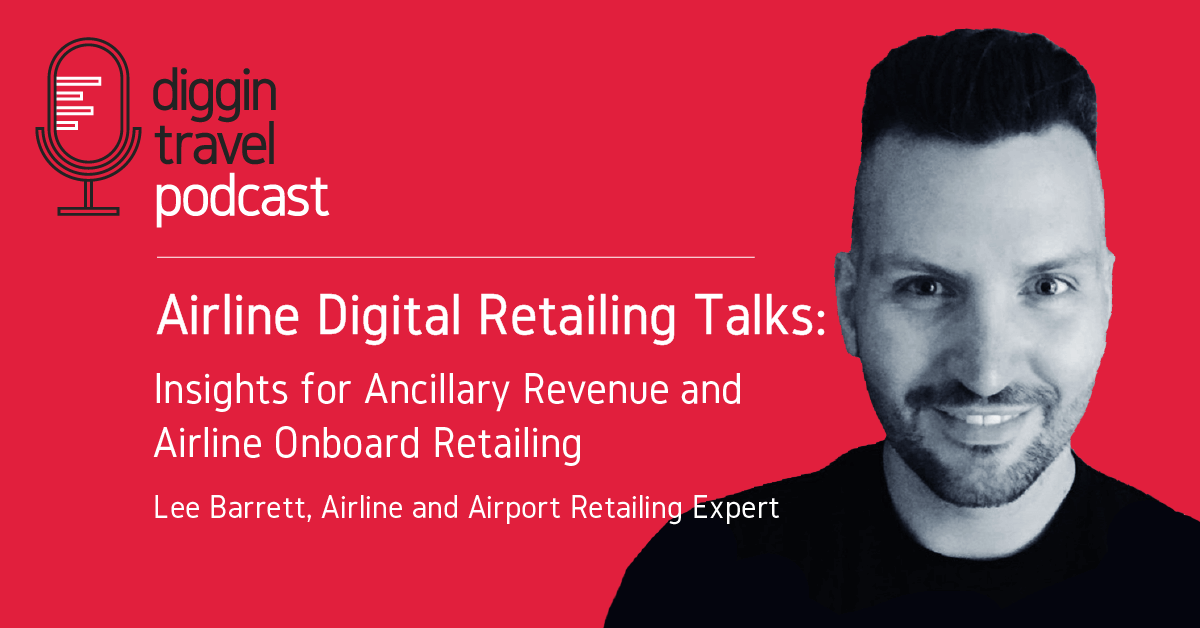 Welcome to our second Airline Digital Cabin Talk interview, where we bring you insights from airline ecommerce and ancillary leaders.
In the latest edition, Iztok and I had the great pleasure to speak with James Lee Barrett. Lee's impressive airline career includes roles in Cabin Crew Development and Performance and Development Management at Air New Zealand at its head office in Auckland, Head of Customer Service at Jetstar in Tokyo, Director of Ancillary Revenue at Viva Aerobus in Mexico City, and Director of Customer Experience and Ancillary Revenue for LEVEL in London. Lee is currently the "Future of Check-In" Program Manager at Auckland Airport. His extensive mix of operational roles – including working with cabin crew – and business roles provided the right mix for a lively, fascinating conversation.
Airline onboard retailing spans so much of the passenger experience. It includes pre-allocated seat reservations, seat and cabin upgrades, carry-on luggage (for some LCCs and ULCCs), in-flight Wi-Fi, food and beverage and, on some international routes, onboard duty-free merchandise sales.
Airline Digital Cabin Talks – A chat about airline onboard retailing with Lee Barrett, airline ecommerce and ancillary expert
Listen to the new episode of the Diggintravel Airline Digital Cabin Talks Podcast about airline onboard retailing via the audio player below, or read on for key highlights from our talk with Lee:
Remember to also subscribe to the Diggintravel Podcast in your preferred podcast app to stay on top of airline digital product, analytics, innovation, and other trends!
Operational Experience as the Foundation for Commercial Success
We started our conversation with Lee by asking him to share some of his professional experiences. As he did, Lee made an important point about the value of airline managers having both operational and commercial experience:
My career history has been a bit of a combination of interest and luck. I started off working in the operational side of the airline, and that's how I entered the aviation business. I was really passionate about the customer. I think that's where it all began, having to see how the operation worked and how all of the work that was done from the inside of the airline translated to moving people from one place to another, to the service experience, and to all the benefits and interactions we had with customers.

I think it's hard sometimes to see how that translates when you're sitting in an office paying accounts or working on a development for the website, how it actually all comes together to facilitate the customer experience and the endpoint. So I started on the reverse side. I started doing that and seeing all the challenges in the airline from that point of view, and I got interested in different projects and different ideas and worked my way through different areas in the organization."

It was at Viva Aerobus where Lee moved from operational roles into commercial. Doing so clearly had an impact. Lee said his role at Viva provided him with "a taste for how the airline actually makes money and how difficult it is, how many challenges there are in turning a profit in an airline. Huge amounts of money move through airlines, but very little of it actually ends up in the bank [or] in the pockets of the investors.
Leveraging Artificial Intelligence to Increase Airline Ancillary Revenue
When you spend 12 years in various roles at four different airlines, including both full-service carriers and LCCs, you have your share of successes – as well as some things that may not have gone quite the way you'd hoped. Lee shared:
The biggest success we had was transforming the ancillary business at Viva to put artificial intelligence and machine learning at the center of what we were doing.

Using digital, AI and machine learning to be able to create new levers for pricing where [the digital team] could use the digital journey from the passenger to understand their behavior and understand the propensity for spend and then adjust pricing and product recommendations in line with what their expectations would be, higher conversion rate, happier customer, better product matching, less noise in the transaction – that was a lever which led to exponential growth in ancillaries and drove us over the 50% percentage of ancillary revenue as a total. That's next level, really. That's phenomenal.
Viva's use of AI and machine learning began in 2015, making it one of the earlier adopters of this technology, and giving it genuine credibility as an innovator. As Lee and his colleagues did more work using AI/ML, their effectiveness increased. Lee was able to use data to refine Viva's ancillary product mix to better suit its customers, work that continues today at the airline – a lasting legacy of success all managers hope to see.
The Challenge with Airline Onboard Retailing
But it wasn't all sunshine and happiness. One of the greatest challenges Lee faced was cracking the onboard experience.
We did a lot of work around retail onboard, but it's a very challenging space. And until you have the resources, the connectivity onboard, until you have the right partnerships – there needed to be a big change. Until you're working with your own devices, BYODs, connectivity, using data behind it to drive improvements, it's very hard to be successful as an onboard retailer. We struggled in Japan with onboard retail. We struggled in Europe with onboard retail. Mexico, we did okay, but again, because we didn't have the connectivity onboard, it was a very old model. It was tricky.

I think there was huge opportunity just in sheer volume if we got it right. If we got the process right, we understood what the customers were looking for, if we made the purchase process seamless, if it was integrated into the airline's app, if we were focused on how we delivered it, we could make some really good money on a volume basis across onboard retail.

If you've got a way to track the passenger's interactions, you've got a way to measure and understand them, and then you can build propensity models and compare that to other passenger behavior and you get your predictors. It's just historically never been digital; it's always been a manual transaction, and you've never had a way to assign behavior to an individual. We could get some data – sectors, you could see what sales looked like on a particular flight and you could compare that across a period of time. But you couldn't get really sophisticated data to be able to make really sophisticated decisions.

Airline Onboard Retailing Requires Empowered Cabin Crew
This, we believe, identifies the crux of effective airline onboard retailing. Lee, who began his career as cabin crew, discussed the importance of people, culture, and technology intersecting in the right way for this to be effective. Hiring the right people as cabin crew, giving them the right training and tools, and ensuring they have the right products to sell – and adequate inventory – are all essential for successful onboard retailing. At the core of this is equipping cabin crew with digital devices that track onboard sales by flight segment – ideally with the ability to associate each transaction with an individual passenger, and with the ability for the sales data to feed into that passenger's purchase history with the airline. Lee shared something that was a routine source of frustration at one airline where he worked:
The crew would tell me they'd have a four or five sector day, and by the second sector they'd sold out of two or three critical products that customers constantly ask for. So then they were stuck in this situation which was embarrassing, saying, 'I'm sorry, we don't have any.' Customers would get upset. And the crew took the view that the company had put them in that position because we just weren't good enough at getting those numbers right.
As we began to wrap up our conversation with Lee, we turned to collaboration between various teams. Who, besides onboard service and catering, should work on this? Lee believes in casting a wide net – a net that includes airline management, cabin crew, workers from various departments with an interest in digital and retailing (because they will inevitably use some of the airline's digital tools and buy items onboard) and – yes – passengers.
I'm a big fan of collaboration. I think that's the key for success. Collaboration…can feel like an endless consultative process, and sometimes the learning you get from that collaboration can feel very insignificant. It's the importance of recognizing that even small learnings can translate to big differences in what you're doing.

I'm a fan of getting as many people in the room as possible, not just from marketing – from the crew representation, passengers themselves, around the table. If you have trusted networks of passengers that you've used before for different things, focus groups that are familiar with the way of providing feedback or are willing to do it, that's always great.
Airline onboard retailing remains perhaps the last frontier for airline retailing. It offers enormous potential. The revenue opportunity is only part of this picture. Intelligent, creative, and effective onboard retailing can help reinforce your airline's value proposition, distinguish your airline from its competitors, contribute to passenger satisfaction, and potentially contribute to passenger loyalty.
Do You Want to Listen to More Airline Digital Cabin Talks?
If you want to learn from leaders like Lee about airline onboard retailing, ecommerce, and ancillary revenue, or if you want to be the first to know when our next Airline Digital Talk will be published, please:

Henry Harteveldt
Henry Harteveldt is a well-respected travel industry analyst and President of Atmosphere Research Group, an independent strategic travel industry marketing research and advisory firm. Prior to starting Atmosphere, Henry ran Forrester Research's global travel industry research. Henry's airline industry experience includes various Marketing roles at Continental, TWA, and American. To learn more about Henry's research, you can either email him (henry@atmosphereresearch.com) or get in touch via LinkedIn.