How to Do Shopping Cart Abandonment Emails in Travel: RESEARCH INTO 40 REAL CASES
Iztok Franko

#analysis and examples of shopping cart abandonment emails from 20 airlines, 10 hotels & OTAs and 10 rent-a-car businesses (see the full list of the reviewed websites at the end of the article).
Why should you do shopping cart abandonment emails for your travel business? Do these emails really work? How are the travel industry leaders using shopping cart abandonment emails in practice, and what can you learn from them? What are general best practices that you can apply to your travel business?
Let's take a look and try to answer the above questions through the analysis of real-life cases and proven concepts.
Quick glance at the content:
#1 Shopping Cart Abandonment in the Travel Industry (Statistics and Trends)
#2 Analysis Across the Travel Industry (In-depth Analysis and Real Examples)
#3 Tips and Guidelines for Your Shopping Cart Abandonment Campaigns
#1 – Shopping Cart Abandonment in the Travel Industry (Statistics and Trends)
If you are in the travel business, you know how competitive it is and how difficult it can be to acquire new visitors to your website. Your cost-per-click rates for search campaigns are constantly increasing and your competitors are producing more content about destinations than ever. Additionally, they are creating blogs, building social media and reaching out to travel influencers, which means the SEO battle for organic traffic is harder than ever.
Furtheremore travel metasearch landscape is becoming more uncertain with consolidation and OTA (online travel agencies) take-overs.
NOTE: You can read more about customer acquisition strategies here.
So, once you convince the user to come to your website the battle should be half won…But is it really?
Conversion rates in the travel industry
According to Smart Insights, the travel industry has below-average conversion rates:
The average conversion rate for the travel & hospitality was 2.4% compared to 2.6% for the retail.
Qubit report shows even higher differences: their travel clients see an average conversion rate of 0.75%, whereas retail sees an average of 5.29%.
From my personal experience, this difference is a bit too drastic and the conversion rate for travel is too low. I've seen travel businesses with conversion rates from 1% to 3%. For travel websites that rely heavily on affiliate metasearch traffic, conversion rates are a bit higher – above 4%.
So, the vast majority of your users will not convert. Actually, getting them into the shopping process (booking funnel) is already difficult.
And what happens when your users are in the booking funnel?
Shopping cart abandonment rates in the travel industry
Similarly to overall conversion rates, the travel industry has one of the highest shopping cart abandonment rates. Both Boxever and SaleCycle reports show:
Shopping cart abandonment rates for the travel industry are at around 80%, while abandonment rates for retail and other industries were in the 68% – 74% range.
However, the rate of shopping cart abandonment may vary depending on the type of your travel business and your traffic sources. The same Boxever report shows:
OTAs have the highest abandonment rates (89%), followed by airlines (79%), while hotels, cruises and car rentals abandonment rates are in the 70% range.
 You can find more shopping cart abandonment statistics here.
Reasons for high shopping cart abandonment in the travel industry
There is some logic to why shopping cart abandonment rates are higher in travel than in retail or other industries. First, the average order value in travel is higher, so your travel users will take more time and be more cautious.
Second, comparison shopping is very popular in the travel industry. Everybody wants to find the best possible deal, and we use many different ways to find it. Metasearch providers, online travel agencies (OTAs), user review sites, social media groups and forums are just some of the sources your users check before making the final booking. According to Expedia research:
Package travel bookers make 38 websites visits to travel sites made before booking.
Are shopping cart abandonment emails the answer to increasing conversion rate?
The simple answer is yes, shopping cart abandonment emails will increase your conversion rate. The caveat here is, they will increase conversion rates if you do them in a smart way with a proper framework and within your ecommerce and user experience website strategy.
Let's look at some stats from Econsultancy that will convince you that shopping cart abandonment emails are worth a try:
More than a tenth (11.61%) of cart abandonment emails are clicked.
Nearly half (44.1%) of all cart abandonment emails are opened.
Nearly a third (29.9%) of clicks lead to a purchase back on site.
The average order value (AOV) of purchases from basket abandonment emails is 14.2% higher than typical purchases.
From my experience and the travel business I've worked with, the above stats are feasible and can actually be higher with smart implementation of the shopping cart abandonment emails.
As you can see from the stats, average order values from shopping cart abandonment emails are usually higher than the average, and these emails have high conversion rates (from 15% to 20% on last-click direct metrics, and even higher on first click or post-view metrics).
#2 Analysis Across the Travel Industry (In-depth Analysis and Real Examples)
By now you are probably convinced that shopping cart abandonment emails are a gold mine and everybody in the travel industry is using them, right?
We analyzed the shopping cart abandonment email campaigns of the following websites:
20 airline websites
10 hotel and OTA websites
10 car rental websites
We performed a test booking process until the purchase phase and tested the following elements:
At what stage in the booking process is the email collected?
Are shopping cart abandonment emails sent?
Is remarketing used, and if so, what type of remarketing is used?
High-level results
Of the 20 tested airline websites, we received shopping cart abandonment emails from 7 airlines.
We didn't receive or find any shopping cart abandonment email examples from the test hotel bookings via hotel websites and OTA websites. Almost all hotels collect email information at the same stage as payment information, which makes shopping cart abandonment emails difficult.
Of the 10 tested rent-a-car websites, 1 sent us shopping cart abandonment emails. However, 3 car rental websites had a Save Quote functionality that allows the user to save search results and receive them via email.
Usage of remarketing display campaigns was higher in all three industries, although still not used by all.
The accuracy of the test results for remarketing is questionable, however, as it depends on the cookie data and other settings. Display remarketing was analyzed as complementary info in the cart abandonment process.
Shopping cart abandonment emails examples
In most cases, airlines collect email information at the 3rd step in the booking funnel – the passenger info step. Once the email is collected, if the user doesn't finish the booking, the airline can send the user booking abandonment emails.
Let's look at some examples of how travel websites use shopping cart abandonment emails in practice:
Virgin Atlantic – two-email sequence, plus a survey email
Virgin Atlantic is probably the best in its class among the airlines. They sent me two booking abandonment emails for my London Heathrow – New York, JFK flight. The first email was sent approximately one hour after booking, and the second abandonment email one day later.
I like the simple design and creative email subject lines and copywriting. Different subjects and copy were used for each email. Similarly, different destination photos were used in each email. They build urgency with the "Prices are likely to change" copy.
The call to action (CTA) button could be improved, though, as it is quite discreet on the desktop version (top right corner), and placed within the image on the mobile version, which is not optimal.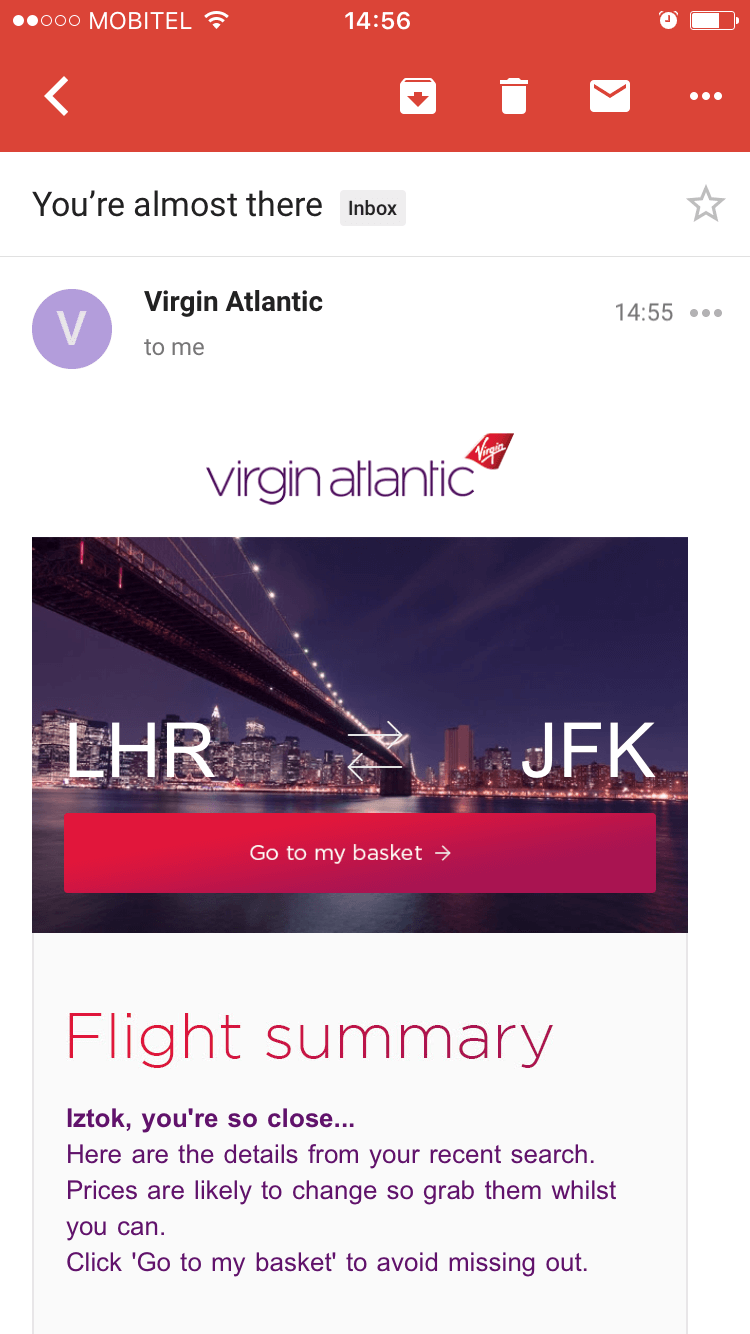 Furthermore, Virgin Atlantic sent me a third email on the date of my supposed flight departure, asking why I didn't book the flight with them.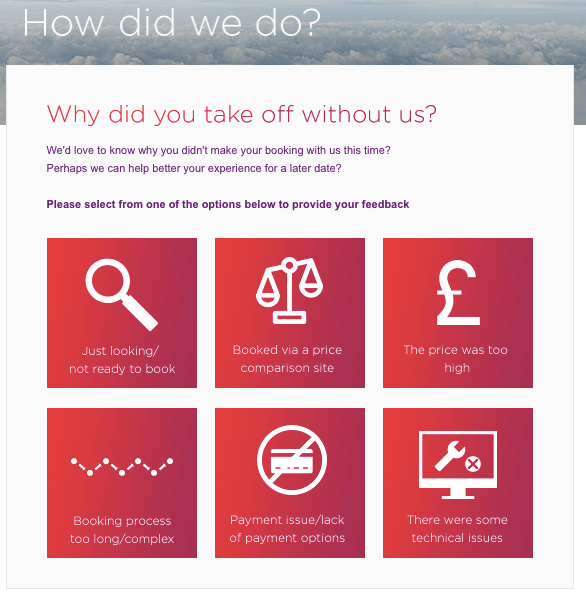 Understanding your users is extremely important for improving your website and increasing conversion rates. You can read more about how to understand your users better in this blog post.  
What I like about the Virgin Atlantic survey is that after my answer I was redirected to their website, customized with my searched (London) departure information.
TAP Portugal – two-email sequence
TAP Portugal also sent me two shopping cart abandonment emails for my Paris – Lisbon flights. The first email was sent a few minutes after the booking abandonment, and the second email one day later.
Both emails are clear and simple and look good on mobile as well. Different subjects and copy were used for each email.
The call to action buttons are repeated, so it is difficult for the user to miss them. Finally, they use urgency-building copy – "the flights you were looking at could fill up fast" – as well.
There was a slight issue with the emails' subject lines and my Gmail display, as a non-breaking space &nbsp HTML tag is displayed:

Brussels Airlines – one booking abandonment email
Brussels Airlines sent me one booking abandonment email. The email is clear and simple and looks good on mobile. The call to action button is not visible above the fold on my mobile (iPhone 6s, which has quite a big screen), but is displayed below the fold. No urgency or other copywriting elements were used in the email copy.
Alitalia – one booking abandonment email
Alitalia sent me one email for my Rome – London flight. Their booking abandonment email is clear and simple.
However, the email looks quite generic as there is no personalized copy in the email; there is only one basic line of copy. Additionally, the mobile display is not optimized. You can see that the call to action button is not displayed properly on mobile.
Flydubai – one booking abandonment email
Flydubai sent me one booking abandonment email for my flight to Belgrade. The email is simple, with a clear call to action. My selected destination image is used in the email.
Similarly to Alitalia, their email is quite generic (no name or other personal info is used).
They were the only case with a navigation path to their website in the email header itself, which I believe is a good practice.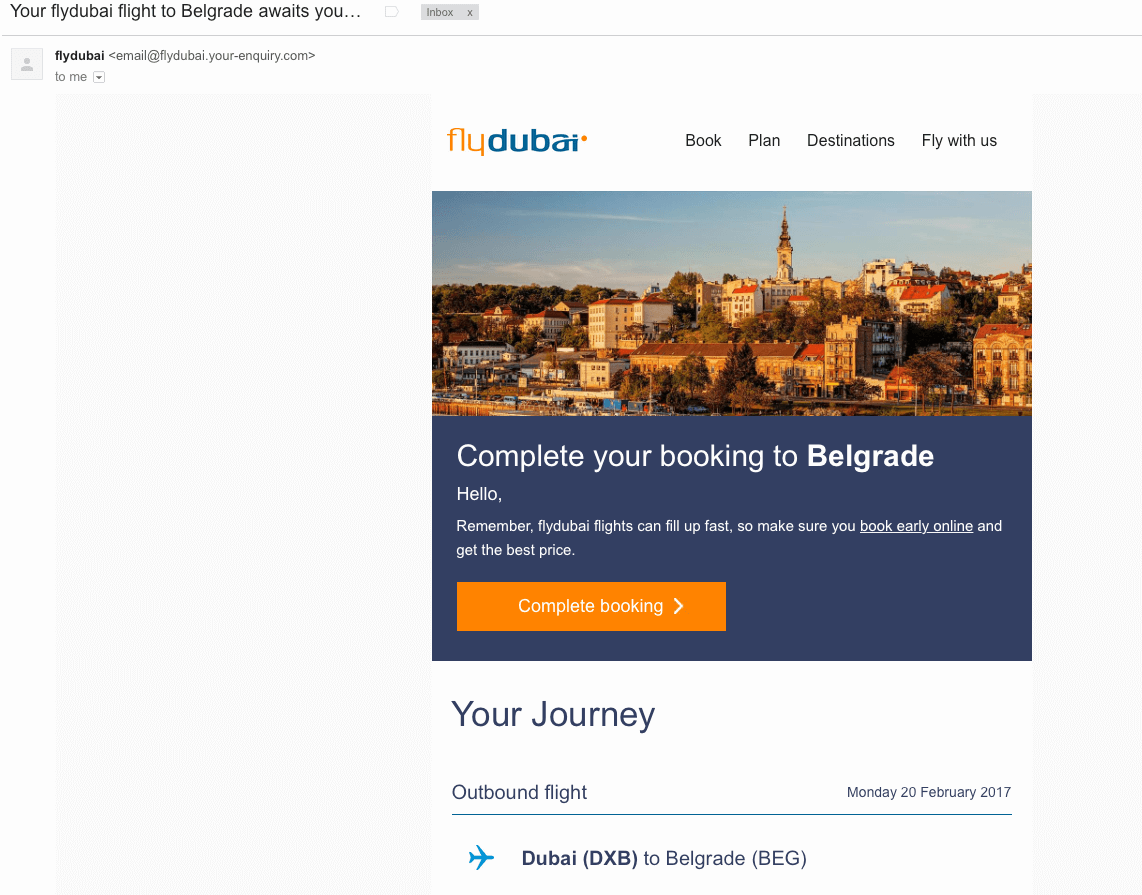 However, their problem with the non-breaking space and &nbsp HTML tag in the Gmail display is even more critical than TAP Portugal's:

JetBlue – reservation confirmation email
JetBlue sent me one booking abandonment email for my flight to Los Angeles. What is strange is they sent me an email saying that a payment was needed for my flight.
Some airlines' booking systems do automatic reservations once you come to a certain stage (usually payment) to hold prices and seats and give users time to process the payment. Most likely JetBlue's email reflects this process.
Personally, I found this email confusing as they ask the customer to call them to finalize (or cancel?) the reservation. The email doesn't have any call to action button or link for the user to complete the booking or even get more info.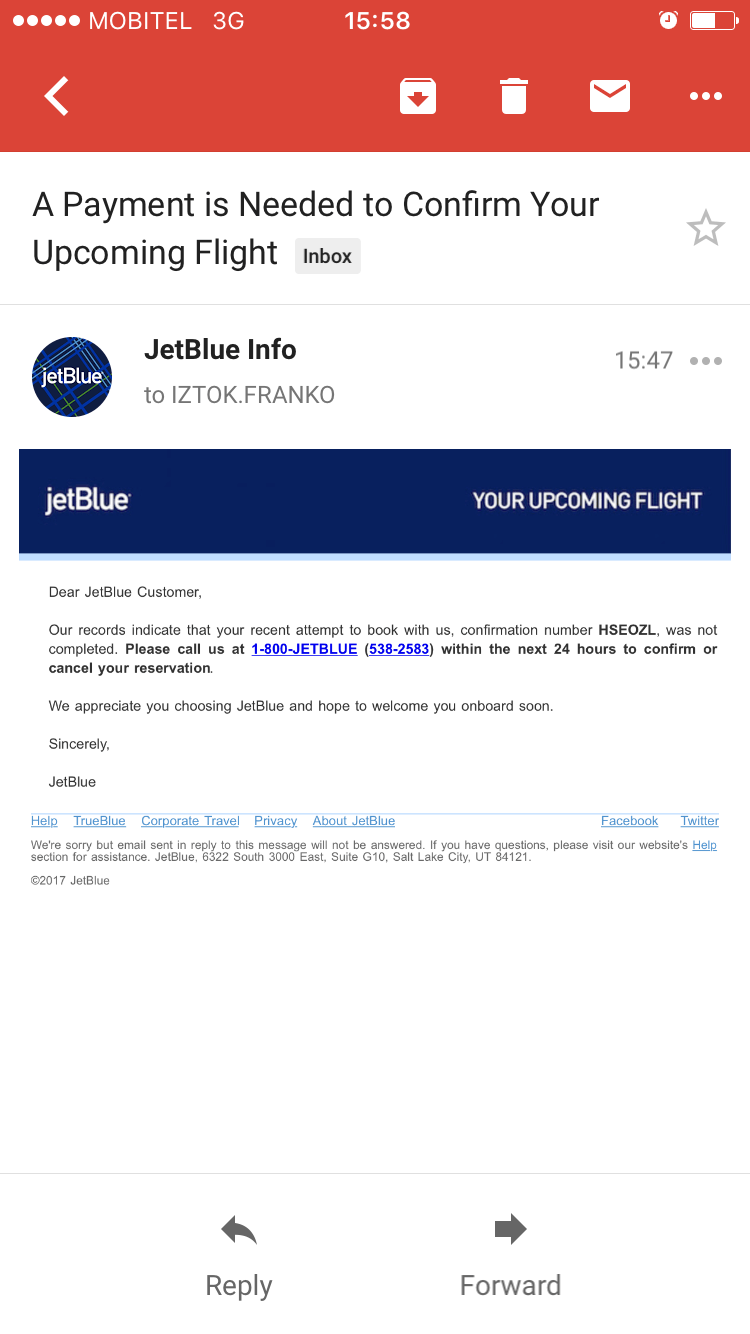 Air France – Time to Think option
Air France is using a different approach for booking abandonment with the so-called "Time to Think option." This gives you an option to save your price and seat for later. This is not a new invention, of course, and some other airlines are using it as well. Air France offered me a 5 GBP option for my flight to Paris, while booking on my desktop:

However, they offer this option for free for the mobile bookings. The time window is shorter (1 day for free mobile option, compared to 3 days for desktop), but I believe it is a very good abandonment mechanism. The "free" feature guarantees a much higher opt-in rate and identifies the people with a strong intent to book.
In addition, the "deadline" date is then used for urgency in the booking abandonment email.
Rentalcars.com – styled and non-formatted email sequence
Rentalcars.com is well known for their continuous testing and optimization of their website and ecommerce processes. Consequently, you can see this in their booking abandonment process, which is one of the best in the travel industry.
Similar to some other online car rental websites, they offer a "Save for later" feature on the first result page of the booking flow. This allows users to save the offer as a quote and receive it via email: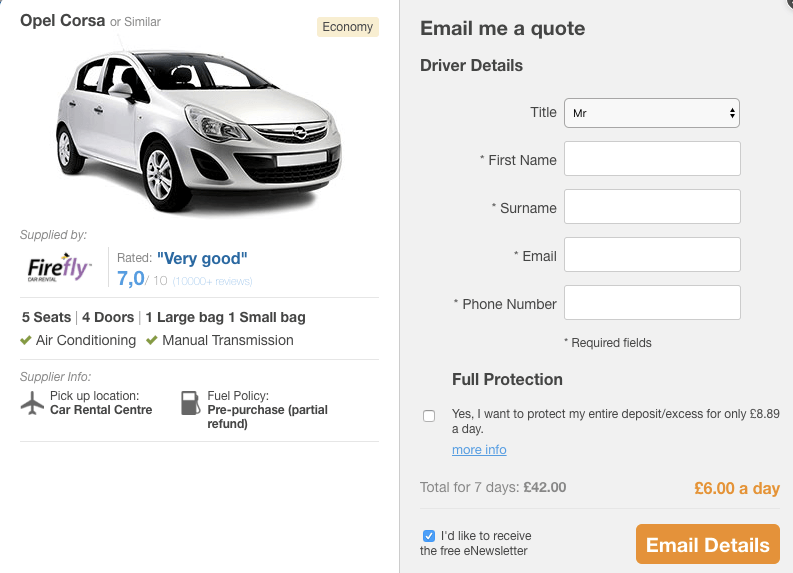 Users who select the "save quote" option show high purchase intent, which makes them the best targets for shopping cart abandonment emails. These are self-triggered actions, hence conversion rates from the abandonment emails are always higher.
However, rentalcars.com also sends two shopping cart abandonment emails for users who don't select the "Save for later" option, but instead reach the email collection phase (the 3rd step in the booking funnel).
The first abandonment email is sent a few minutes after the abandonment: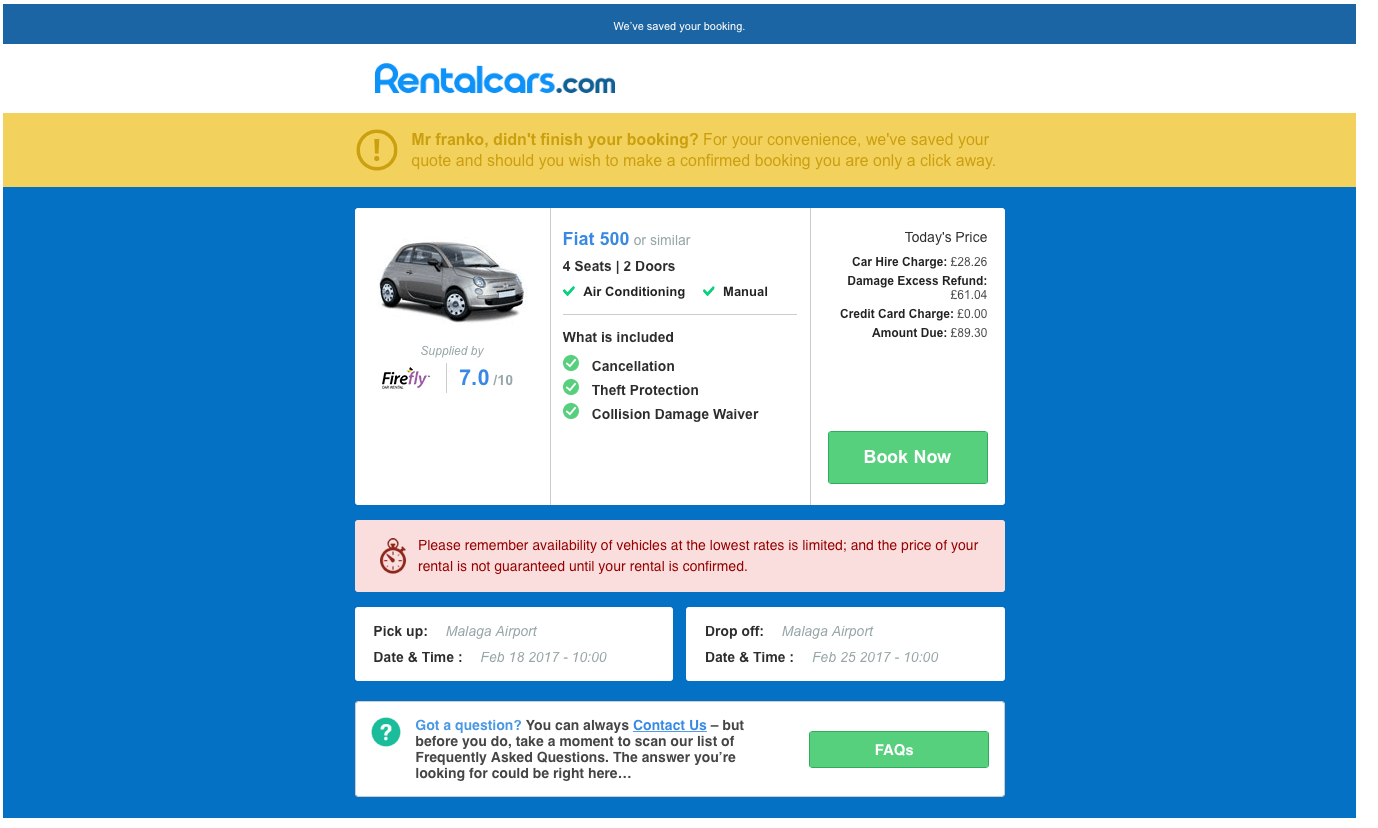 The second email was sent one day after the first email. This email was a non-formatted email, with the name of a real customer service person, and looks like a genuine email from their customer service: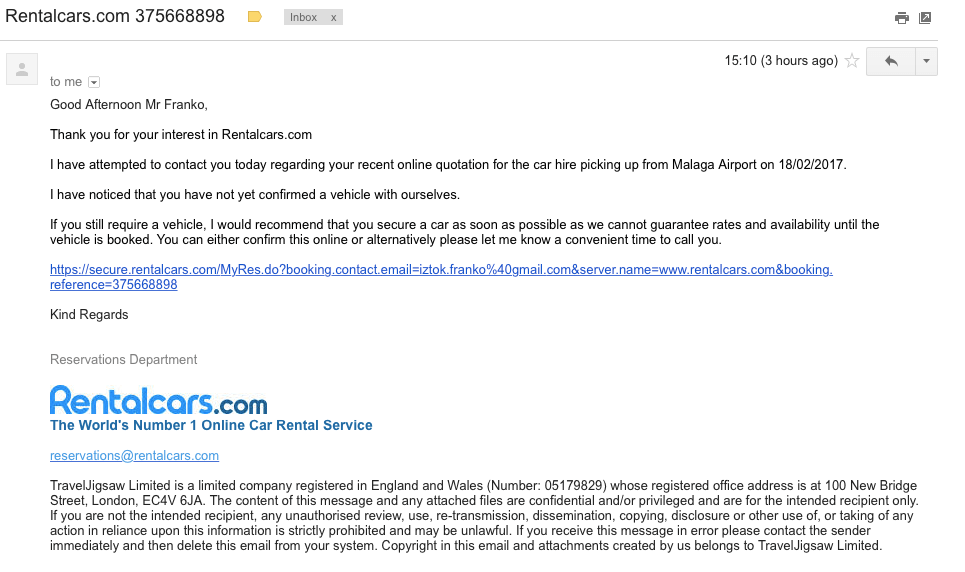 It is difficult to define which version (formatted or non-formatted) performs better. The idea here is to always test different timings and formats of the shopping cart abandonment emails.
Rentalcars.com – going beyond abandonment emails
In addition to the booking abandonment, Rentalcars.com used the data and integrated it in their other promotional activities. They used my search data for car in Malaga in their newsletter, which is very smart: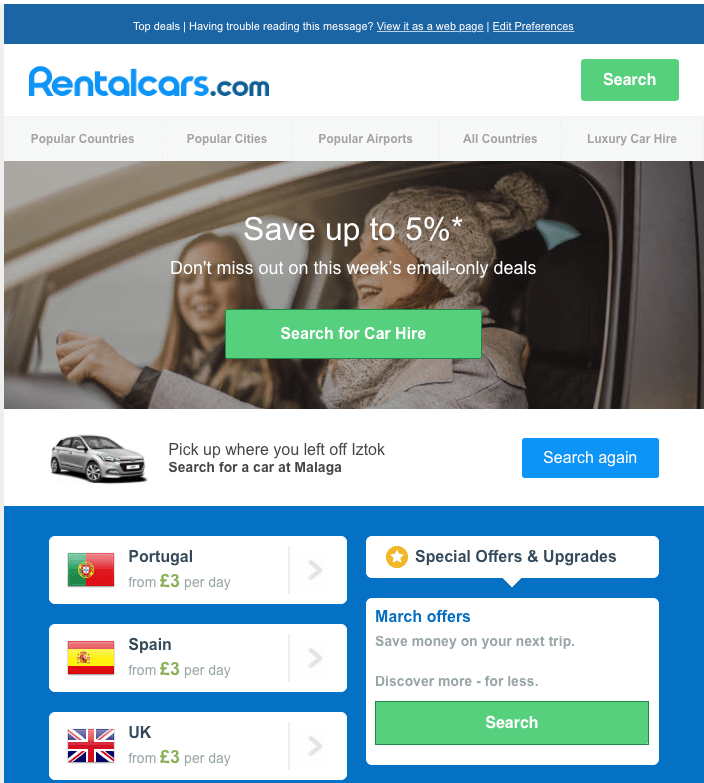 Display remarketing examples
The main focus of the analysis in this research was email shopping cart abandonment. Testing of the remarketing cannot be 100% accurate; however, what was evident is that remarketing is used more than shopping cart abandonment emails. This is logical as you don't need to collect emails for display remarketing.
If you want to do effective remarketing campaigns, they need to be dynamic and relevant to your users. Remarket to your users with offers based on user search selection and other data.
Trivago and Argus Carhire – examples of a good dynamic remarketing
Based on my search for hotels in Malaga, Trivago did Facebook remarketing featuring Malaga hotels in my native Slovene language with the pricing information. Hotel pictures and rates are displayed in a carousel format via Facebook remarketing:
Similarly, Argus Car Hire remarketed based on my Malaga car rental search. Relevant location and price were displayed, although the visuals were static and a bit dull: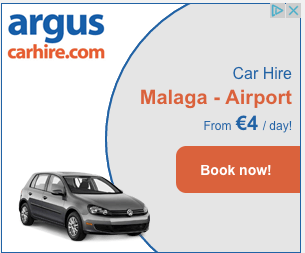 Avis – example of a static, irrelevant remarketing
Avis used static remarketing with a basic offer, although I searched for cars in Malaga. In addition, info about discounts for car rentals in the US and Canada was offered to me, although my location and searched location were both in Europe: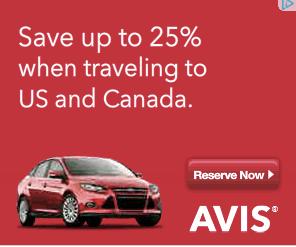 Hilton and Booking.com – remarketing gone wrong
Hilton's remarketing is an example of the wrong remarketing setup. I searched for hotels in Malaga on their website, but their remarketing showed me offers in other locations:

Booking.com showed me Malaga hotel offers, but in the wrong language (Russian):

#3 Tips and Guidelines for Your Shopping Cart Abandonment emails
If you do shopping cart abandonment emails and remarketing properly, you can increase conversion rates for your travel website. Your website users browse many websites and compare many offers, and proper abandonment emails can keep you "in the loop" during their decision process.
6  tips for effective shopping cart abandonment emails
1. Create s consolidated booking abandonment framework
This is the most important part of your booking abandonment process. Think about your booking funnel and map each step. Then define key touchpoints where you can collect information from your users and set triggers for abandonment campaigns.
For example, use dynamic display remarketing after a search is performed (and you've collected search data) until the email collection phase. Once you've collected the email, use booking abandonment emails.
Finally, plan your user flow from your abandonment campaigns. Use direct links to the offers and correct landing pages.
2. Get their email as soon as possible (or use profile / login data)
If you want to do shopping cart abandonment email campaigns, you need to have your customer's email. Don't wait to collect emails until the last phase (payment) in your booking funnel.
If you have login (profile) functionality, motivate your users to log in early on. Most of all, once your user is logged in, you can use the data for shopping cart abandonment emails and advanced web analytics.
As an example, Ryanair doesn't allow their users to finish the booking without creating a myRyanair profile. However, in my test examples they didn't use my profile data for any shopping cart abandonment emails or remarketing.
3. Work hard on your subject lines and their display
A great subject line is the key to your customer opening the email. Be creative with your subject lines, A/B test different options and measure your abandonment email open rates.
However, don't stop with the subject line only. Be careful and work to make sure your emails display properly in your user's inbox. Be especially careful with the Gmail display. Gmail is the preferred personal email client for most of your users, and as such is often used for leisure travel bookings. Additionally, many of your small businesses customers use it.
As you can see in our test examples, there are many cases where the email display in the inbox can go wrong.
4. Be personal
Your users give you a lot of data during the booking process. Use that data to customize your booking abandonment emails. You can collect their name, destination, travel date, travel duration, and selected product features and add-ons before you collect the email.
In a lot of cases travel companies even collect the customer loyalty program number, birth date, gender and trip purpose before they collect the email. If you do this as well, use this data to personalize your shopping cart abandonment emails.
5. Optimize for Mobile
When you think about your shopping cart abandonment emails, you must think mobile first. According to this research:
55% of all emails are opened on a mobile device.
So design and develop all your booking abandonment email workflows for mobile.
For optimal results, go beyond display and try to think about special mobile user flows. For example, some rent-a-car companies offer their mobile users "quick quote" functionality.
Most of your users are just checking offers and prices on mobile, so this can be a smart way of making this process easy for them. Then you can offer them a "save quote" functionality, or do booking abandonment emails. Having your offer in your user's inbox will keep you "alive" during the selection process and make it easier for your users to finalize the booking on another device.
6.Test everything
If you've read any of my other blog posts, you know I'm a huge proponent of testing. Don't just set up your shopping cart abandonment emails once and then let them be.
Measure and test everything so you can improve the process and increase conversion rates from your emails.
Below are some ideas you can use for testing:
Email timings
Email format
Frequency (number of abandonment emails)
Subject lines and sender name
Email copy and urgency elements
Call to action (CTA)
Images
Conclusion
Customer acquisition is difficult, and you probably spend a lot of resources just to get users to your website. The travel industry struggles with above-average shopping cart abandonment rates as your users will check many different websites before they confirm a booking.
With the proper implementation of a shopping cart abandonment email campaign, you can get some of your booking abandoners back to your website and increase conversion rates. For optimal results, create and apply a consolidated booking abandonment framework that will include display remarketing and abandonment emails.
---
Reviewed Websites
Airlines
Lufthansa (Lufthansa.com), Air France (airfrance.com), Alitalia (alitalia.com), Delta (delta.com), Scandinavian airlines (sas.se), Southwest Airlines (southwest.com), American Airlines (aa.com), Virgin Atlantic (virginatlantic.com), Ryanair (ryanair.com), easyJet (easyjet.com), Norwegian Air (norwegian.com), Vueling (vueling.com), Aer Lingus (aerlingus.com), Brussels Airlines (brusselsairlines.com), JetBlue (jetblue.com), Emirates (emirates.com), AirAsia (airasia.com), TAP Portugal (flytap.com), flydubai (flydubai.com), Volaris (volaris.com)
Hotels & OTAs
Hilton (Hilton.com), Sheraton (starwoodhotels.com), Intercontinental IHG (ihg.com), Trivago (trivago.com), Accor Hotels (accorhotels.com), Booking.com (booking.com), Melia Hotels (melia.com), Expedia (expedia.com), Best Western (bestwestern.com), Four Seasons (fourseasons.com)
Rent-a-cars
Rentalcars.com (rentalcars.com), Enterprise (enterprise.com), Avis (avis.com), Budget (budget.com), Sixt (sixt.com), Hertz (hertz.com), Economy Car Rentals (economycarrentals.com), Holiday Autos (holidayautos.com), Alamo (alamo.com), Autoclick (www.autoclick.co.uk)
Iztok Franko
I am passionate about digital marketing and ecommerce, with more than 10 years of experience as a CMO and CIO in travel and multinational companies. I work as a strategic digital marketing and ecommerce consultant for global online travel brands. Constant learning is my main motivation, and this is why I launched Diggintravel.com, a content platform for travel digital marketers to obtain and share knowledge. If you want to learn or work with me check our Academy (learning with me) and Services (working with me) pages in the main menu of our website.