Key Pillars of Modern Airline Digital Marketing [Learning from Former Chief Growth Officer at AirAsia]
Iztok Franko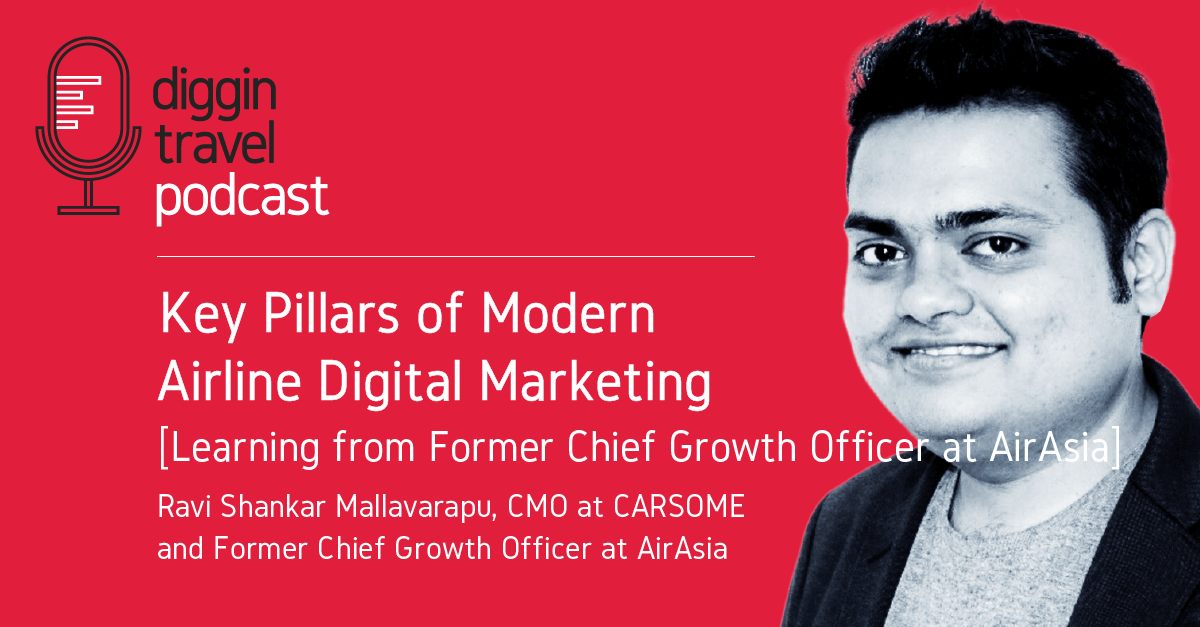 Ravi Shankar Mallavarapu was one of our first guests on the Diggintravel Podcast back in 2020. At that time, he served as the Chief Growth Officer at AirAsia, where he was instrumental in scaling up and transforming AirAsia's digital marketing team into a modern, data-driven growth unit, embodying the essence of modern airline digital marketing.
Now, three years later, Ravi has transitioned to the role of Chief Marketing Officer at CARSOME, Southeast Asia's largest integrated automotive ecommerce platform. Despite the industry shift, he remains a wealth of knowledge on the topic of modern airline digital marketing, making him a valued voice in continuing discussions on the subject.
Modern airline digital marketing is an amalgamation of digital customer acquisition, ecommerce, digital product development, data science, and, more recently, artificial intelligence. Ravi possesses extensive experience in all these areas and was eager to share his insights with you.
Modern Airline Digital Marketing – Talk with Ravi Shankar Mallavarapu, CMO at CARSOME and Former Chief Growth Officer at AirAsia
Listen to the new episode of the Diggintravel Podcast to learn about Ravi and modern airline digital marketing, or read on for key highlights from our talk:

And don't forget to subscribe to the Diggintravel Podcast in your preferred podcast app to stay on top of the latest airline digital marketing, data science and AI trends!
Digital Platform and Event-Driven Architecture as the Foundation
The key question posed to Ravi was the same as the one we have for every digital leader who has transitioned from the airline industry and has experience building digital teams in other sectors: Looking back, what would you have done differently?
"One, I would build a platform, not a product. I would say whether it's an airline website or an app, build a platform that can add anything on top of it. Every airline wants to sell hotels. Every airline wants to sell insurance. Every airline wants to sell ancillaries. Every airline wants to sell duty free. That list is being expanded. As a result, you have a 'multiple Frankenstein tech stack' – a mishmash of technologies and products patched together. But if I had the luxury to build from scratch, I'd build a platform and then you can add on anything on top of it."
A flexible digital platform, managed by the digital marketing team, serves as an excellent starting point—a luxury that many airline digital marketing teams still lack. However, Ravi envisioned going a step further by introducing an additional component to build upon that foundation.
The second part would be building an event-driven architecture. If you just go back to understanding the consumer behavior, one thing that we should all get right is collecting the consumer behaviors accurately. Every web, every app, what we really care about is whether they finished the transaction or not. You track those events. But there are a lot of micro, nano things that consumers do leading up to that decision. And that data is pretty important. I think we were talking about it last time. Transactional data is – based on your conversion rate, if your conversion rate is 7%, that's all you get. The behavioral data is not really captured or recognized well.
Moving beyond merely tracking transactional data to generating actionable insights from behavioral data is crucial. Ravi highlighted the primary challenge in this transition and emphasized why he believes marketing teams should be engaged from the outset when digital platforms are being developed.
It is particularly hard to get that right, not because it's a technology constraint; it's because the marketing teams who mostly care about it, or the data teams who mostly care about it, are not involved in that event collection process earlier. Nobody, when they're defining the product sprint, says, "Hey, I have to track this button click." That comes much later. So the more event-driven architecture that you have, I think the richer insights you get, and most things you can build and experiment faster.
Organization of a Modern Airline Digital Marketing Team
A digital platform alone is insufficient. For effective modern airline digital marketing, it's imperative to have the right individuals with the appropriate skills within an agile organization. This structure empowers marketers to seamlessly integrate and empower all available resources to build great digital products.
The company is quite mature in terms of how they look at marketing. They understand that marketing needs technology support. They understand that marketing needs data support. So it is structured in such a way that these people are dedicated to marketing function to help me with my needs and to move the business to the next level. It's a team that I would say is ideal. I can't ask for more.
Agility and organizational rigidity often pose challenges for airlines. The necessary resources, such as dedicated data science and development resources within the digital marketing team, may be lacking. Alternatively, these resources may be segregated into different departments or silos, like IT, causing bureaucratic hurdles when attempting to foster more agile processes. CARSOME mitigated these issues by establishing in-house digital development and data science units. Ravi and his marketing team have dedicated resources from both units to support their digital marketing initiatives.
Those people report to their respective heads, but they still work with me very closely. It's part of the organizational maturity.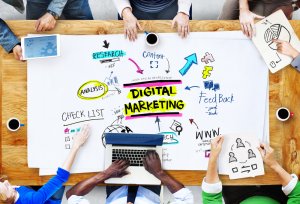 Agile Technology + Organization = Great Digital Products
Establishing an agile digital tech stack and a proficient digital marketing team is a formidable task, as is integrating data science to excel in modern airline digital marketing. However, once achieved, it paves the way for the creation of exceptional digital products. Ravi illustrated this with a notable example where his customer acquisition team developed automated ads for their car inventory, thereby enhancing agility and accelerating the go-to-market strategy.
As a marketing team, while we are solving the volume gain, I also wanted to solve the go-to-market speed. What we initially started doing is we built an API that pulls all the listings from the website. Obviously, we take a lot of pictures in our refurbishment centers before listing the car. So we take the pictures of it in API and we pass it to a certain tool that removes the background, and we build some internal templates. All the cars that have removed background are slapped into the templates. From the website API, we pull in car, make, model, pricing, and everything else into a feed. We also have some variables that say these cars are ready for transaction, these cars are high in demand, these cars are low in demand, and historically these cars took X number of days to get sold.

Based on that, all that information is passed into the feed, an ad is formed, and that API is connected to Facebook and Google. So based on the variables of "this is a car that might take me longer to sell," "this is a car that might give you a high margin," based on those variables, as soon as the car is listed on the platform, the ad is live in Google and Facebook and sometimes TikTok without any performance marketer intervention. It's automated.
The scenario Ravi described mirrors the challenges inherent in the airline industry, where various variables often necessitate automation. Key variables include seat inventory and pricing, accompanied by other factors such as market-specific conditions, special promotions, and validity terms.
The idea actually came from that. I was a part of this when I was in the airline, but that time I was doing it for search. But the variable there is, do I need to promote this route, or I don't need to? There it was very simple. The load factor is high, I don't want to do it anymore. Load factor is low, turn on the ad.
Being able to process variables such as price and having the resources to develop this setup in-house is pivotal. The capability to tweak, fine-tune, and measure the system is crucial. And of course, whether you're selling cars or airline seats, the speed of going to market is critical as well. Holding onto inventory translates to incurred costs – a scenario that's especially costly in the airline sector, where unsold, unused inventory represents a sunk cost.
Additional Insights From Our Discussion With Ravi
For a deeper understanding of modern airline digital marketing, be sure to listen to the full podcast, as Ravi shared several more valuable insights:
Lessons learned from a branding campaign featuring Eric Cantona as a global ambassador
Strategies for measuring the impact of branding and other marketing campaigns
The rationale behind his team's experimentation with marketing mix modeling (MMM)
Ravi's personal experience with ChatGPT, alongside potential applications of large language models (LLMs) within the airline industry
Do You Want to Listen to More Talks With Airline Digital Leaders?
If you want to learn from leaders like Ravi about how to build modern airline digital marketing teams or want to be the first to know when our next Airline Digital Talk will be published, please:
Iztok Franko
I am passionate about digital marketing and ecommerce, with more than 10 years of experience as a CMO and CIO in travel and multinational companies. I work as a strategic digital marketing and ecommerce consultant for global online travel brands. Constant learning is my main motivation, and this is why I launched Diggintravel.com, a content platform for travel digital marketers to obtain and share knowledge. If you want to learn or work with me check our Academy (learning with me) and Services (working with me) pages in the main menu of our website.