How Etihad Innovation Helps Tackle COVID-19 Challenges
Iztok Franko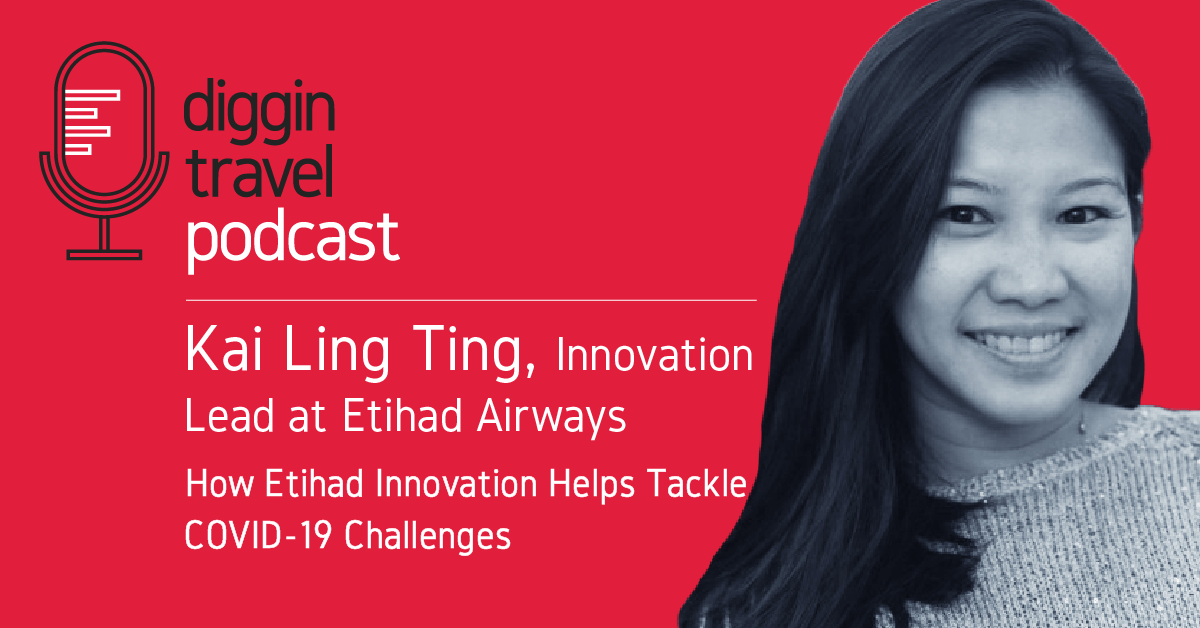 Here at Diggintravel, we've been focusing on digital innovation ever since COVID-19 turned the airline industry upside down. You can probably agree that our industry needs innovation more than ever. Recently, you heard innovation authority Stefan Thomke talk about how experimentation can really boost your innovation. But today I want to show you real, practical examples of how airlines are using innovation to address current challenges. This is why we talked with Kai Ling Ting, Etihad Innovation Lead.
[NEW] Diggintravel podcast – Etihad Innovation lead talks about innovation and new opportunities
Listen to the new episode of the Diggintravel Podcast about Etihad innovation via the audio player below, or read on for key highlights from our talk with Kai Ling about Etihad's innovation efforts:
And don't forget to subscribe to the Diggintravel Podcast in your preferred podcast app to stay on top of airline digital and innovation trends!
Etihad sees the current crisis as an opportunity to innovate and change for the better
Let's face it, COVID-19 made us all think and move faster. You need to be aware of the health situation and have agile travel analytics in place to identify external demand trends fast.
But that is not enough! You also need to understand how travel and passenger behavior is changing and address the (new) friction points. This is where innovation plays a big role – at least, it does for Etihad Innovation:
There is a lot of uncertainty right now; that said, we try to focus on the positives. It's not all doom and gloom. We just try to focus on collaboration and innovation, and we think that these are the times that force us to focus our efforts a lot more on what is truly needed for our guests and for the business. That's what we're focused on at Etihad.

We know that there will be a redefinition of what the new normal in travel is going to be, so how do we ensure that we come out of this crisis – and I think "crisis" is the right word to describe the impact on travel as a whole – how do we start innovating now and start aligning our business now to make sure that when we come out of this crisis, Etihad is hopefully stronger than before and we're leading the game when it comes to the redesign of what travel looks like. Because travel is going to be completely different.
I love the positive approach Kai Ling has as she talks about not only addressing the challenges but also how Etihad plans to innovate to change for the better. Here is Kai Ling's response when I asked her how her role as Etihad Innovation Lead has changed in the last few months:
I think it's given us new momentum with obviously the coronavirus and the impact. There have been new areas of innovation that we are now focused on and accelerating a lot faster than before. Also, obviously, because of the business impact that COVID-19 has had on the business in general, we are forced to be a lot more disciplined, to make sure that whatever we invest in when it comes to innovation and exploration has to have a very strong business or guest experience related outcome.

We can't afford to just go on and try everything possible, but we have to be very focused on what actually delivers benefits to our guests. Good and bad, but I think in general I would say it's been positive for innovation. It's given us a strong push, ironically. The need to digitalize has become more obvious as we move towards contactless and all of that.
But as I said in the intro, we want to show you practical examples of innovative airline digital solutions today.
3 Successful Etihad Innovation Cases that Address COVID-19 Challenges
I like Etihad's response to the challenges of COVID-19 because it addresses key passenger fears and friction points that have occurred because of the virus pandemic. This is what digital optimization is all about: understanding your customers' pain points and building digital products to address them. Here's Kai Ling talking about the key questions they saw once the pandemic started:
When planes started getting grounded and flights started getting suspended, we saw on our contact centers as well as on our social media pages guests asking, "Is this flight still operating? What are some of the things I've got to do when I travel now? Is it safe to fly?" These are top-of-mind concerns, and I'm sure it would be uniform across all airlines, to be honest.
Not only did they identify the key questions, but the Etihad innovation team also built digital solutions to address them.
Example 1 – COVID-19 risk assessment tool
Probably one of the first questions your passengers have now is whether they are fit to travel. Etihad built an innovative passenger self-assessment tool that people can use to make better decisions when planning their travel and flights:
We've introduced a partnership with a startup called Medicus AI. They've allowed guests to answer a very simple questionnaire, and through that, the algorithm built on a probability score to tell you your likelihood of having contracted coronavirus. That information equips our guests to be able to make better decisions.

Should they go ahead with their travel plans? Should they seek medical advice? The situation is constantly evolving as well, so what's cool about that tool is that it actually updates itself daily, or in fact multiple times a day based on WHO recommendations and country health recommendations as well. We're excited about that, and we've made it available for all of our guests on our platforms.
Example 2 – Interactive maps to address questions about COVID-19 situation and restrictions
The second question that probably comes to your travelers' minds now is regarding the situation at the destination they are traveling to. Kai Ling explains how Etihad's innovation team addressed this question with another partnership with a startup:
Another partnership that has just recently gone live is one with a Canadian startup called Sitata. They effectively gather all of the travel advisory when it comes to border closures, when it comes to in-country travel restrictions – for instance, earlier we were just speaking about the need to wear masks. Is there a curfew in place? Is public transportation running as usual? Common questions that as a traveler ourselves, we would be wondering before we plan any trip. Am I going to be subjected to a quarantine? Is it safe? What are some things I've got to take note of?

We think that by providing our guests with this information, it helps them plan their trip better, but also demonstrates the duty of care that we have for our guests. It's a perfect alignment with what Sitata's product is able to do. We've integrated it now into our platforms as well so guests can actually click on a map or type in the country that they're going to and immediately get updated information and advisory on things like curfews, things like quarantine, things like the social distancing guidelines in place. Singapore, for instance, says that you can't go out with more than five in a group. Another country may have that limit at ten. It's good to be able to have this information at hand for our travelers.
Example 3 – Launching live chat to answer queries related to health and wellness 24/7
Our last example is really interesting because it's not only a digital solution. To address all possible COVID-19 related questions, Etihad introduced a specially trained team of Wellness Ambassadors:
We've introduced Wellness Ambassadors. Again, that's not a technology. Those are actual ambassadors, addressing questions of our guests. We do it through technology; we provide a live chat function. But at the end of the day, it is about addressing a very real human need, and that's having assurance, that's having someone to answer their questions very quickly. That's why we introduced the Wellness Ambassadors, to be able to support our guests through their journey, be it in the planning phase, at the airport, or in-flight.
I like this last example because it's a good example of what innovation is really about – addressing real human needs or problems, and not necessarily the latest tech trend.
Innovation Should Be Human-centric, Not Tech-centric
I must admit, I first started to think about this podcast talk with Kai Ling a while ago when I saw her LinkedIn post about what should really drive your innovation initiatives. So, when I saw some of the abovementioned Etihad Innovation Team initiatives in action, it made even more sense to me. Of course, I had to ask Kai Ling to share her views again, for you – the Diggintravel audience:
People tend to get overexcited by the buzzwords that we hear – blockchain, AI, and all of that – and then get caught up in a cycle of thinking that innovation means technology. But really, technology, in my view at least, is an enabler. We have to think why it exists to begin with. We don't want to have a solution that's looking for a problem. Rather, it's a problem that we're trying to solve, an opportunity that we're trying to address. The solution could be a new technology or it could just be a new way of working, and it doesn't mean that one is more innovative than the other, at least in my view.

That's why at Etihad we introduced design thinking, for instance, just to get our employees to learn to ask the question "Why?" and to be more sensitive to the customer journey as well, to make sure that everything we do is deeply rooted in customer needs. It's not because this is the latest shiny thing, but really because this addresses a real customer need or helps enhance the customer experience – or, in fact, our employee experience too.

Like I said, when we started looking at COVID-19 and its impact on our industry and what areas we should innovate, instead of looking at technologies first, we took a few steps back and looked at how the end-to-end travel journey is now going to be impacted. If you think about it, it should be so simple because all of us are travelers. We experience and live through it day by day. But sometimes if you get too caught up with the technology side of it, you may forget the customer element of it. I think that's something that we have to guard against, especially when we're moving so quickly in innovation, to make sure that whatever we introduce, it's not a white elephant and it's actually something that really brings a change to our customer experience. A positive change, of course.
COVID-19 as an Opportunity to Accelerate Your Airline Digital Initiatives
Kai Ling has such a positive attitude that I have to finish this article on a positive note as well. If you read my 2020 Airline Digital Optimization Yearbook (if you haven't, you should, as it is the most comprehensive airline digital research published in 2020), you know that I believe COVID-19 is an opportunity to accelerate some of your digital initiatives.
For one, traditional airlines can use the overall increase in online purchases to increase their direct (ecommerce) channel share. You can also use the strong digital momentum to accelerate the adoption of self-service initiatives like web check-in, self-service baggage drop or even airport drinks and meals preordering.
So, I was curious to see if Kai Ling sees this as an opportunity as well:
Absolutely. It has definitely accelerated the drive for a contactless journey for our guests. It has definitely accelerated both the desire to implement digital solutions as well as our guests' willingness to accept them.

For example, we have introduced a self bag drop service, which has a completely contactless experience. It's touch-free. There will be more such solutions that will get introduced by Etihad as well as other airlines and others in the industry as we move towards addressing the social distancing need, addressing the need for a sanitized environment, and people will be more willing to move digitally. They'll be more inclined to use their own devices to check in online rather than standing in a queue and speaking to someone in person to do the check-in. They'll be more inclined to handle their own baggage to reduce the risk of someone else contaminating it.

And it's great because if you think about it, this part of the travel experience hasn't really changed in the past few years. Right now what you see is a much-needed acceleration, because the technologies are there to make this happen.
Do You Want To Learn More About Airline Digital Innovation?
If you want to see more cases like this one on Etihad innovation and learn more about airline digital innovation, please:
Iztok Franko
I am passionate about digital marketing and ecommerce, with more than 10 years of experience as a CMO and CIO in travel and multinational companies. I work as a strategic digital marketing and ecommerce consultant for global online travel brands. Constant learning is my main motivation, and this is why I launched Diggintravel.com, a content platform for travel digital marketers to obtain and share knowledge. If you want to learn or work with me check our Academy (learning with me) and Services (working with me) pages in the main menu of our website.