Airline Digital Innovation and Transformation [Wizz Air Case]
Henry Harteveldt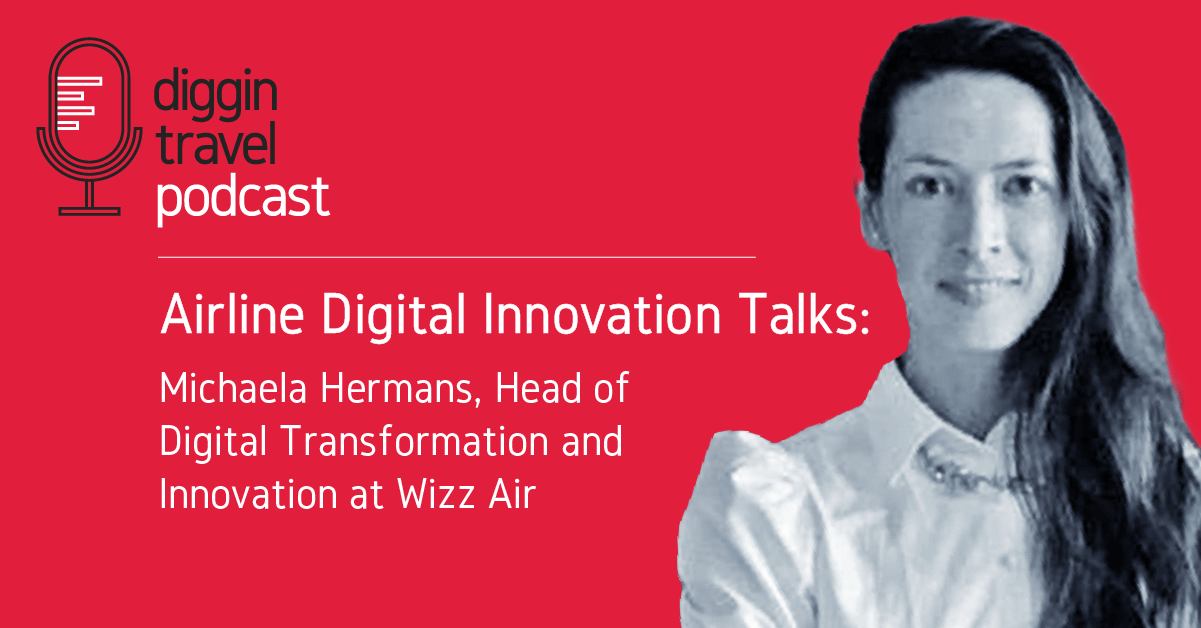 The contemporary airline business is among the business world's most digitally-based, digitally-focused, and digitally-intense. It was, therefore, a privilege and pleasure for Iztok and me to have the opportunity to chat with Wizz Air's Head of Digital Transformation and Innovation, Michaela Hermans, for our series of interviews about airline digital retailing sponsored by SITA.
Michaela joined Wizz Air in June 2021, following a career that includes management and leadership positions at Nike, GrandVision NV, and ING. We began our conversation by asking Michaela to share some background about her role leading digital innovation and transformation at the airline:
"We are a growth company and have every year 20% growth. In order to be able to get to that growth and imagine the company being on such a scale, that requires transformation. My role is to redefine how Wizz Air operates and how we serve our customers at scale by digital technologies. We don't do digital for the sake of digital. We really focus and we are here to deliver and generate business value."
Airline digital innovation and transformation – Talk with Michaela Hermans, Head of Digital Transformation and Innovation at Wizz Air
Listen to the new episode of the Diggintravel Podcast about airline digital transformation and innovation via the audio player below, or read on for key highlights from our talk with Michaela:
And don't forget to subscribe to the Diggintravel Podcast in your preferred podcast app to stay on top of airline digital innovation, experimentation, digital products, and other trends!
Airline Digital Innovation as Enabler for Rapid Growth
Wizz Air is one of the world's most successful airlines, growing, as Michaela noted, at an eye-popping rate of 20% a year. That kind of growth brings with it an extensive variety of challenges to manage, including new markets and customers to serve, new products to offer and perhaps one of the biggest enemies that ultra low-cost carriers (ULCCs) such as Wizz Air face – additional complexity. Digital innovation and transformation help the airline manage that growing complexity, according to Michaela. But that transformation isn't limited to traveler-facing efforts. Michaela explained that at Wizz Air, it's more comprehensive:
"We are really transforming across the whole enterprise. We really are taking strides to remove the manual work from the organization and to utilize human brains and human power to focus on work. Automation, robotic process automation, intelligent automation really helps us in achieving scaling those core processes. As mentioned, we are entering more complex markets, more complex regulations. The automation really helps you to achieve that scale. We right now are really looking at how we redefine our employees' experiences to be more customer-like and how we empower our employees with digital technologies."
Building cross-functional product teams
Michaela shared that Wizz is using a variety of technologies, including intelligent algorithms, machine learning, and AI, to augment its decision-making strategies and processes, with a focus on actions that will "have a material impact" on the airline's P&L – and always with an eye on cost, since Wizz Air is a ULCC. Michaela added:
"Digital transformation is…a catalyst. It helps accelerate [transformation and innovation]. And we are pioneers of new ways of working. We are right now building stable product teams which are organized around value, and those teams are cross-functional. You cannot put the line between digital and the business. You want the teams to be cross-functional and as independent as possible while loosely coupled.

I think we work heavily on making sure that we are clear on the outcomes and the vision so that the teams are enabled and empowered to experiment on the how. Because if you have the data and if you have the way to measure if you're progressing towards the goals, it's of course more meaningful for those teams as well. And I believe there are product-centric ways of working as well as agile ways of working, and those two in combination really help us to bring it across the organization."
What Can Airlines Learn from Retail Leaders?
Having once worked at Nike, one of the world's most-recognized brands and a leader in retailing, we asked Michaela to share her thoughts about how retailers and airlines approach digital commerce. Does Wizz Air, for example, study how retailers approach and execute their digital commerce activities, or does the airline focus primarily on other airlines? Michaela shared that Wizz Air does look at how leading retailers think and approach digital commerce, continuing:
"We also benchmark not only our competitors, but obviously the best ecommerce companies. How do they know their customers? How do they learn from that? We might always stand in front of the choice, is it the focus area for now or not? But we certainly are very open to learn, and I think that big retailers are outstanding in utilizing the understanding, the insights about the customer, and using it for better decision-making or improved customer experience, which you ultimately monetize on. I think retailers are doing outstanding – they are able to understand how you are thinking and how you are moving across the funnel, but not only online, offline as well. I think retailers really strive to connect those environments where you connect offline and online experiences, and you can start the journey at any point as well as stop the journey at any point and reconnect."
Michaela pointed out a critical difference between retailers and airlines: control. Retailers generally control their customer experiences. Airlines are not as fortunate. As airlines pursue innovation and transformation, they have to contend with the fact that travel agencies, airports, ground handling agents, and other parties may control various aspects of the passenger experience. How airlines can wrestle back more of that control – or develop ways to create a proxy for control when third parties won't or can't cede direct control back to an airline – is an area that Michaela and her team are focusing on.
Michaela is a big believer in the value of examining other industries as a potential source of ideas that can help with innovation. In particular, learning about the challenges other industries face, and the steps they take to try to overcome those, can be useful as a stimulus for innovation:
"I think innovation usually happens when you take a problem with another industry and apply it to what you are facing. I certainly think it's always a source of inspiration, and then it is a decision point: Is it something worthwhile? Is it bringing value? Are we solving relevant problems? Last year we spent a lot educating ourselves, how not to jump to conclusions and solutions, but to really think about the problems we are trying to solve and the value which will be generated."
Digital Talent Needed for Airline Digital Innovation
As we started to wrap up our conversation, we asked Michaela whether the airline has the people it needs on board to meet its innovation and transformation objectives. Michaela shared that Wizz Air is hiring in many areas as it seeks to further improve the strength, depth, and quality of its digital commerce, innovation, and transformation teams.
"There is certainly a need for digital talent and for certain new skillsets or perhaps for airline new skillsets. We are adding a lot of digital product management. You see machine learning, data engineers, data science. Absolutely these are the skillsets which we need to add."
Two additional areas that Michaela is focusing on are product management and data. Most airlines lack people with true retail- or CPG-like product management skills. Data-related talent, of course, is an area where Wizz Air and many other airlines continue to be thirsty for talent as well.
"Airlines do not have access to product management, and I think we need to develop that skillset. So absolutely digital product management and service design as well. Making sure that we really think as a customer, that we empathize and we know how to quickly experiment. For us, the experimentation is very ULCC because you fail fast and cheap, which is a goal that you do not start investing huge money before you decide.

Then…absolutely data. I think this is something where we are not where we would like to be, and I think this is an area which certainly can make a difference. I believe that we will see way more importance growing. I think having the data analytics / data science / machine learning background is certainly a future-proof skillset and area to focus on."
We concluded with some succinct insights from Michaela about how Wizz Air approaches its innovation and transformation efforts that are useful to anyone who will be (or wants to be) working on airline digital innovation and transformation:
"Before we even commit to any investment, we plan purposefully a certain number of timebox periods to make sure that the teams go and do proper research first on the problem. I think we are, again, learning, 'Let's not come up with solutions. Park the solutions. Please work out what the problem is.' We have a lot of iterations around how to define it better."
Innovation and transformation can be seductive because they are rich, often high-profile efforts that may have C-level attention and sponsorship, and contribute meaningfully to one's professional accomplishments and career. Airline digital innovation and transformation are almost always massively complex and challenging. They demand discipline, scope, and focus. As Michaela stated, it's critical to know the problem, or problems, you want to solve before thinking about how you want to go about executing your innovation and transformational strategies.
Do You Want to Listen to More Airline Digital Innovation Talks?
If you want to learn from leaders like Michaela about innovative airline digital innovation or want to be the first to know when our next Airline Digital Talk will be published, please:

Henry Harteveldt
Henry Harteveldt is a well-respected travel industry analyst and President of Atmosphere Research Group, an independent strategic travel industry marketing research and advisory firm. Prior to starting Atmosphere, Henry ran Forrester Research's global travel industry research. Henry's airline industry experience includes various Marketing roles at Continental, TWA, and American. To learn more about Henry's research, you can either email him (henry@atmosphereresearch.com) or get in touch via LinkedIn.