Predicting the Future of Travel
Iztok Franko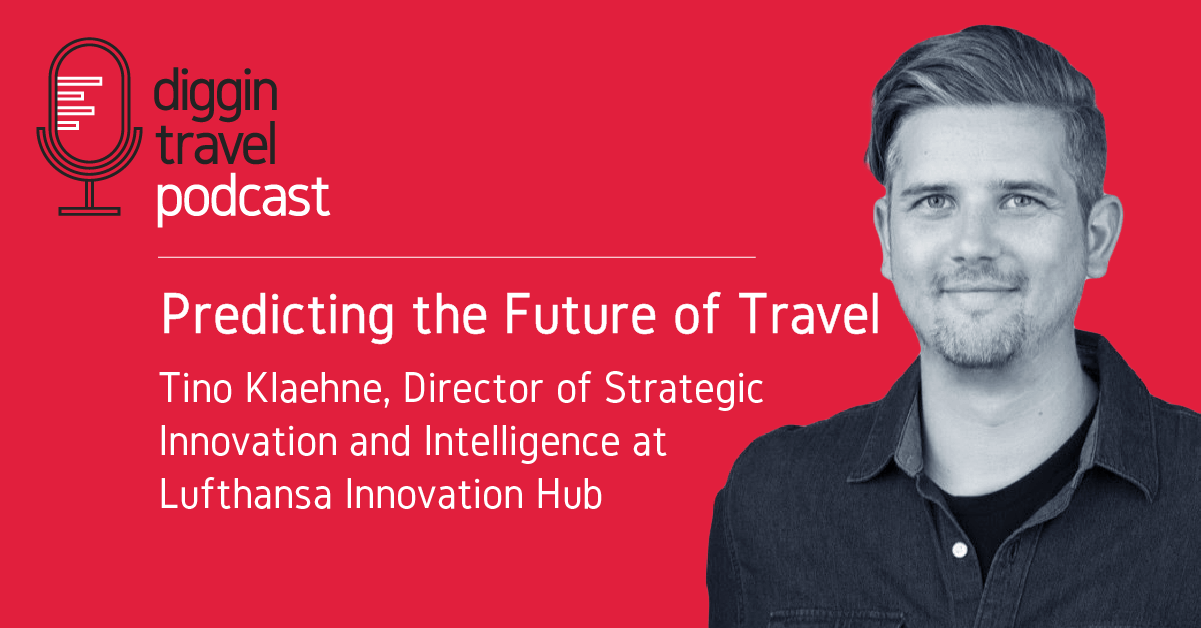 It's been almost three years since we started the Diggintravel Podcast, bringing you insights from the smartest airline and travel industry leaders. My first podcast guest was Lennart Dobravsky from Lufthansa Innovation Hub, and when I looked up our podcast download statistics, I saw that to date, that talk remains our most downloaded episode ever.
Well, that wasn't a big surprise since Lufthansa Innovation Hub is doing really smart things when it comes to predicting the future of the travel industry. So, more than 40 episodes later, I thought it was a good time to talk about future travel and airline trends with them again.
Here at Diggintravel, we teach airlines how to do smarter digital marketing through agile demand analysis and faster reactions. By that I mean analyzing your internal ecommerce data and identifying external sources like Google Trends, Google Flight Demand Explorer, metasearch data, etc. The goal is to be more agile in understanding your demand opportunities and planning your airline digital marketing and ecommerce activities.
Lufthansa Innovation Hub has taken this approach even further – to the strategic business planning level. They are using innovative ways to identify global trends that help them predict the future of the travel industry. This is how today's podcast guest, Tino Klaehne, Director of Strategic Innovation and Intelligence at Lufthansa Innovation Hub, described their approach:
My role from the very beginning of the journey is trying to uncover the opportunities that are out there in the market because everyone wants to understand the future of our industry, what are the good opportunities, what we should bet on. All corporations want to predict the future; we more or less set out to do so. We also share the love for data and really try to uncover the unobvious signals that are out there. We want to fill the data and insight gaps by doing our own research and to do this in an unconventional way.
This unconventional way of analyzing the future sounded really intriguing, so of course we had to dig deeper into it in our chat with Tino.
Predicting the future of the travel industry – Talk with Tino Klaehne, Director of Strategic Innovation and Intelligence at Lufthansa Innovation Hub
Listen to the new episode of the Diggintravel Podcast about predicting the future of travel via the audio player below, or read on for key highlights from our talk with Tino:

And don't forget to subscribe to the Diggintravel Podcast in your preferred podcast app to stay on top of airline digital product, analytics, experimentation, user research, innovation, and other trends!
Predicting the Future in an Unconventional Way
Before we discuss what Lufthansa Innovation Hub is doing to predict the future, I thought it was important to learn why they are doing it in the first place. Lufthansa Group owns a lot of different airlines, and a lot of people are working on their core products: producing flights and operating flights on a daily basis. Their digital teams are focused on optimizing online touchpoints, customer journeys, communication systems, and all those additional touchpoints that add to the passenger experience that is happening in the cabin.
So, for Lufthansa Innovation Hub, an external innovation unit is very important to differentiate themselves and say, in Tino's words, "What is our turf?" The flight itself, Tino explains, is well-covered by the core airline experts. Thus, the innovation unit's current mission statement is to "Create and capture value beyond flying," and this is Tino's explanation as to why:
If you then zoom out from your own customer journey, you'll find yourself in what we describe as the traveler lifecycle. There is the inspiration phase, there is the decision-making phase; then yes, you book, but then there's the whole preparation phase, and obviously then you travel. You might also have a multi-step itinerary. You might travel intermodal. You are at the destination, then you're also flying back or taking another mode of transportation. All those steps are part of the traveler journey are – let's not call it ignored, but not focused on by the traditional airline staff because they're obviously optimizing for their core product. So we set out to zoom out and look at what is necessary and connected to the core of flying; however, what is actually beyond what is happening in the cabin? That's our playing field.
Now let me circle back to the unconventional part. Before our interview, I read a report explaining how Lufthansa Innovation Hub used machine learning and natural language processing to parse airline earnings calls. Is this an example of doing unconventional research, and if so, why are Tino and his team doing this?
It's what we call strategic intelligence or all the information you need to make informed strategic decisions. We just figured, hey, no one is giving you their strategy. The future is really uncertain. People are active and are doing things, but they might not even know what they're doing. It's really hard to find a common thread and to actually understand where everything is going. Probably all corporations, especially after the corona crisis, uncertainty grew even more, and even the things we learned before need to be relearned.
So analyzing airline earnings calls is just one example of what Tino calls the "signals" they're trying to track and make sense of. They believe the future compounds every second, so all the tiny signals will compound into something. But the key is to constantly track them.
We try to track the smallest signals, but also the more unconventional ones to really understand what is going on, and trying then to make sense out of it.

You can't do a benchmarking every two years, like how it used to be the corporate standard maybe in the past, and then work from it. You need to be constantly informed to make the best strategic decisions or to keep informed.
Another unconventional datapoint they analyze is venture capital, or investment or funding dynamics.
We follow the money because we argue that venture capitalists are supposedly smart people, and they spend a lot of resources and time in finding the best bets for the future. You could also argue based on their rhythm of the venture capital funds, they might also have a similar horizon as a corporate. So 5 to 10 years or maybe even a little bit shorter.

For us, we argue it's at least important to understand where the money's going and where those smart people believe opportunity in our industry lies for the next years to then make an informed decision whether we want to go along, and then choose how we want to participate. Do we want to build something on our own? Do we want to invest or co-invest together with those venture capitalists, or do we want to partner with some of those startups that might receive a lot of money and a lot of traction but actually need the industry partners or access to the industry?
How to understand the bigger picture based on signals and pulses
Using unconventional methods to capture these signals makes a lot of sense. But how do you put these signals together to identify bigger trends that will help you predict what will happen in the future?
The first step is to acknowledge there are a lot of different types of signals, and we need to understand which of them are good for what. Similar to the agile product, OKR-based product, there are lagging indicators and there are also leading indicators. Looking at past venture capital investments, this is looking to the past; those are the lagging indicators. Same with parsing earnings call transcripts.

Understanding, is the topic of sustainability or the general topic of innovation something people think about, or is it just about revenue, earnings/losses, and booking numbers? Really understanding where the cognitive brainpower is actually going from a decider part is an important aspect.

But then looking into various different sorts of datapoints and also data sources, trying to understand what kinds of apps the passengers are using at the moment. We look into App Store download data and which are the most favorite travel apps that people use. But which are the other ones that they use or download at the same time?
One example of putting signals together to build actionable insights is when Lufthansa Innovation Hub built a "Go Out or Stay Home Index" by analyzing the usage of different apps that helped Lufthansa Group with predicting demand.
We built an index which was called a Go Out or Stay Home Index where we grouped different apps. The Stay Home Index was – a little bit simplifying here, but Netflix, it was home delivery, all those apps and features people use when they're trying to stay at home. But the Go Out Index was all sorts of apps around public transportation, navigation apps, but also maybe Booking.com, travel planning – all those apps that are associated with the outdoors, with moving, with increasing radiuses. Actually, we really got a lot of interesting insights from this download data, especially geographic data, seeing which geographies are the quicker ones to go out again. Maybe there it might make sense to start flying to again or maybe have a marketing campaign over there because people seem to be more likely to do so. So it's not only about spotting business opportunities but also bringing in different perspectives to your daily business operations as well.
Key Future Travel Trends
By now you can see why and how Lufthansa Innovation Hub is analyzing trends to predict the future. The next thing I was interested in was discovering some of the biggest trends they're seeing. During COVID, there was a huge focus on mobility, changes in travel habits, and adoption of digital self-servicing apps. Sustainability is a topic that came to the forefront of our industry. So, what are the key trends that Tino and his team see out there?
With corona happening, this was a big strategic inflection point. A lot of things have accelerated. It's not necessarily that new things emerged because of corona, but a lot of things have been accelerated. Most of the things that we believed were true before corona might have changed completely or accelerated afterwards.
Another big change that will happen in the travel industry and will affect airlines is what Tino and the team call "The Great Inversion." They claim that historically, the airline industry has been very asset-centric, and not very demand-driven. But like some other industries – Tino mentioned the example of the real estate market – the market eventually turns in favor of the buyer (a buyer's market), and they predict this will happen in the travel industry as well.
The Great Inversion is our narrative of how we believe the industry is going to change over the next decade. We believe that for the very first time in our industry's history, we will see this shift happen. We believe the entire power of the value chain will actually be turned upside down, flipped, or, if you want to make a mobility picture, it's taken a U-turn.
The COVID pandemic started this shift, and they see it developing further in the future:
In travel and mobility, also accommodation, we saw for the very first time that price was not the leading decision factor anymore. It was flexibility because of security. "I want to have food cancellation policies" and all that kind of stuff. Those were more important than the price because no one knew if we could travel anymore. But there's now also sustainability coming into the decision-making process. Maybe also new way of work is coming in there. So there are a lot more factors. It's becoming much more complex than just having the best price. It's the travelers that are actually demanding this.
Niche audiences, blurred travel and workations
Another sub-trend that they see is what they call the longtail of travel – a trend very relevant for all airline marketing experts.
Niche audiences are coming much more to the forefront. Actually, it's not even niche, but they have been ignored for the entire history of the industry. Every company tries to target us as an individual; however, we believe that we identify ourselves as tribes. We identify with different groups and communities. Today I might identify with a business because I'm a business traveler; tomorrow I want to travel with my family, and the next day I want to book travel for a bachelor's party. We could argue this is nearly impossible to target on an individual level, but you can very well target those different communities based on the concept of the longtail. This is also how the internet works.

Each of those communities need specific products, or at least they need specific information to make their travel decisions. If I want to go on tennis travel, for example, I want to have the information very specific on which tennis courts are nearby, what's the weather going to be, and all sorts of different information that is somewhere out in the world, but not nicely presented and integrated on there. So the longtail of travel is also one of those where we see communities defining the future of demand.
Of course, we couldn't not talk about what's going to happen with business travel. Like most travel consultants, Tino often gets asked if and when he sees business travel coming back.
We just say, yes, it's coming back, but a lot differently than we're used to.
Blurred travel is a phenomenon they see as an example of different and redefined categories of travel:
Blurred travel is a term we coined and a phenomenon we see. Before, there were very clear distinctions of people travel for business purposes or for leisure purposes. There was a really clear, strict line. Same was true with our work and private life things. There was a clear distinction of "I go to the office, I work, and then I'm home." Very clear distinction.
'Workations' is another new term, a new trend that Lufthansa Innovation Hub sees as part of the evolution of new forms of work and travel.
People started to do what is now called "workations." They will travel privately, pay for it privately, but then work from wherever they are. It's not leisure travel anymore. It's not meant for relaxation. But yes, there's exploration. There's also some sort of relaxation purpose to it. But yes, they will also work. This is not a business trip. You're not going to a conference, you're probably not going to a client site or whatever.
There were tons of other interesting things that we talked about with Tino – innovation and how airlines cooperate with startups being among them – so make sure to listen to the full interview via the podcast player embedded in this article or on your preferred podcast platform.
Do You Want to Listen to More Talks With Travel Digital and Innovation Leaders?
If you want to learn from leaders like Tino about future travel trends or want to be the first to know when our next Airline Digital Talk will be published, please:
Iztok Franko
I am passionate about digital marketing and ecommerce, with more than 10 years of experience as a CMO and CIO in travel and multinational companies. I work as a strategic digital marketing and ecommerce consultant for global online travel brands. Constant learning is my main motivation, and this is why I launched Diggintravel.com, a content platform for travel digital marketers to obtain and share knowledge. If you want to learn or work with me check our Academy (learning with me) and Services (working with me) pages in the main menu of our website.