Personalization for Airlines – Special Tips from a Digital Disruptor Who Is Helping Lufthansa
Iztok Franko

What would you think of if I asked you about personalization for airlines? To be honest, I'm not sure anymore either!
You see, every time I've had a talk about airline personalization (and believe me, there have been many lately), I've gotten a different answer. For some, it's a tailor-made offer for every customer. Others say it's about offering the right product at the right time. Many would be satisfied by just doing proper segmentation instead of a one-size-fits-all approach.
Then there are the tech vendors. They will tell you it's their platform that will solve all of your problems – a "silver bullet" that will allow you to consolidate all data and have a single view of your customers. Of course, it works only with the(ir) best artificial intelligence algorithms. Even more, it covers every channel you can think of.
When you hear about a personalized offer for every person, based on a scientific algorithm, across all channels, you probably become a bit nervous. Personalization debates quickly end up very "techy" because most of the narrative about personalization for airlines today is tech-vendor-driven.
And in reality, it can be overwhelming, right?
Wishful thinking versus reality?
Every year I do a survey about digital retailing where I ask you (airline pros) about all the things mentioned above. How do you use data to create better offers? Do you use some of the advanced methods like artificial intelligence for that? How do you use marketing technology? Where are you investing the most?
And every year personalization is an area where you say you'll invest most. I'm in the middle of the 2019 Digital Retailing research, but it's already clear personalization will be a winner when it comes to investment priorities (2019 survey spoiler alert):
58% of surveyed airlines said they will invest in personalization – by far the most of all areas.
But how do you actually carry out airline personalization in practice?
When I talk to real ecommerce and marketing people (those who are in the trenches), I quickly realize most of you don't believe in a silver bullet solution. Actually, most of you would be happy with a pragmatic plan. My surveys and research also show that most airlines are still at the beginning when it comes to personalization.
This is why I started thinking about tips on how to get closer to personalization for airlines – a step-by-step approach, an evolution rather than revolution.
Learn from digital disruptors – the best airlines are already doing it!
If you read my last article about 2019 Airline Ancillary Revenue Trends, you saw a video interview with Tony Fernandes there. Among other interesting things, the CEO of AirAsia said they are not competing against other airlines, but rather against tech and digital disruptors.
Then, as I was thinking about that and the issue of personalization, I saw another piece of news. Lufthansa Innovation Hub has entered into a research alliance with Hopper focused on the subject of artificial intelligence. According to Christian Langer, Vice President of Digital Strategy, Lufthansa Group:
This will enable us to provide our customers with even better data-driven, tailor-made offers in the future. This is one of the central goals of our digital strategy for this year.
The curious side of me started to explore more about Hopper. I downloaded their app and was really impressed by how great the UX was.
Then another thing happened – I met Zach Rachins from Hopper at an airline conference. During a panel talk, he said one of the smartest things I've ever heard about airline personalization.
For that reason alone, I just had to do a Digital Talk with him. Read on!
Use Relevance Instead of Personalization
Now, you're probably asking, what was this smart thing Zach said about personalization? This was his quote at the conference that got me really intrigued: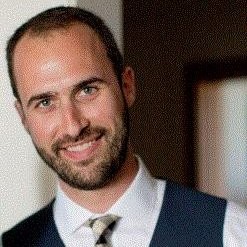 Personalization is really overwhelming. Instead of personalization, we should talk about incrementally improving relevance.
So, if you've been thinking that personalization is overwhelming, this should make you feel a bit better. Even a tech company like Hopper, which excels at artificial intelligence, thinks so as well. Instead of personalization, they are talking about small steps of incrementally improving relevance.
When I talked to Zach in our Digital Talk, he elaborated on this concept:
People talk a lot about personalization, and we do as well. The way we look at personalization is just, at every step of the way, improving relevance. Every time the users give us some input, whether it be a search or a booking, and give us explicit feedback (meaning answer a question), it helps us to continue to improve that relevance. We never want to put a single thing in front of the user that we don't already know or that has a very high probability of being relevant.
Engage with users and ask questions – this is the key to be more relevant
OK, I get the part about becoming more relevant. But sometimes it's difficult to figure out what our users really want. We can look at tons of analytics data and still not really understand that. However, sometimes the solution is very simple. You should just engage with your users and ask them the right questions. Here is Zach's take on how they do that at Hopper:
We love to use feedback loops with users. Not just understanding what they're doing and what they're searching for and what they're interested in – that's certainly a big part of it, but we love explicit feedback, like asking users what their goals are. For example, when they search for multiple things that have overlapping dates, we take that as a signal that the date might be flexible. Often we will deliberately ask people, whether by push notification or in the apps through our conversations with them, we'll ask them if they are flexible. We'll get to different granularity with different questions.
You might worry that asking users too many questions might distract them from the main task (like booking flights), or even that your users might think of you as too pushy. However, Hopper's experience and results are actually the opposite:
What we find is that users are super open to telling us what they want because they trust Hopper and know we can deliver [relevant offers] to them. For example, the artificial intelligence that we use to suggest different trips, different destinations, and different dates converts 3X better than what users actually search for in the app. So, we're very good at understanding both the implicit intent and what users might be looking for, but also combining that with some of the more explicit [information] by asking them questions.
Whoa! 3 times higher conversion when you actually listen to your users and help them receive better, more relevant offers.
Using the simple power of SMS to test and learn
If you're still not sure how Hopper is asking the right questions and getting the explicit feedback Zach is talking about, I can tell you it's not rocket science. It can be as simple as using the power of plain old SMS to experiment and understand your users. However, they don't just spam users with SMS and other messaging.
According to Hopper, the key is to be as personal as possible, leverage your existing data, and rely on the trust you've already established with your brand. 
Below is an example of such communication:
The Hopper data science team was essential for determining who they messaged as well as how they adapted their messaging to the user. Depending on the use case, they factored in several trip-specific variables for their experiments. They were trying to figure out how the open-ended questions (customized SMS messages) performed compared to a direct upsell. The results, according to Hopper:
In a sample size of over a thousand users, conversational openers improved conversion by 40% and increased response rates by 200% when compared to its upselling counterpart with the exact same value prop. It was clear that over SMS, their users not only preferred and reacted more positively to a natural tone, but they were also more likely to convert overall.
Another ancillary upsell case your airline can learn from
In the Medium article, you can also find a case that is even more interesting when it comes to airline ancillary revenue – Flight Upgrades.
They used the same logic of conversational openers, stripped down the conversation flows experienced over SMS and adapted it into an automated, choice-based, user-driven interaction. Here is an example of a message they used to start the conversation:
Imagine, just a simple and relevant question to get the conversation started!
For the people who responded "No, tell me more," they showed a follow-up message that clarified the restrictions of each user's individual ticket and offered them the ability to upgrade with a single tap. Guess what? After going through that flow, 15% of users were upgrading by $50 per passenger on average.
How to Calculate What is Really Relevant?
Asking users questions to get explicit feedback and building feedback loops will certainly help you understand what your users need much better, but for Hopper this is only one part of the equation. Data and algorithms are the other really important part of figuring out what is relevant for the user:
We're very wary of what the traditional companies have done on desktop where you're not necessarily seeing relevant offers all the time; you're seeing what could be relevant. When you see an offer like a car rental on an OTA site, you're probably seeing that because it could be relevant to you, not because it is definitely relevant to you. Obviously you're never going to show something that's going to be 100% relevant, but you should have a bevy of options and you should know a probability of relevance, and that's what we're building.
Seems like what Hopper is doing is calculating the probability of what will be relevant for you when you engage with them in a certain context. A similar trend I see with airlines is calculating the propensity of users to buy ancillary products. Here is Zach's view on that:
I think that on the airline ancillary revenue side, there is a couple of different things we look at. First, there is eligibility criteria. Certain offers just won't be relevant for certain people. Building off the car rental example, there are certain destinations in the world where you would never consider a car rental, so we never want to show it to those users.

Then [we] use data like past car rentals or past trips or just specific destinations and specific segments. You might use a derived customer segment to know that a user is a business traveler. You might have another derived customer segment where you know that you have a family traveling and it's a two-week trip and they have tons of luggage. In those cases you could further segment the car rental piece and show very specific car rental options to those users.
From eligibility to characteristics
Certainly, eligibility makes sense, but there is another step Hopper takes when it comes to calculating relevancy:
After you've done some degree of experimentation (and that experimentation really never stops), you know certain characteristics which you can break into segments around which users will convert. We think of those as two stages: there's eligibility and then there are certain characteristics beyond eligibility that really drive conversion. You never want to show an offer to a user [which you're] certain that they're not eligible for, but going even further, that they don't have a characteristic set with a high probability to convert.
Algorithmic Digital Retailing
What Zach was talking about really made me think. We're currently in the middle of our 2019 Digital Retailing research and updating our airline digital retailing framework, so all things related to airline retailing are interesting to me.
One of Zach's roles is the lead for merchandising and revenue strategy at Hopper, and during our conversation Zach introduced another term related to this role that I found really intriguing – algorithmic merchandising. This term really best sums up the things Zach was talking about previously.
Online travel agencies like Hopper are basically digital merchants; however, they're really trying to make the most out of data and algorithms (the AI part) to take digital merchandising to the next level:
The algorithmic merchandising features I'm talking about are where we're providing the most relevance to users and also bringing the best value for the airlines as well. We really have an exciting partnership between the airline and our customers as we talk to both every day. As we build that algorithmic merchandising out and as we expand that framework to how we sell ancillaries, that's what I'm most excited about.
Certainly, the concepts of algorithmic merchandising make sense. You need to understand your users and engage with them. Hopper does that through feedback loops, getting explicit feedback and keeping users engaged. Based on the interactions that the user has with Hopper during the shopping experience, they try to build engagement around what the user cares about most – which means it's not only about engagement, it's about relevant engagement. Furthermore, they enhance user feedback with data and algorithms (predictions, propensity for certain purchases, etc.).
This is probably what airline personalization should look like, right?
Want to Learn More About Personalization for Airlines?
If you want to dive into more detail about the concept of increasing relevance and personalization for airlines, you definitely need to watch my full video interview with Zach. During our conversation he explained more about building segments, using trip data and behavior, and post-booking upselling.
If you want even more resources on airline digital retailing:
Iztok Franko
I am passionate about digital marketing and ecommerce, with more than 10 years of experience as a CMO and CIO in travel and multinational companies. I work as a strategic digital marketing and ecommerce consultant for global online travel brands. Constant learning is my main motivation, and this is why I launched Diggintravel.com, a content platform for travel digital marketers to obtain and share knowledge. If you want to learn or work with me check our Academy (learning with me) and Services (working with me) pages in the main menu of our website.