How to Build Innovative Airline Digital Products [Southwest Airlines Case]
Iztok Franko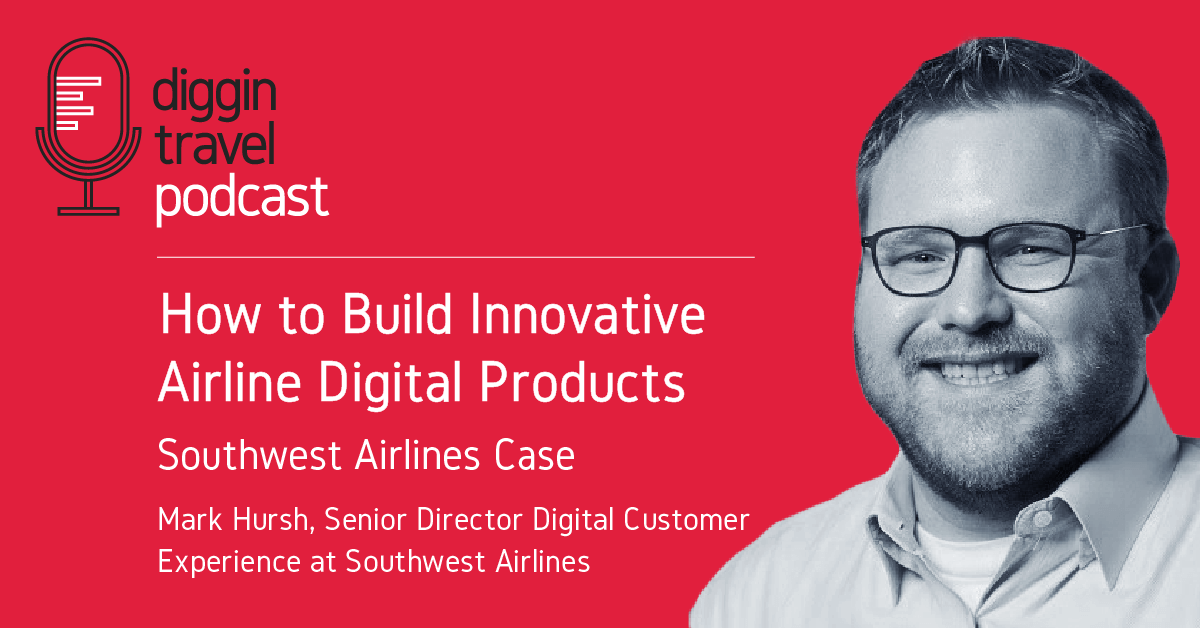 I've been doing airline digital research and benchmarks for years now. My biggest learning from our research is that airlines who are good at all the things we benchmark (analytics, UX and user research, experimentation) are the ones who really build innovative airline digital products.
In a nutshell, digital optimization and experimentation is all about being customer centric. You need to understand your customers so you can build innovative airline digital products that address customer pain points.
Southwest Airlines is one of the best examples of airlines that have fully embraced this process. Their Digital Customer Experience team embraced the concept of continuous optimization based on data and user research and has built some really innovative airline digital products over the years.
This is why I'm really happy that we had the opportunity to talk to Mark Hursh, Senior Director of Digital Customer Experience at Southwest Airlines, to learn more about their journey.
Building innovative airline digital products – Talk with Mark Hursh, Senior Director of Digital Customer Experience at Southwest Airlines
Listen to the new episode of the Diggintravel Podcast about airline digital products via the audio player below, or read on for key highlights from our talk with Mark:
And don't forget to subscribe to the Diggintravel Podcast in your preferred podcast app to stay on top of airline digital product, experimentation, user research, innovation, and other trends!
How and Where to Get Ideas for Innovative Airline Digital Products
Before digging deeper into how they build innovative airline digital products at Southwest, we asked Mark how his team is set up. Southwest Airlines is a big organization, and their Digital Customer Experience team's responsibilities go beyond the website and the app:
Our team helps perform digital product management and design the digital experience for things that customers interact with on Southwest.com, the Southwest app, and our in-flight portal. We sit in the middle between lots of great creative people at the company, coming up with ideas from customer experience, our call center teams, ground ops teams, all that good stuff, and our engineering groups. We bring to bear user experience design and research, digital product management expertise and designing things so that they work really well in those experiences.
In terms of getting new ideas for digital products, what does this process look like? Do they come from optimization of existing ones from user research? What does the ideation process for new, innovative airline digital products look like?
That's a fun question. Y'all are in travel and hospitality; you know there's a litany, hundreds if not thousands, of great problems to go solve. The tough part is actually trying to figure out what's the next best problem, and then using your team's resources and great creative talents to figure out, is that a problem that's great for us to go bite into?

The ideas come from all over. Customer feedback is a really big piece. Even in my role, I get every one-star review that we have on the app pushed to my device. You might even see me sometimes respond to those personally. We empower our teams to do that as well. So customer feedback is a really big one. And then another big piece that we have is what I would call enterprise initiatives. Ideally those are all connected – and they should be, since we're a customer-first type of company – to what the customer wants. But those might be really big initiatives. We call them top-down initiatives, where we all, as a Southwest company, need to come together and tackle something that's really big and really thorny. We take all that good stuff, plus the Wild West of what's happening in the innovation space within what Apple's doing and what Google's doing and how the ad tech space is changing, all that good stuff, then our product management teams try to prioritize it to make sure it balances back out to make sure that we're most loved, most efficient, and most profitable at the end of the day.
One interesting point Mark raised is that they benchmark themselves against digital leaders outside the airline industry and try to implement some of their best practices.
We definitely see other experiences come in, but we benchmark ourselves all the time against other brands that are related to travel and then travel-adjacent and then outside of travel. A good example, we're looking at improvements to our login experience right now. We can benchmark ourselves against travel, but honestly, those aren't the best experiences in many cases. We would look at quick service, or coffee, or retail – all those types of things to really benchmark what's the new trend. Or ground transportation, those types of things, to figure out what's a really good way to approach that experience, and then figure out how we can do it in the Southwest way.
Always Be Testing
One of the key principles the Southwest Airlines digital team embraces is the process of experimentation. The team runs hundreds of usability tests and A/B tests every year. If you look at Mark's LinkedIn bio, this is what you see: "Our teams take a customer-focused approach using data, user research, and A/B testing to develop well-honed experiences to take to market with our technology counterparts and partners." This is how Mark explained their motto:
We call it "always be testing," which is a lot of fun to get into that learning and analytical, hypothesis-driven approach.
Here at Diggintravel, we're one of the biggest promoters of airline digital optimization, so of course I was curious to learn more about this process. Mark explained that the process is done on different levels:
I try to maximize and our team tries to maximize all of our available ways that we can solve problems. Think of it like we have top-down initiatives where we as a Southwest family need to all come together to support the greater good, but then we reserve capacity and hold it for product optimization at a feature level. We make sure we have enough that we can respond to the market and do ongoing prioritization. That's not on an annual basis, but more quick to market so we can shift and dodge as appropriate.

Then we even have a more detailed level of optimization that is down at a product level. We can do targeting and personalization, depending on the frontend's capability set, at a very quick pace. We might be running tests when you're going through Southwest.com or the app, and you'll see a different journey experience if you have a certain product on your profile or not.

Down at that lower level where we're doing actual product optimization, we have teams that are coming up with hypotheses, looking at the clickstream data, looking at customer activity, looking at customer feedback, and saying, "Wouldn't it be good if we go test this?" Even down to the nuance of the impact of a color. Color has really big impact, and if you use it in the right spots, it can have a big deal. We changed a component in one of our flows and we saw a 0.4% increase in the flow's completion rate. Just by changing a – I mean, it was literally a 5×5 pixel area on the screen, and changing it from one hue to another. So those have huge impacts.
Empowering People to Do User Research and Usability Testing
One of the key factors for a successful experiment is doing as much testing as possible. Southwest Airlines has a huge digital audience, so they try to leverage that to do usability testing at a large scale.
We have a great usability practice that a team member brought to us a few years ago. We've just kept building it up since then. But we can go out and run a test on a problem area either at the micro or at the macro level very quickly and go out to a sample of a really large billion-person-plus audience and ask them to try out our new experiences.
They did both moderated and unmoderated usability testing in the past, but the pandemic prompted them to do more of the latter.
We can do moderated and unmoderated user testing in those situations, but COVID actually forced us into that. We used to bring people onsite, do galvanic skin response, hook them up to systems, have a webcam that's monitoring to see if they're smirking. I had no idea how many different forms faces could be and all the different things that show if you're pensive or concerned or elated.

But since we've shifted to that more internet-based approach, accessing our larger audience – I think last year we ran almost 300 usability tests on thousands of people to get their feedback. Which is so much fun because of our brand. We actually have a halo effect to the point where we have to take off our names and change the colors, because otherwise people see it and they're like, "Oh, that's Southwest! I like Southwest," and you go, "Ugh, that just tainted the experiment. Now I've got to go adjust it." [laughs] But we still love hearing it. It's just a funny side effect.
Going Beyond the Website and App: Digital Optimization on In-Flight Entertainment
What we see in our research is that most airlines do testing and user research on their main digital products (i.e., desktop and app). But we don't see many doing testing on other digital products. Mark and his team tried to expand this process to other channels and digital products.
I'm fortunate that we have the in-flight portal team on our digital experience team because longer term, I think we can do so much in that space. We have a great entertainment experience onboard, and we have the ability for you to access internet and free messaging and all that great stuff. We made the entertainment fully free a few years ago and saw great take rates.
Mark shared an example of one experiment that his team did on the in-flight portal:
We work hand in hand with them on the portal experience. On the portal experience we've had some great success with our current partner. A few years back, we did some research; we found learnings that we had from other app experiences, which was "Let's put the key things in front of people." We had this giant hero shot when you were on the in-flight portal, and then you had to scroll down to find the key things that you wanted to go do, like watch a movie or what entertainment. We all had a simple hypothesis, which is "Let's get rid of the hero shot and move all that stuff up to the top." Lo and behold, 25% increase in take rates. Free messaging was up I think 20% or 30%. Movies were up in similar fashion. We worked hand in hand in the research element of that to improve that experience.
Not only are they running experiments on their in-flight portal, the Southwest digital team also tries to apply personalization and dynamic, contextualized content principles typically reserved for the main website:
Steven, who is our digital product owner in that space, came up with this great idea, which is changing buttons around based on your phase of journey. We saw increased take rates from those as well. Your first button you might see is free movies and free live TV at the top, and then throughout your journey, we'll pop up a button when you're at a certain phase in the flight when drink service is about to begin so you can have context about your drink service and it's handy. And then if you've used other products and services, some of those pieces go away and we pop something else up there, just to make it much more contextual.
Growing the Southwest Digital Team After the COVID Pandemic
Like all airlines, Southwest Airlines had to adapt during the rough COVID era. But with the recovery, they are ramping up their digital capabilities.
COVID times were different. We definitely were not in growth mode. So I'm excited to get back in growth mode. It's probably hyper growth mode as we try to build back up again. But we're expanding into a number of new product areas that we've made some postings about. Those team members typically are digital product managers, product owners, user experience designers, researchers, content developers, data analysts that focus on clickstream data in particular. Those are some of the roles.
These are a lot of interesting new airline digital roles, so I was curious: What kind of skills and characteristics are they looking for?
The attributes that we look for are like we would look for any other Southwest employee: someone who loves serving others and really embodies that, someone who practices the golden rule, and someone who understands this is a really big team sport. The other big piece is that you just get jazzed about the great digital experience. It should be your thing, and you think about it all the time. We need folks that have that appreciation for how to take these great technical capabilities and translate them into experiences that make it better. When someone's grandmother is going to go visit and travel with us to go see their grandson for the first time, how do we make that easy? Or when my mother-in-law is trying to travel with us and English may not be her first language, how do we make sure that's really great for her? How do we build really simple experiences, at the same time balancing it for our folks who fly with us hundreds of times a year?

We are looking for people who can balance all those different personas – really be empathetic to all those different traveler experiences.
Do You Want to Listen to More Airline Digital Talks?
If you want to learn from leaders like Mark about innovative airline digital products or want to be the first to know when our next Airline Digital Talk will be published, please:
Iztok Franko
I am passionate about digital marketing and ecommerce, with more than 10 years of experience as a CMO and CIO in travel and multinational companies. I work as a strategic digital marketing and ecommerce consultant for global online travel brands. Constant learning is my main motivation, and this is why I launched Diggintravel.com, a content platform for travel digital marketers to obtain and share knowledge. If you want to learn or work with me check our Academy (learning with me) and Services (working with me) pages in the main menu of our website.