How to Build a Modern Airline Digital Experience
Iztok Franko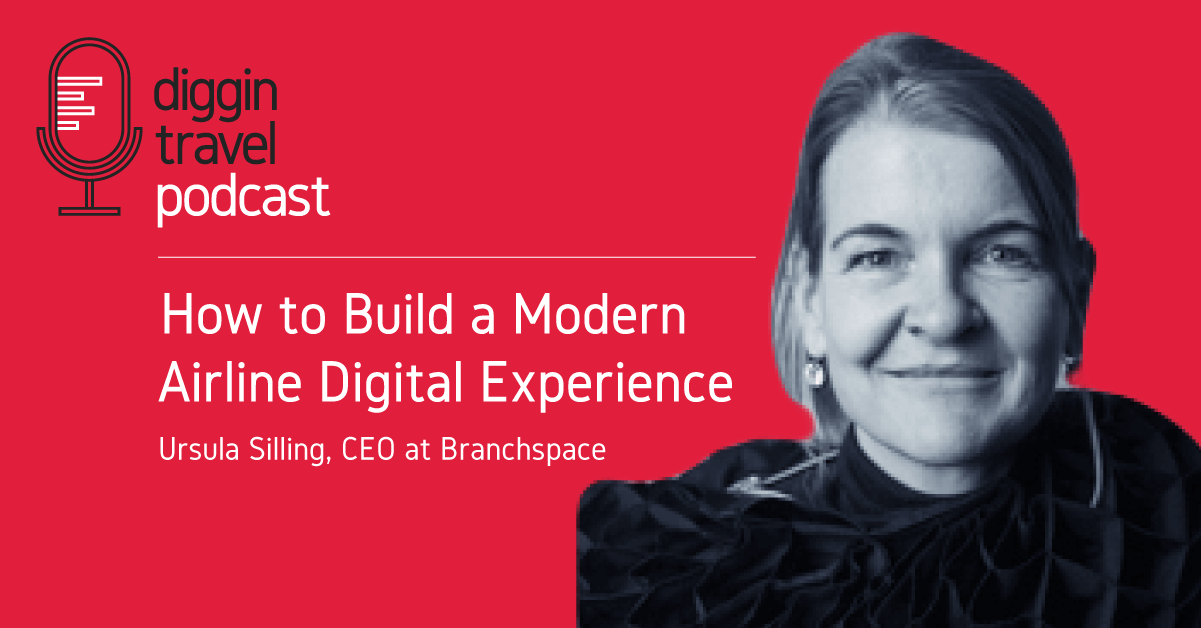 Why is building a modern airline digital experience so hard? Why are we as an industry still, so often, moving slowly and working in long RFP and procurement cycles when it comes to digital platforms?
Is there a better, faster way to improve your digital experience and implement new digital solutions?
And most importantly – if the answer to my previous question is "yes" – how and where do you start?
I think about the answers to all of the above questions often because, in my role as a UX and conversion optimization consultant, I often suggest various improvements to the airline digital experience. But I frequently get the same answer: "This is the limitation of our digital platform," or "It's not possible to do that."
To answer some of these difficult questions, I talked to a person who has experienced it from all possible angles. Ursula Silling has worked for eight different airlines as a head of commercial departments or as a digital advisor. Now, as a CEO at Branchspace, she is trying to solve the problems she faced while working for airlines by building modern airline digital solutions.
Building a Modern Airline Digital Experience – Talk with Ursula Silling, CEO at Branchspace, prior Chief Commercial Officer at Kenya Airways, Commercial Director at Air Malta and EVP Commercial at Brussels Airlines
Listen to the new episode of the Diggintravel Podcast about how to improve your airline digital experience team via the audio player below, or read on for key highlights from our talk with Ursula:

And don't forget to subscribe to the Diggintravel Podcast in your preferred podcast app to stay on top of airline digital product, analytics, experimentation, user research, innovation, and other trends!
Start with the Customer in Front of You
The thing that jumped out the most to me from my talk with Ursula is how much she talks about the customers and putting customers first. While airline digital experience spans many touchpoints, channels and different interactions along the passenger journey, airline organizations are often still very hierarchical with siloed digital departments.
Digital had always been very much siloed in the organization. Regardless of where you go, it was always a bit kept aside. In the executive teams – I worked most of the time in the executive teams – it basically didn't happen. They were still working, most of the time, very traditional.
Ursula shared a great story and example about how they made sure to put customers in front of key stakeholders when she was part of an airline commercial team:
There was also no talk about the customer, even in most of the board meetings. At some stage with Brussels Airlines, with my team, we created customer figures out of cardboard, and I carried the customer with me and always put the customer somewhere in a meeting to visually remember the customer. The same applied for digital. It was very rare.
Breaking down silos to build a customer-centric digital experience
Being customer-centric is the first key to building a great airline digital experience, but it's not enough. Airlines' hands are often tied by legacy technology and back-end systems. But regardless of that, Ursula and her team at Branchspace are trying to innovate and build modern airline digital solutions.
With Branchspace, we say we set off to break these barriers of the legacy technology and make it possible to have great customer experiences regardless of what's down there in the basement. You shouldn't see those ugly tubes and wiring and everything, but you can have a super modern house and a great experience.
But Ursula highlighted one important thing that needs to be addressed before you start transforming your digital experience. You need to define your business goals – like increasing your direct bookings – and connect your digital transformation project to your overall business strategy.
It goes as far as the stakeholders, as far as the whole executive team, the board, to be able to bring this together. So it's a real transformation and it requires you to think this through and make this part of whatever you change with your technology to be able to succeed, and also carefully think about your goals. If you want to increase your direct booking share and you really want to set off for a modern customer experience with this, you don't just do it by having the modern customer experience; you also need to think about your distribution strategy, for example. You need to think about your pricing strategy. Suddenly, you need to ignite the organization and get cross-silos.
Legacy technology setup is not the only area that can hold airline digital transformation initiatives back; legacy mindset can be a challenge as well.
There are so many specialists who get easily afraid because all of their life, they have been very strong because they knew a specific area very well, and suddenly their knowledge is at stake. So there is a lot of insecurity, and you need to manage this well, too. There is really quite a bit that you need to bring together. It's a journey, and the technology is an important part of it, but it won't help if the rest doesn't change.
How and Where to Start?
Often, redesigning your airline digital experience seems like a gigantic task – one that requires a long project – so one may get overwhelmed and be hesitant to start. So, how and where should you start? As Ursula mentioned before, defining the goals should be the first step.
It's important to really think about your goals and where you are over business goals and where you can make the biggest difference first and address it.

If you have only 20% direct bookings today, I would say, "We want to achieve 80% within three years. How do we get there?" It suddenly triggers all of this thinking. Then you suddenly start to think about the technology solution, obviously. But if I want to do this, I need to include what are the key areas, what are the key customer scenarios, and even also staff use cases, that need to change in order to do this?"

Defining business rather than technology goals will help you focus on the big picture instead of trying to replicate and redesign all existing features.

Suddenly you go away from a long list of functionality, which is very often based on what you've got today, and you're thinking about "Where do I want to be tomorrow, and where do my customers want to be? What are they used to and what do they expect in this period?" So you already move away from this long list of functionality and you start to create use cases and to say, "These are the use cases that I want to end up with. What are the realistic possibilities now to start with? How do I find the partner that can help me to start, but that can also help me to continuously do exactly the same exercise – this world is changing so fast – so that I can get to what I can imagine today?"
Don't renovate the whole shop from the jump, start with a shopping window redesign
Before jumping into developing or implementing a new platform, it's good to get back to the drawing board and think about how you envision the UX experience for your key customer touchpoints. Ursula and her team see this exercise as a good starting point to unite and connect key stakeholders in an airline organization:
We also do UX and UI design, so we realize how important for customer experience the design is. We've been doing this as well for a couple of airlines where suddenly they realize our thinking, our approach, how thorough we are when going through this and how we engage the whole organization and all of the key stakeholders to really make this work whilst bringing in our know-how and experience. And this on an international basis and relevant for the specific environment of the airline.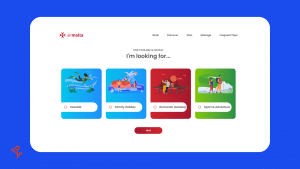 Ursula provided a great analogy for this exercise, one that highlighted why it's important to smart with small projects to get early wins and build trust.
I compare it with if you've got a shop and you don't want to completely renovate it immediately when you have in mind some new customer experiences, maybe some new products and behavior, then start by really doing a super well-designed shopping window to get some more interest.
One could take this example further and say you can experiment with building smaller additional touchpoints or digital products or flows, before starting with the redesign of your main ecommerce shop.
Open other shops, maybe add additional possibilities, how you can reach the shop, maybe with some additional self-servicing outside of the hours on machines if you want to compare it where you can still get your own product and you can compare this in the digital world with all of the e-servicing that you would do for travel. Maybe you suddenly want to experiment to sell completely different products, so you start your innovation journey, and you get the confidence.
The important part here is that these smaller quick wins will help your team build confidence to take on more complex challenges.
And you don't only get the confidence in the partner; you actually get the confidence for your team to be able to do this, because this team needs to grow as well. Sometimes maybe your partner could move faster, but if the team doesn't start to get the confidence – and initially there is often a certain fear with these changes. If suddenly they get the confidence, "We can make this work, now we can really do more, this is great," suddenly it gets the domino and it gets stronger together all the time.
Build Platforms That Enable You to Experiment and Be in Control
Being data-driven and leveraging experimentation is something that we preach here at Diggintravel, so I was really happy to hear Ursula talk about the same concepts when we talked about modern airline digital platforms.
That's where, of course, even this buzzword "data" comes in. It's crucial. And even with the changes, if you introduce a new technology, often as an implementation project, it's forgotten already that during that implementation you should create the basis of where you are today so that you can then really measure and also that the team can then learn, "If I get my capabilities to be able to do the testing and the experimentation, how will I do this? How will I measure it? What would I measure against? How do I need to think about personas? Maybe I don't yet know sufficiently about my customers, but there is a fairly good understanding to start with. How can I get there to then gradually make it better? Do I need to adjust my organization?" All of these items.
One term that Ursula emphasized was control. We see in our airline digital optimization benchmarks that many airlines still don't have digital platforms that enable them to fully control and experiment with their digital experience.
Another big theme is control. Do I then have the control? Can I change immediately if I realize this style, this color, works so much better and gives me half a percent more in revenue? Can I change it immediately, or will I then depend – another big pain point normally – on the supplier to change it? It will cost me a lot of money to change it. It will above all also take a lot of time. Can I really be agile with my business, and flexible? Where are those limits? This control is another very, very big item which airlines start to realize how important it is because they were caught in being very restricted to maneuver, basically.
The concept that I have mentioned in the past in my research papers is to "own" your digital platform – even if you don't own it per se, even if it's not your in-house solution, "own" it in the sense that you are flexible, that you can change it, experiment with it and manage it. Ursula agrees:
I've had situations where it was even impossible to change some words during your whole booking flow and change languages yourself and so on. It starts with those basics. If you look at the dynamic environment, this is getting even more important that you are in control and you can make changes fast.
Do You Want to Listen to More Talks With Airline Digital Leaders?
If you want to learn from leaders like Ursula about future airline digital trends or want to be the first to know when our next Airline Digital Talk will be published, please:
Iztok Franko
I am passionate about digital marketing and ecommerce, with more than 10 years of experience as a CMO and CIO in travel and multinational companies. I work as a strategic digital marketing and ecommerce consultant for global online travel brands. Constant learning is my main motivation, and this is why I launched Diggintravel.com, a content platform for travel digital marketers to obtain and share knowledge. If you want to learn or work with me check our Academy (learning with me) and Services (working with me) pages in the main menu of our website.