How to Build a Conversion Optimization Culture in a Travel Company [A Real Case]
Iztok Franko

It's no secret that I have a great passion for CRO (conversion rate optimization) 🙂
Not only because I believe CRO is key to long-term online growth, but because true conversion optimization cannot be done without customer centricity, which makes any aspect of travel marketing meaningful.
This is why I'm constantly on the lookout for CRO experts that share the same passion – people who can show you how to build a great conversion optimization culture.
Real ecommerce professionals who work in the "trenches" to build the culture of experimentation and learning.
No doubt, Transavia is an Airline CRO leader
At the moment, Transavia is one of the best examples of a CRO leader in the airline and travel industry. With its agile approach and dedicated CRO team, they've managed to systematically optimize their digital customer journey.
One of their most well-known experiments, which cost them about €20,000, generated more than €4 million in revenue uplift.
Transavia is unquestionably an airline CRO leader. According to the Diggintravel CRO Maturity Model and our Airline Conversion Optimization Survey, it fits perfectly into the description of a leader:
"Leaders understand CRO as a vital process in developing their products based on their customers' needs. But of course, understanding customers alone is not enough. Leaders excel at building their products through optimization and experimenting, not based on assumptions and opinions."
The Face of Transavia's Culture of Experimentation: Vanja Mlaco
At the InOrbit 2018 conference, Vanja Mlaco presented on how Transavia built its conversion optimization culture. As a CRO expert and a coach, Mlaco is one of the leaders of Transavia's digital transformation. His role is to build a digital organization that supports learning and experimentation.
I first got in touch with Mlaco when I was doing research for our aforementioned airline CRO survey. We immediately found common ground about the importance of CRO. So when I saw he'd be giving a talk at the conference (which was basically held in my neighbourhood), I knew I had to talk to him.
There's no doubt he's one of the most knowledgeable professionals in the field when it comes to building a culture of experimentation – especially in the travel industry.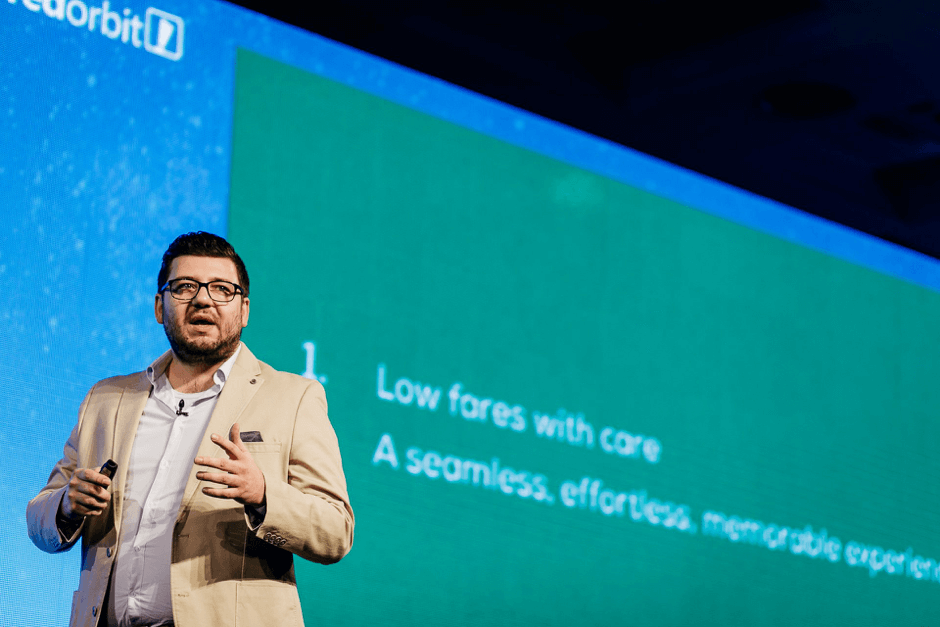 On the stage, he presented how Transavia optimizes its digital journey. They measure their customer experience on almost 30 touch points!
Constantly measuring, collecting and evaluating data enables them to provide their customers with the best experience possible.
I found Mlaco's real examples of Transavia's agile culture of experimentation and design sprints in action to be the most valuable part of his presentation. But I wanted to dig[g] deeper into the subject, so we sat down behind the scenes and discussed the "how" of his success.
How You Can Start Building a Conversion Optimization Culture
Mlaco admits that starting is the most difficult part of a change. First of all, you have to get your best designers and UX specialists on board to start changing things, but at the beginning it's hard to gain traction because they can perceive new ideas as criticism of their best work so far.
However:
"When you start doing the experiments and when you involve them […] you can see that it quickly catches up,"
says Mlaco. The moment you get your first results, things become a lot easier.
Mlaco:
"Nobody can argue with results."
If you're currently trying to get decision-makers on board and start running optimization experiments with your team, listen to Mlaco's advice and start small. The smaller the test you do, the faster you'll get the first results… and from then on it gets much easier.
"Show [them] that the effort you put into CRO is quickly paid back,"
Mlaco says.
"People are quickly convinced by money and by financial results."
However, choosing the right language when talking to designers and UX specialists is just as important. You have to show them that developing experiments and constantly optimizing the customer experience will give them more work and at the same time please customers, which is always their main priority.
Key to Your CRO – Understand Your Customers
One of the best examples of what Mlaco preaches is when he took his whole development team to the airport before they built their new mobile app. With their customers in front of them, they could build and validate their hypotheses on the spot. Submerging themselves into a real travel mind-set via customer interviews gave them enough insights to create a minimal viable product right there on the spot.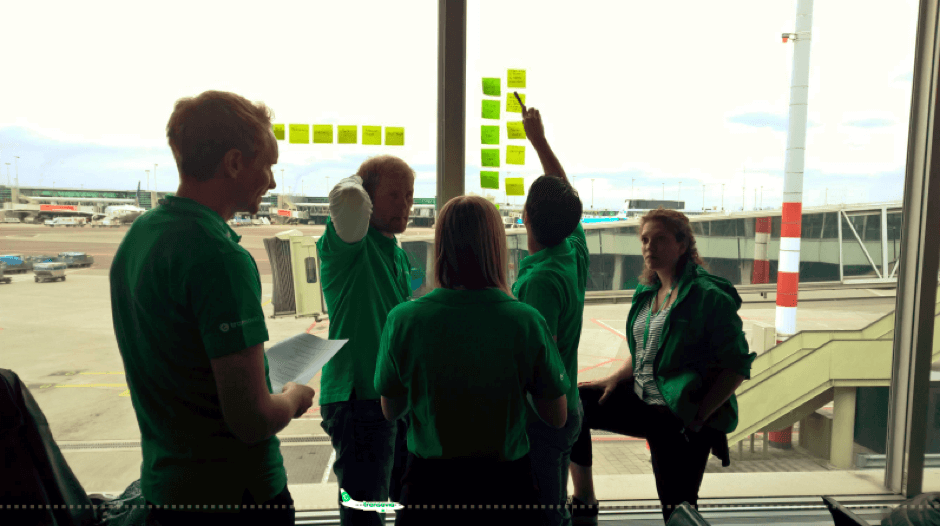 Again, they started small. They were focusing on their user needs and first-hand feedback. The process boosted creativity and increased the team's confidence.
Understanding your users, combined with an agile approach (like Google design sprints) is the essence of every successful conversion optimization process.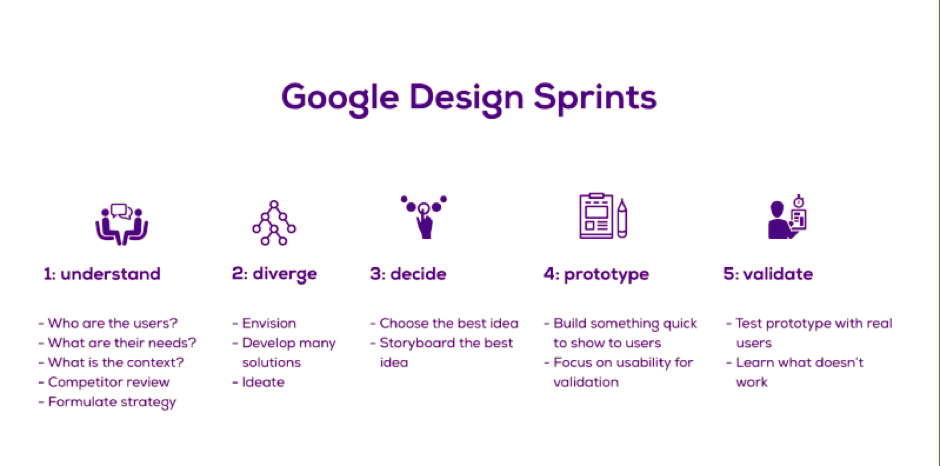 Building a Culture of Experimentation – It's All About Learning
If you focus on learning, there is no failure, only room for improvement and optimization. These two-week design sprints with a constant feedback loop gives employees an opportunity to really experience a customer-centric mind-set, which is so important when building a culture of experimentation.
It's so easy to wander off into our own ideas about the optimal product, even when we start with testing, surveys, customer interviews and so on. Transavia has really done a great job with developing their product while constant double checking with their users – from start to finish.
"[The] essence of A/B testing CRO is that you're learning […], and those learnings will bring you better financial results,"
says Mlaco. Keep that in mind when building your own conversion optimization culture because it's important to establish an environment where learning is possible.
This means that it's OK to make mistakes, money is not the goal but a side benefit, and there are no failed tests, only money savings.
What Should You Do Next?
If you want to learn more about how to increase your online revenue with a systematic, data-driven, user-centric approach:
If you want help with your CRO program and increasing revenue –> LET'S TALK
Be the first to get new ecommerce insights and tips –> SUBSCRIBE NOW
Iztok Franko
I am passionate about digital marketing and ecommerce, with more than 10 years of experience as a CMO and CIO in travel and multinational companies. I work as a strategic digital marketing and ecommerce consultant for global online travel brands. Constant learning is my main motivation, and this is why I launched Diggintravel.com, a content platform for travel digital marketers to obtain and share knowledge. If you want to learn or work with me check our Academy (learning with me) and Services (working with me) pages in the main menu of our website.