8 Key Questions About Airline Industry Trends 2020-2021
Iztok Franko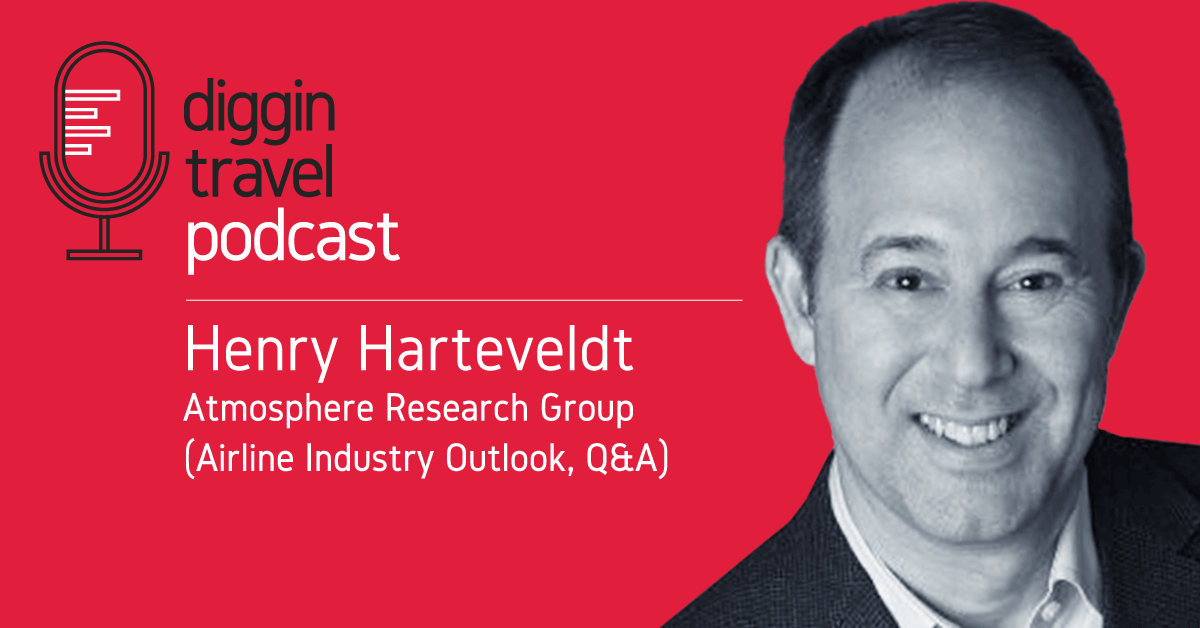 I didn't want this to be just another airline industry trends 2020-2021 article. (You know, the one where we write about the "unprecedented times" and add a chart to show how bookings have fallen off compared to last year.)
Instead, to see what questions airline industry professionals are asking themselves right now, we asked you.
Together with my colleague and fellow travel analyst Henry Harteveldt, I reached out to you on social media to tell us what you really want to hear about.
We were really pleasantly surprised to get so many questions from you. You asked us about the airline industry outlook and recovery, changes in passenger behavior, blocking the middle seat, ancillary revenue, distribution and investments in digital. All great and really relevant topics.
We tried to answer most of these in a Q&A format on the latest Diggintravel Podcast. Henry also shared some of the insights from the great research he's doing with the Atmosphere Research group.
Learn about the key airline industry trends 2020-2021 and listen to my chat with Henry via the podcast player. Or, if you prefer to read, you can also find some of the key questions below.
Q1: When can we expect a recovery?
We are doing weekly surveys with airlines and hotels asking them about their reservation volume. We're just simply asking them to rate their weekly reservation transaction volume on a scale of 0 through 10, where 10 equals normal. We started this on March 23rd, and the participants have grown on a global basis. We now have I think something like 75 airlines and hotels that are participating. They are, again, worldwide.
I think what's important to recognize is that this crisis began in January, and different parts of the world began to see slowdowns before we started to get into starting our research. But the first week that we did this, the week of March 23rd, which was pretty much when most of the world had begun to lock down or was already locked down, airlines rated their transaction volume at 0.9, and hotels were at 1.1. Remember, this is out of 10. It bottomed at 0.6 for airlines and 0.5 for hotels in the first half of April.
We began to see an uptick – a very modest uptick – after that. The most recent, the week of May 11th, airlines were at 1.7 and hotels at 1.5 on a scale of 0 through 10. Now, compared to 0.6 for airlines, 1.7 looks great. But when you look at that against 10, it's terrible. Today we heard on a call that Wolfe Research had with different airlines at its Transportation Virtual Conference, Paul Jacobson from Delta Air said that they've started to see modest increase and their bookings are now exceeding cancellations. United Airlines also said something similar on the call.
So I think we are starting to see some return. We're starting to see more countries reopen, in part or in full. We're starting to see the emergence of travel corridors exist between certain countries. But this recovery is going to be a very patchwork, and therefore very uneven, recovery.
We think that it is a 2-3 year timeline, and I think at this point it's closer to 3 years than 2 – although if a vaccine is developed and approved sooner than expected, then the timeline will be shorter. But I think that realistically, the industry needs to expect a 2-3 year recovery timeline.
As I'm hearing the executives talk about it, that's what they are saying. So that's good, because at one point we were hearing it could be as long as 5 years. I think we're starting to get a little more hopeful.
Q2: Which aspect of travel will recover quicker, leisure or business?
Leisure. Leisure is discretionary and it's our money that we choose to spend. Companies, or not-for-profits too, any employer has to be very prudent about when they allow their employees to resume traveling. Not only is it a function of budget, but it's the concept of duty of care, the responsibility that the employer has to its employees that they can travel safely to their destination, be safe while they are there, and return home safely.
Right now, unfortunately, we don't have the clarity about when travel restrictions will be removed. When they are removed, it's very possible that certain regions may have their restrictions lifted before others. For example, if the U.S. is still considered a hot zone, some countries may say, "We don't want U.S. visitors, whether they're business or leisure travelers, coming here." Others may say, "We will only let residents in from certain states that have proven that they've successfully managed to flatten the curve of the virus in their states or their communities."
I'm anticipating a very rocky, a very uneven recovery, and that's why I think business travel will be slow to recover. When it does start to recover, it will be the individuals who are traveling. I don't think you will see meetings or conventions and conferences come back for several years. Again, not until we have a vaccine. I think the last thing we want to do is find ourselves in a conference hall with hundreds or perhaps many thousands of people we don't know – not that we don't want to do the networking, but until we have certainty over everyone's health status, it becomes an uncomfortable and potentially uncertain environment from a health standpoint.
Q3: Who will be winners and losers?
The winners will be both airlines and other parts of the air transport industry that keep a complete view of everything that they're doing – not just reducing their operating and capital expenses, but how are they taking care of the customer? How are they adjusting their fleet? How are they treating their employees? How are they taking care of them? If they have to do downsizing, are they doing voluntary programs versus involuntary layoffs? How are they addressing the customer experience? How are they addressing their technology investments?
I know that's something that's particularly important to both you and me, Iztok, because technology is going to play a central role in helping companies recover from a marketing and business standpoint. So it's not just who has the biggest bank balance and the strongest balance sheet; it's who really has kept the most comprehensive view of its business and is doing the most comprehensive approach towards rebuilding itself when conditions allow reopening?
Q4: What kind of impact will state aid have on airline industry trends 2020-2021?
This crisis was nobody's fault. State aid is essential to keep airlines going. I think what's interesting is that airlines have for decades been the industry people love to hate, but a crisis like this, or 9/11 for example, wakes people up to the absolutely essential nature of what it is airlines do. We are the industry that helps transport not just people, but an awful lot of the goods we need to live our lives, and right now, there have been many stories written of airlines around the world transforming passenger aircraft into cargo-carrying planes to help move items, including essential medical goods like PPE, around the world to the people who need them.
State aid is critical. Airlines are large employers, and through them is indirect employment. They generate cash for their countries. They are the catalyst for business and for tourism. So the state aid is critically essential.
The challenge is, how is that state aid applied? Is it, for example, to help keep people employed, to help pay wages, or is it operating capital, or both?
But I think that what will be interesting is once the aid is provided, how do the governments that provided it manage this? Will they be, if you will, silent partners? Will they be more passive?
The last thing we want is for governments to start meddling in how our industry does business in ways that don't matter. But at the same time, governments also have provided their taxpayers' money to airlines, so there will be a lot of consumer pressure on them.
Q4: Is an empty middle seat really a solution?
Right now, one of the hot topics that's being debated is blocking middle seats. Short term, there may be a need for this to create confidence among travelers when non-essential travel is allowed to resume that it's part of the steps that airlines are taking to help keep people safe from a health standpoint. But we know long term that that is simply not economically sustainable – not if passengers want the low fares that they love and crave.
So the last thing we want is for governments to say airlines have to leave middle seats open long term, but there may be a compromise where the governments say, "We would encourage you to leave middle seats open to create the confidence, and then once people get accustomed to this, you can start to fill the middle seats." We'll have to figure this out.
I like Frontier's idea of selling an empty middle seat, but it was just not the right time to do that now. That's something that maybe in a few months, when things have normalized here in the U.S. – and for that matter, elsewhere – that airlines can look at to generate additional revenue and monetize the empty seat if they have it.
I think, again, we know long term airlines can't operate with an artificial cap of selling just 60% or so of the seats on an airplane, unless we want to go back to very expensive air transportation. That was the case before the industry globally deregulated.
Q5: What will be the role of ancillary revenue?
What I would say is in terms of ancillaries, they're going to be critically important because that's high margin revenue. If we focus on selling people things that they like, value, and can afford – again, using the technology, using the data that we have about the customer and whatever other insights we have – then the customer doesn't feel that he or she is being nickeled and dimed, as the saying goes. Instead, they feel the airline is offering them good value. This also speaks to the importance of the IATA NDC program, the IATA One Order program, and more.
Last year, 2019, we wrote a report for Enterprise Ireland, which is the Irish government's venture capital organization, if you will. They have a lot of travel tech companies in their portfolio. We introduced the concept of what we call complete retailing. If you think about it, airlines now have access to the technology that they need to be able to sell a lot of third party products. There are an awful lot of third party businesses that can help airlines sell things, whether it's on the airplane or within the airline experience or off-aircraft – whether that's ground transfers, something that keeps the middle seat open, reserving a campsite, almost anything else. That now exists.
I think what airlines need to focus on is not only to provide the value travelers want, but to strengthen the utility and appeal of their digital direct channels and to compete more strongly with third party retailers, whether they are online or offline travel agencies, wholesalers, or others. Expanding their ancillary portfolio makes sense. A year ago, some airlines would say, "We can't consider an ancillary product that doesn't generate a million dollars or more in annual profit."
Now, you may need to consider something that can generate even $50,000 or equivalent in profit, because that $50,000 helps bring back one of your employees that was laid off. If you have enough of those, then you are starting to make some meaningful contributions to the airline. 50,000 dollars or euro in profit today can grow over time and become half a million, a million, or more in a few years with the right marketing.
So ancillary (revenue) becomes absolutely central to how airlines financially recover, and frankly, how they can stand out from one another in competing.
Q6: Is this crisis an opportunity for airlines to increase their direct ecommerce channel share?
Absolutely. What's interesting is that overall, digital has grown as a percentage of an airline's distribution share, certainly in the U.S. It's extremely large in the UK and China and elsewhere, where ecommerce has been more widely adopted than perhaps in some other countries. But absolutely, this crisis will be a catalyst for further adoption.
I'll go back to 9/11. I was a new analyst at Forrester at the time, and there had just been this convergence of things that had come together, including critical mass of residential high speed internet service in the U.S. and airlines improving their booking engines and starting to make some significant investments in their ecommerce capabilities when 9/11 hit. What we saw is that there was a catalyst after 9/11 for people to start shopping for flights online as airlines cut staff, cut back on their reservation staff, and continued to offer some incentives to people to book online. That was the beginning of the hyper-growth in airline ecommerce.
As an industry worldwide, travel is believed to be the second largest category in online sales. The only category that exceeds travel is, believe it or not, adult entertainment. But travel has been doing ecommerce now for 20 years or more. Remember, Alaska Airlines actually had the first transactional website, which launched in 1994. So we've been doing this for quite some time.
I think what's really interesting, though, is that airlines which may have felt the travel agency channel was too important now recognize that it's not just cost that is why they should invest in their digital channels; it's the customer. The direct contact with the customer.
Absolutely, people will emerge from this with much greater understanding of transacting online, comfort with transacting online, and willingness to transact online.
The challenge for airlines is: are we doing as good a job in helping people buy what they want as their favorite retailers are?
Do we make discovery as easy as it needs to be? Do we have the forms of payments that travelers prefer to use? Can you shop outside of the origin destination, start date/return date four boxes?
Do we help people shop based on their interest, their budget, or other things that are more emotional, and frankly, mirror the type of conversations they might have with an airline call center agent or a travel agent?
Q7: Can airlines afford not to invest in digital anymore?
It is 2020. Any airline that isn't investing where it needs to, in its digital future, is cheating itself of its ongoing future. I recognize that this crisis requires shared sacrifice across all departments. In the past, in certain downturns or slowdowns, investment in digital has perhaps not been cut as much as elsewhere in an airline because airlines have recognized that digital is critically important.
When you see your demand fall by 90%, 95%, 97%, you have to cut everything. You're cutting capital expense, operating expense, and headcount. So airlines cut back on IT, contractors were shown the door. What concerns me is that a lot of airlines make extensive use of third party organizations to do the work primarily because of cost. I think airlines need to really reexamine this going forward and see if it doesn't make sense to hire more full-time employees who are dedicated to the airline.
But we absolutely have to prioritize investment in technology, because that is going to be a critical way for how airlines bring the customer back and how the customer, importantly, wants to shop and buy their travel. If an airline isn't offering a digital experience that is as good as, as convenient as, as intuitive as third parties, it will lose to the third party, whether it's an online or offline third party. If the airline doesn't make its online presence as easy and pleasant and enjoyable to use as its call centers, then it will continue to drive people to its more expensive call center channel.
It's essential that IT and digital commerce be supported, although obviously it has to be done in a way that is fair and that respects the need to invest in multiple difficult areas, whether that's maintenance or onboard the airplane, the passenger experience, marketing, or any other part of the airline. There are even tools that the airport staff may need from a digital standpoint – for example, biometrics, which support a contactless boarding experience but which are very expensive. A credible argument can be made this is more important for us than something to do with improving our digital commerce.
Q8: How can new smaller airline teams be more agile and aligned?
I'm a fan of smaller teams. For one thing, I think it just keeps us all busier, and there's a greater need for us to know and be involved in what's going on in adjacent departments.
But another thing that I've suggested to not just airlines, but other travel organizations with whom we work, is that there be shared goals and objectives across teams. There may be corporate objectives – we want to increase our RASM by X percent, we want to improve our on time performance by X number of points or whatever – this are all fine and well and good. Then marketing has its objectives, revenue management and pricing have their objectives, network planning has its objectives, and so on. What we need to do is say, where are some natural overlaps between departments?
Let's bring it back to ancillaries and ecommerce and customer engagement. Revenue management needs to be goaled on certain ecommerce success metrics, and digital commerce needs to be goaled on certain revenue management performance objectives. That way, everybody not only has skin in the game, but they are invested, literally, in one another's shared success.
If I'm only thinking about myself in my department, and not my colleagues in other departments, ultimately it won't be as effective. But if I'm keenly aware that I have a responsibility not just to my department, but to these adjacent departments, and they have a responsibility to me and my department, then I think ultimately you have a better performing business.
Want to Learn More About Airline Industry Trends 2020-2021?
If you want to be up to date with the latest airline industry trends 2020-2021, listen to the full podcast conversation with Henry.
You can also check out some of our prior podcasts, where we talked about future airline distribution scenarios, 2020-2025 airline technology outlook and 2020 airline digital trends.
Also, if you're not subscribed to our newsletter yet, you can subscribe here. Our new 2020 Airline Digital Optimization Yearbook will be published soon, and it will be the most comprehensive airline digital research published in 2020.
Iztok Franko
I am passionate about digital marketing and ecommerce, with more than 10 years of experience as a CMO and CIO in travel and multinational companies. I work as a strategic digital marketing and ecommerce consultant for global online travel brands. Constant learning is my main motivation, and this is why I launched Diggintravel.com, a content platform for travel digital marketers to obtain and share knowledge. If you want to learn or work with me check our Academy (learning with me) and Services (working with me) pages in the main menu of our website.