The State of Airline Ecommerce [2019 Conversion Optimization Whitepaper]
Iztok Franko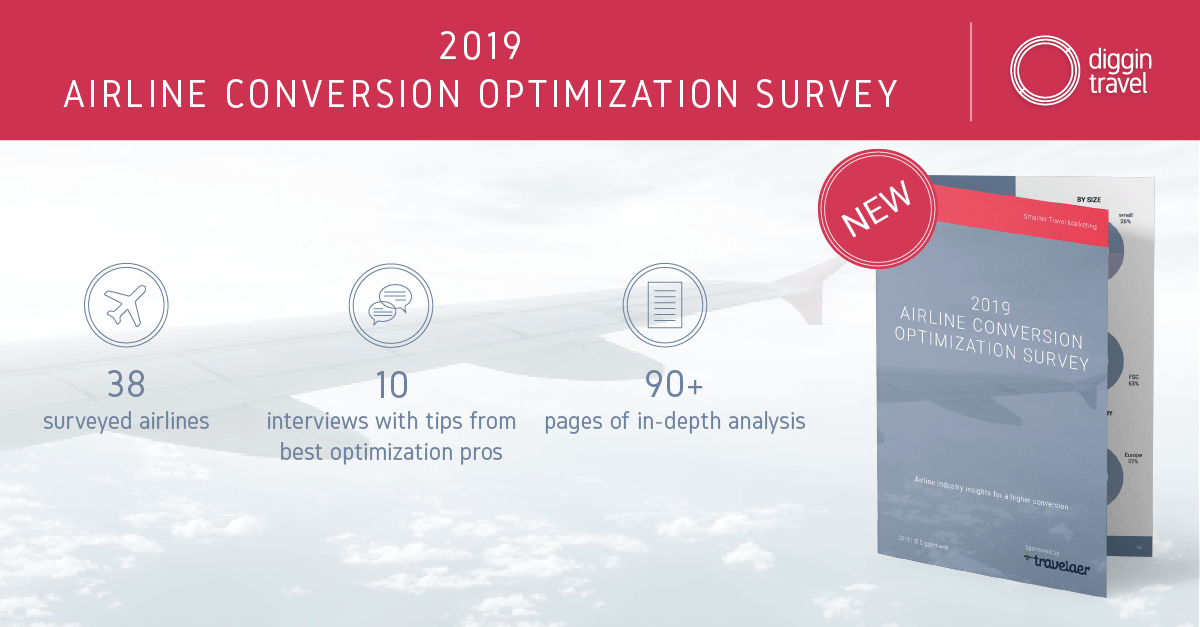 If you're serious about taking your airline ecommerce to the next level, then you need to master conversion optimization. Increasing conversion rate is something we all want to do, right?
Here at Diggintravel, we really want to help you with that!
One year ago we conducted our first-ever airline CRO research, where we surveyed 28 airlines. This year we wanted to make it even better!
The Diggintravel 2019 Airline Conversion Optimization Survey is the second survey and benchmark of CRO in the airline industry. It's bigger, better, with great insights from airline ecommerce professionals and the world's best optimization experts!
2020 NOTE: There is a newer, better, bigger version of this research available here –> The 2020 Airline Digital Optimization Yearbook
The survey will provide you with an overview of the evolution of this exciting airline ecommerce discipline.
Interviews and special tips provided by 38 airline ecommerce professionals and the world's best CRO experts
Our survey investigates the maturity of airline ecommerce processes and key challenges professionals face in their conversion optimization efforts.
In the autumn of 2018, we sent our survey questionnaires to more than 110 senior airline ecommerce, optimization and digital marketing airline executives.
The survey represents the views and insights of 38 carriers (a 35% increase from last year's turnout). It will provide you with intriguing insights into the state and development of CRO for the airline industry.
What Did We Ask Airline Ecommerce Pros?
The goal of the survey was to evaluate CRO maturity within airline organizations. We evaluated airlines in 8 different CRO areas. Each area was ranked from Level 1 (basic) to Level 5 (most advanced).  As a result, the Airline Conversion Optimization Maturity Model was created.
You can find more info about the eight evaluated areas and the full 2019 Airline CRO Maturity Model model here.
You can see the exact survey questions and detailed results with charts for each area in the whitepaper.
A Quick Glance at the Results – High-Level Summary
We scored the airlines' CRO maturity in each of the eight main areas of the aforementioned Diggintravel Conversion Optimization Maturity Model. The sole purpose of ranking the survey results was to see if we could group airlines into different categories based on their CRO maturity and to provide you with practical guidelines on how to advance.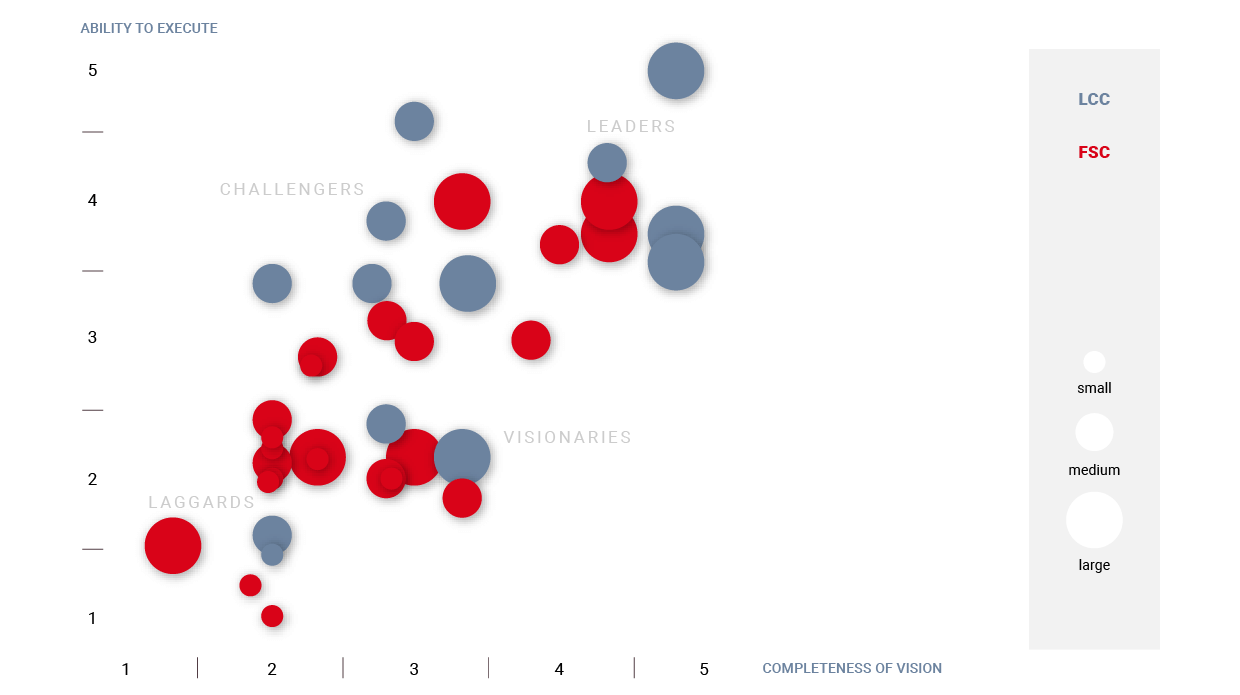 Based on the results, we classified each participating airline into one of the following four categories: Laggards, Challengers, Visionaries, and Leaders.
Here are the summarized results of our 2019 Airline Conversion Optimization Survey and benchmarks:
7 airlines were classified as Laggards
13 airlines were classified as Challengers
10 airlines were classified as Visionaries
8 airlines were classified as Leaders
Want to learn what Leaders do to jump ahead in the airline ecommerce game?
Get Your Copy of the 2019 Airline Conversion Optimization White Paper!
Click the link below and get the PDF version of our 2019 Airline Conversion Optimization White Paper. With this download, you'll get:
More than 85 pages of in-depth analysis and airline e-commerce best practices
60+ charts, real-life examples and case studies
Exclusive interviews and tips from airline ecommerce pros and the world's best optimization experts
Get your 2019 Airline Conversion Optimization White Paper now »
NEWER VERSION OF THIS REPORT: Get 2020 Airline Digital Optimization Yearbook
Iztok Franko
I am passionate about digital marketing and ecommerce, with more than 10 years of experience as a CMO and CIO in travel and multinational companies. I work as a strategic digital marketing and ecommerce consultant for global online travel brands. Constant learning is my main motivation, and this is why I launched Diggintravel.com, a content platform for travel digital marketers to obtain and share knowledge. If you want to learn or work with me check our Academy (learning with me) and Services (working with me) pages in the main menu of our website.