Airline Digital Talks: Remus Moraru, Wizz Air
Iztok Franko
This is the first article in our new Airline Digital Talks podcast series. We're starting the new cycle of our Airline Digital Optimization Yearbook project, and during the research phase, I interacted with a lot of great digital minds from our industry. With the new series, we want to bring more exposure to the work of these airline digital professionals.
How did the pandemic change their work? Are they building new digital experiences, especially mobile, to support contactless service and boost customer confidence? How are they measuring and optimizing their digital customer experiences? These are just some of the questions we will try to answer in our talks.
The first airline digital pro in our series is Remus Moraru from Wizz Air. Remus is a long-time supporter of Diggintravel content and regularly contributes to our airline digital optimization research. What's more, Remus was the one who came up with the idea for the Airline Digital Job Board.
Airline Digital Talk with Remus Moraru, Digital Product Manager at Wizz Air
Listen to the new episode of the Diggintravel Podcast to learn about Remus and his digital work at Wizz Air, or read on for key highlights from our talk:
And don't forget to subscribe to the Diggintravel Podcast in your preferred podcast app to stay on top of the latest airline digital and retailing trends!
Digital revenue – the merging of digital, ecommerce, ancillary and digital optimization
The first thing I asked Remus was what his role at Wizz Air looks like.
Currently I'm a product manager at Wizz Air in the Digital Revenue Team. My main focus is optimizing the booking path of the customers from different perspectives, both from an overall conversion and also from an ancillary point of view, optimizing the product conversion and also looking after product delivery.
Digital revenue as a team is an interesting concept and one that I've seen other airlines develop over the last few years. Historically, ecommerce, digital optimization, revenue management, and ancillary revenue were all separate departments. But, with an increased focus on digital retailing, it makes sense to connect them all together. As we preach in our Airline Digital Retailing Academy, you can't be successful at digital retailing without a holistic approach that integrates all these areas together. In Remus' case, he's not only working on increasing conversion rate and optimizing the booking flow to increase digital revenue; his team is responsible for developing new products as well:
We also do a lot of new feature sets and implementing new products as well. It's a quite exciting job/role which has a lot of insights from both the product world, data, and customer experience as well. It's a great mix of getting to know the airline from the inside out.
Conversion optimization vs. developing new digital products
I liked the idea of doing both – developing new digital products and optimizing the existing booking funnel – because I think they are very tightly connected. But sometimes there are also challenges of doing both. On one hand, you want new features and new product out fast. But on the other hand, you want to test it, to run experiments to see how stuff works. So, I was interested in Remus' view. Does he believe they're always complementary, always working hand in hand, or are there some challenges to mixing them both?
I think generally speaking, I'm the one who usually says that it's complementary. It's always an experimentation. Nothing is set in stone that it will work or not. Of course, you do a lot of research ahead and try to figure out how the customer will react, how it will work in the real world, but it won't give you a 100% accurate answer in all cases. Therefore, I think experimentation comes in handy all the time. Then you can really start from the beginning knowing what's working and what's not. Based on that, you can build gradually and actually even shift course in the early stages of any development or product launch in the direction where you want to be.
That last sentence, about "shifting course" early, I think is even more important now, during the pandemic. We talk a lot about how airlines need to be agile, and Remus highlighted how experimentation can help you there. At Wizz Air, the whole team tries to adapt the mindset of experimentation:
I think this mindset is not just my mindset, but generally speaking in the team. And of course, we preach it and I think we believe in experimentation quite a lot. The benefits are there. We know, and we've seen it countless times, that experimentation will give you an edge. From this perspective I think the whole team is already converted.
COVID as the Digital Accelerator
What we've seen with many airlines is that COVID put pressure on them to build a lot of new digital solutions, new mini digital features, and digital products, fast. A lot of the manual things we were trying had to move to the digital space. How did COVID accelerate things for Wizz Air's digital team?
I believe that digital experiences in general, the importance of these didn't change in 2020. However, as you mentioned, last year accelerated a lot of this field and the shift was mainly driven by trying to get things done faster and react faster to those customer needs that basically exploded during last summer. The shift will be more on gaining speed and digital experiences, and actually the importance is the same. We just need these developments or these experiences to be delivered faster to the customer.
I think the challenges are there in the sense that the agility of the business has changed, and therefore it tries to find the right solutions for the right times. As in the case of the CRO [conversion rate optimization] business, when you try to find the right solution for your customer and the right approaches, I think this is something that a lot of airlines try to accomplish these days. Therefore, we think that it's important to react fast in these areas.
So, it's not only the digital team that needs to be more agile. These faster digital cycles that Remus talked about are expanding to the whole airline business. What we've seen in the digital space with agile in development and building MVPs has moved to the bigger, broader airline business. We see airlines trying to be agile with schedule planning, with pricing, and with revenue management. We don't do planning or entering new markets once or twice a year anymore; now it's like faster mini loops of trying to be faster and more agile. The broader business is adopting some of the things we've been preaching in the digital space for a long time.
New Mobile Digital Opportunities
Another topic we discussed with Remus was new opportunities for airlines with ecommerce on mobile. More concretely, we talked about the micro ancillary upselling moments. Some of the scenarios that a lot of people were not used to before COVID, like ordering food pickup and delivery through an app, and doing shopping and ecommerce through mobile, are much more common now. These new scenarios are opening up new opportunities, and some airlines are already taking advantage. In the U.S. it is very popular, for example, to preorder your food and pick it up at the counter. Does Remus see this shift as an opportunity for growing their ancillary revenue?
I think we did react to these opportunities, and one of these reactions was right. For example, we introduced late last year that you can basically easily order a taxi or prebook a taxi through the Wizz mobile app. I think this was one of the first reactions that we said, okay, customers are more and more devoted to their mobile devices on a daily basis specifically, as you mentioned, and we could grab their attention through this. The challenging part, of course, is that the customers are flying less, so how do you attract customers to the airline's mobile application or website to promote these features?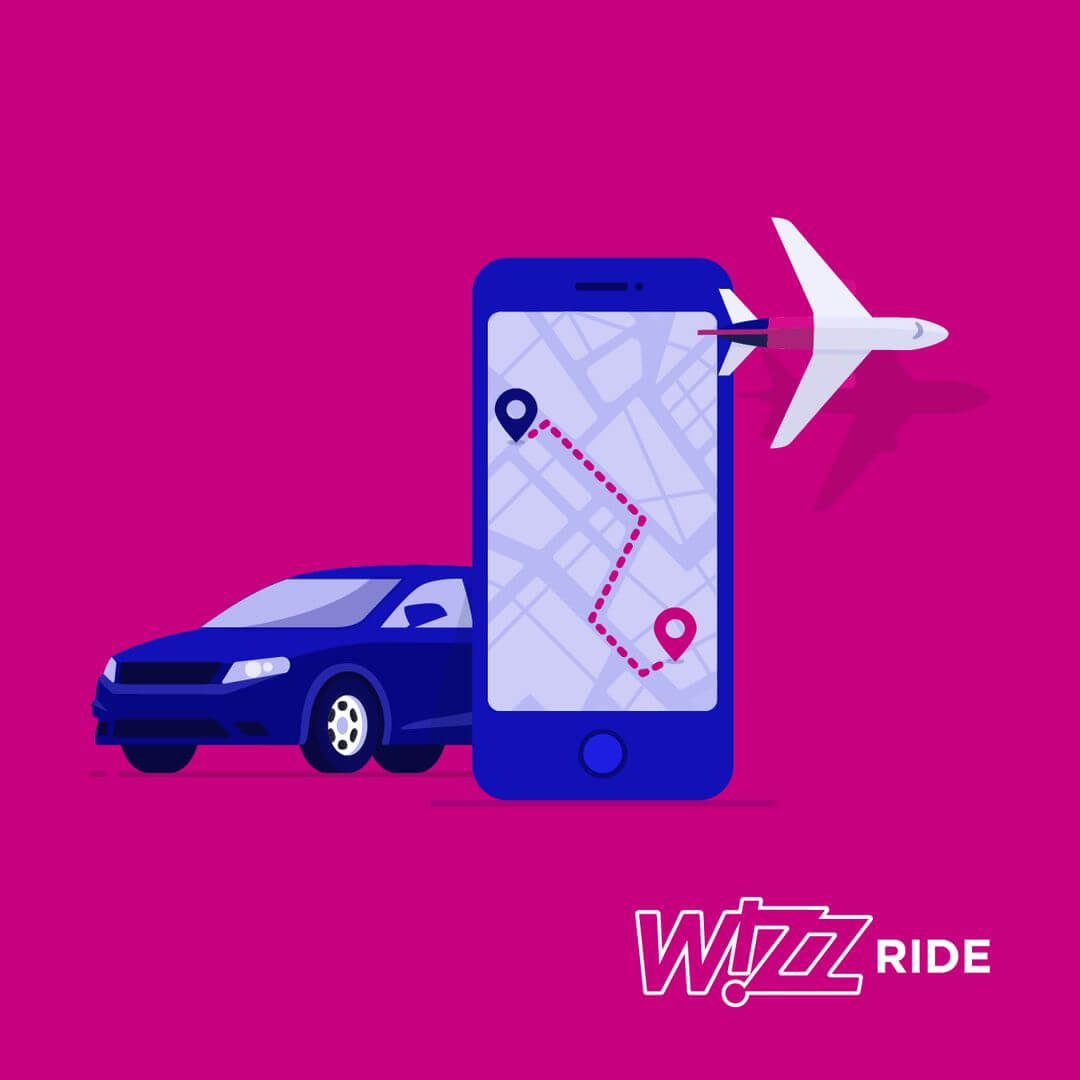 The challenge of airline mobile app relevancy
The last question Remus raised was: How do you stay relevant in a time when people are traveling less? This is a crucial question for any airline that wants to build a successful mobile business. We see airlines like AirAsia openly talking about going beyond flying by building the super app to increase relevancy. Wizz Air, on the other hand, is trying to focus on its core business:
It's a difficult question. If you're asking me personally, the super apps – it's hard to manage, in a sense. There's a lot of features, a lot of details, and it brings a lot of complexity to the business. I think at Wizz Air, we like to stick to the core and do what we do best. Therefore, generally speaking, we look to simplify the customers' lives and try to bring features or products that add to the simplicity and not overcomplicate our booking flow, for example.
One feature Wizz implemented in their mobile app was price alert functionality. Like Remus said, when people are flying less, it's difficult to keep engagement, especially on the mobile app, and to compete with other apps that customers use several times a day. Was this price alert functionality something to keep people engaged?
Absolutely. I think price alerts have proved their usefulness in the past. I myself used them in the past in a lot of cases. It was a very straightforward decision that this is a feature that can help in these moments and keep our customer base engaged.
How to Measure and Analyze Digital Experiences
The last topic that I had to touch upon with Remus was analytics. New digital and mobile touchpoints complicate measuring the digital experience. Digital analytics is typically where we start with all optimization activities. It's the core, whether we're talking about Google Analytics or Adobe Analytics. But often it's not really the whole picture, especially if we want to understand more complicated customer or journey flows. How does Remus look at this challenge? Do we need to find different tools to measure different things and parts of the journey? Or should we try to consolidate all things under one umbrella?
I think in my first years, I was really converted into thinking that consolidation is the right answer. And part of me still thinks that consolidation is the right answer nevertheless, in an ideal world. In an ideal world it would really work. But with consolidation, the challenges are that the amount of complexity, the amount of data that you need to process from all the different angles, from all the different inputs – you will create yourself a bigger mess at the end of the day if you don't devote enough resources, enough capacity, enough time, than actually segmenting your measurements and looking at it from different tools.

In a lot of cases, consolidation will give you the overall picture or will try to have the overall picture for you. But in a lot of cases, what you need is ad hoc answers from different parts of the business or different parts of the flow, which in the end can be achievable quite fast from different toolings. So right now, I think it's better to have a segmented view of maybe different tools, and all those tools can be specific to a specific area.

It's a different question if you can tie those tools together effectively and make meaningful data connections between these – lightweight, not deep integrations – and then make even further integrations or insights from how these different areas are interacting with each other. I think this is how I would proceed and how I would do any kind of data approach. Consolidation is a good dream, but it's a hard dream to achieve.
Do You Want to Listen to More Airline Digital Talks?
If you want to learn from leaders like Remus about airline digital marketing or want to be the first to know when our next Airline Digital Talk will be published, please:
Iztok Franko
I am passionate about digital marketing and ecommerce, with more than 10 years of experience as a CMO and CIO in travel and multinational companies. I work as a strategic digital marketing and ecommerce consultant for global online travel brands. Constant learning is my main motivation, and this is why I launched Diggintravel.com, a content platform for travel digital marketers to obtain and share knowledge. If you want to learn or work with me check our Academy (learning with me) and Services (working with me) pages in the main menu of our website.