Airline Digital Retailing Framework
IZTOK FRANKO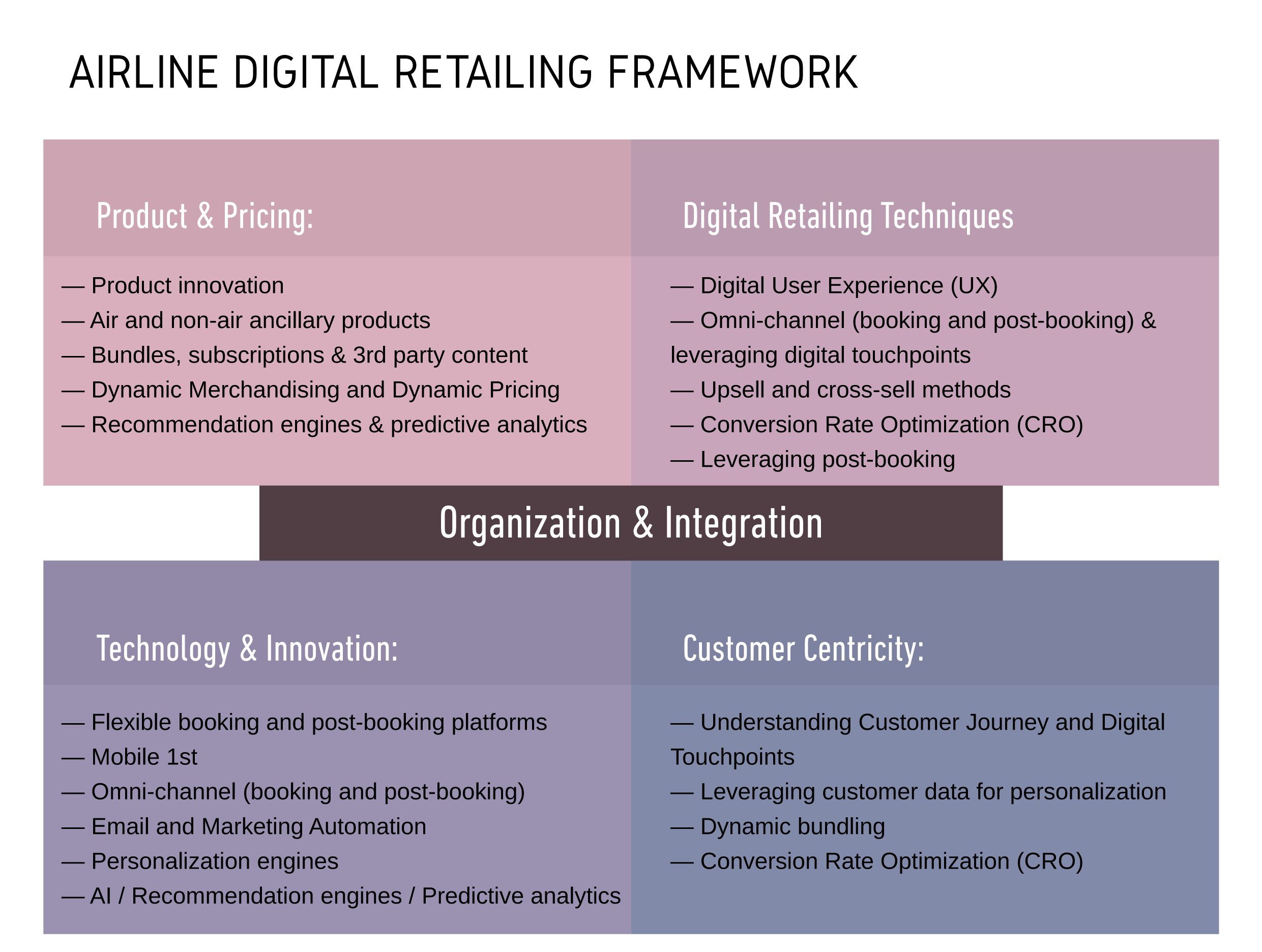 The goal of Diggintravel Airline Digital Retailing Framework is to provide you a holistic view of all areas (and their interdependencies) needed for a successful airline digital retailing. Framework can help airlines strategically asses and plan actions by each area. For a successful ancillary revenue program all areas need to be addressed and integrated.
Airline digital retailing framework was done based on the insight of 45 airlines we surveyed in our 2019 Airline Digital Retailing Survey.
Great ancillary products are not enough to grow your ancillary revenue; digital retailing skills and customer centricity are needed as well. Similarly, great ancillary strategies cannot be realized without organizational agility, integration and agile IT platforms.
Finally, framework is also a tool for self-assessment for airlines to realistically asses their digital retailing competence.  In a lot of cases there is an organizational belief that own digital and ancillary revenue competence is at a higher level than it actually is. Only when we do a systematic evaluation of each area we usually get the realistic picture.
Want Full Details for Each of the Airline Digital Retailing Framework Area? Get Your Copy Now!
Click the link below and download the PDF version of our 2019 Airline Digital Retailing White Paper. With this download, you'll get:
➡️ The latest airline digital and ancillary trends from 45 surveyed airlines
➡️ 90+ pages of in-depth analysis
➡️ 45+ charts with the airline benchmarks
➡️ Special insights & interviews with digital experts from airlines, OTAs and retail
➡️ More than 15 case studies and examples of digital retailing best practices
Download your 2019 Digital Retailing White Paper now »
Iztok Franko
I am passionate about digital marketing and ecommerce, with more than 10 years of experience as a CMO and CIO in travel and multinational companies. I work as a strategic digital marketing and ecommerce consultant for global online travel brands. Constant learning is my main motivation, and this is why I launched Diggintravel.com, a content platform for travel digital marketers to obtain and share knowledge. You are welcome to reach out to me at iztok.franko@diggintravel.com.