Airline Digital Optimization Maturity: How to Take the Next Step
Iztok Franko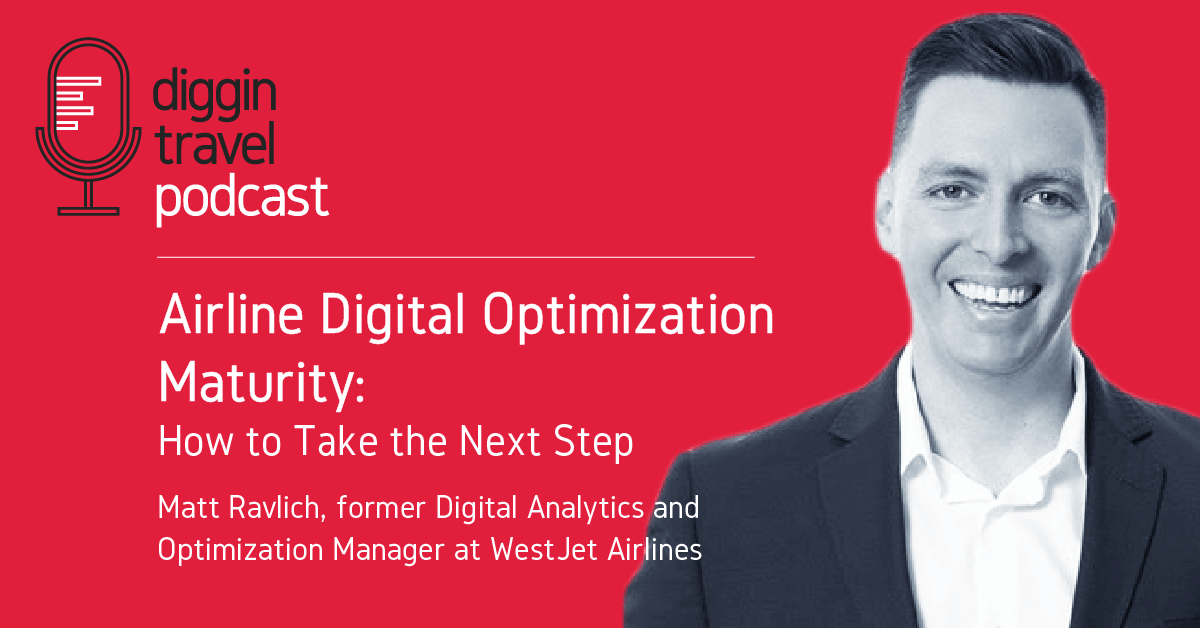 The most important piece of content you can find on the Diggintravel website is our yearly industry research paper where we benchmark airline digital optimization maturity. Apart from the airline self-assessment, talking to experts who have put airline digital optimization into practice is a key part of the research and insights. So, as we get deeper into our 2023 benchmarks, you can expect more interviews with various digital, user experience, analytics and experimentation leaders here on our website and on the Diggintravel Podcast.
Today, you can learn more about the challenge I get asked a lot about by my airline digital colleagues: How can you grow and evolve your airline digital optimization program?
To shed more light on this interesting topic, I talked to an experienced digital professional, Matt Ravlich. Matt is currently a Managing Director for Alberta Consulting Group (ACG), where he specializes in optimizing their clients' digital experiences using the current tools they have and helping them prepare for the future. Prior to that, Matt was Manager of Digital Analytics and Optimization at the second-largest Canadian airline, WestJet Airlines, where his main focus was growing maturity levels with WestJet analytics and optimization programs.
Evolution of Airline Digital Optimization Maturity – Talk with Matt Ravlich, former Digital Analytics and Optimization Manager at WestJet Airlines
Listen to the new episode of the Diggintravel Podcast about airline digital optimization maturity via the audio player below, or read on for key highlights from our talk with Matt:
And don't forget to subscribe to the Diggintravel Podcast in your preferred podcast app to stay on top of airline digital product, analytics, experimentation, user research, innovation, and other trends!
What Is Digital Optimization and Why Should Airlines Be All-in on It?
One thing I realized as I was preparing for my chat with Matt is that "digital optimization" is a term that has many different interpretations among airline digital leaders. So, before digging deeper, I wanted to start with the basics. I wanted to learn how Matt defines digital optimization.
In my view, when I talk about optimization, my background is digital, so I'm usually talking about optimization on web or digital properties. In that case, usually it involves doing experimentation and testing and seeing what works and what doesn't with your customers. Also, I bring into that personalization as well.

I think testing and personalization go hand in hand. I think you really need to test experiences to understand what's going to work with your customer segments. That's my thinking around what an optimization program is: How do we experiment and make things better for the customers? And then give them a personalized experience that's going to make them enjoy the experience of purchasing, in the airline industry, a flight, purchasing a vacation package, checking their loyalty program. What is their journey? What works through experimentation for that specific segment? And then giving them a personalized experience, giving customers an experience that they'll enjoy and come back for. I think that's key in optimization.
Making things better for the customers is definitely a great way to describe digital optimization and experimentation. Looking back at his journey at WestJet, Matt shared some numbers that should convince all airline digital pros that digital optimization is not only great for customers, but also creates value for your organization:
One of the things I'm pretty proud about is our programs saw that we doubled monthly web visits and generated over $300 million in incremental revenue. That was with mobile alone. And also didn't compromise any customer satisfaction levels at the time. So we saw some great growth. I was also there over the pandemic, and we definitely saw a lot of uncertainty, of course. A loss of revenue, as everyone else in the industry knows about. So I'm talking about the very good times, the 2019 times, and then the drop, and now we're seeing those passenger levels and revenue levels start to come back, which we're very excited about.
Growing and Evolving Your Airline Digital Optimization Program
The key topic I wanted to zoom in on with Matt was how to grow and evolve a digital optimization program. Recently, Matt wrote a great article in which he published his digital optimization maturity model.
How to organize your digital teams as your optimization program grows and matures is a fascinating topic, and it's one we've explored in detail in the past (if you want to learn more about various experimentation organizational models on a broader company level, listen to our interview with experimentation leader Stefan Thomke). But I wanted to be more pragmatic with Matt, so I was curious to hear his view on the best way to start the airline digital optimization maturity journey.
Yeah, there are 5 steps in the model. I think it's important too that sometimes it's not really a linear process as well. It's like you can move from different stages back and forth depending on your needs. First off is enterprising, I think this is more when you onboard the tools for testing and personalization. I'm very familiar with Adobe Target, and that's what we used at WestJet, and that's what I'm using with a lot of our clients today, which has the testing capabilities but also personalization. But the first step in the optimization model is enterprising, and this is where you have maybe one individual who's part of a digital team or part of a content team who starts working on testing.
The role Matt described is something we've called "digital optimization enthusiast" or "digital optimization champion" in the past in our models.
That's a great name for it, actually. Very enthusiastic about testing, sees the potential. I feel like I was this person when I was at WestJet. [laughs] This was my introduction to getting into data and testing. I started working and doing a bit of this and building out that program. I saw the potential and got very excited and bought in really easily, and then I tried to tell everyone, "Hey, this works.". You can start doing a few tests here and there. My suggestion is always to look for low-hanging fruit with colors, copy, things like that. Easy things you can easily change.
From Centralized to Hybrid Model
Most airlines move through different maturity phases (for example, from a centralized team to models like LATAM Airlines that have several digital teams working on optimization). Looking back through their journey at WestJet, I was curious about some of the key learnings for Matt and his team.
I became the team lead for optimization, and then I really started to dig into why – what I noticed was the team was doing some great testing and having some great results and giving people reports, but nothing was being actioned. Changes weren't taking place on the site. It was obvious that there were clear winners that weren't being accepted. I was curious why this was because it had been proven that certain things generated more revenue in certain places, or a better experience, but a lot of times there was testing results that were being ignored.

What I realized was with the centralized model, it was really hard for one team to go in to another team – say a product team that's very focused on their roadmap – and try to say, "Hey, you need to do this" or put tickets on their roadmap and say, "This is important" without the buy-in. It was like you threw things over the fence and just hoped that people would take it.

What I really think is essential is getting the buy-in of the product teams that you're working with and the things that you're testing to understand the testing process and understand what goes into it, and then get them excited about wanting to test things and wanting to run experiments and make that really good user experience. I think ultimately, their goal is to make the best experience for their guests, and testing is essential to doing that.

So getting into their sprint cycle or their process and building testing into that process is key, and that's something that we really try to do at WestJet. That's where you start to move into the hybrid model and move up the maturity, when you get testing right into that sprint.
Showcase Your Results
Most of the airline people that I talk to say that to take optimization and experimentation to the next level, you have to have dedicated development resources or a pipeline. But the reality is that most airlines don't have that. In that role, the soft skills, the internal sales skills, and the communication skills with your product team are key. Matt agreed:
Yeah, and I think in that situation, when you have limited resources, you try to do what you can with what you have and showcase the results. I think that's how you then get buy-in from leadership to help you add those resources needed.

If you can showcase that you're adding incremental revenue through your testing program, and your leadership sees that incremental revenue or increased experience in certain ways or – I know revenue is a huge important piece of the pie, getting buy-in from the leadership, especially in the airline industry where your margins are so thin. If you can showcase that, you can start to ask for those resources to become available, and I think that's how you start to build the program out a little bit more.
Going back to our definition that the main purpose of digital optimization is making things better for the customers, Matt highlighted the opportunities in the post-pandemic world:
I know things are still getting back to pre-pandemic levels, and it's hard, but I think there's a big opportunity for airlines right now to win at customer experience. Everyone's going to have issues with staffing, they're going to have issues with baggage, they're going to have issues with cancellations. That's just going to be common nature. There are some things that you can't avoid. But I think if you can improve the customer experience, even in those situations, that's where you're going to win and that's where you're going to build loyalty.
Tools, Data and Other Elements of Your Airline Digital Optimization Maturity
Of course, the organization of your digital team is not the only aspect of airline digital optimization maturity. There were other aspects we addressed in our chat with Matt. If you want to learn more about these topics, please listen to the full Diggintravel Podcast chat on your favorite podcast platform or via the podcast player embedded in this article:
Digital analytics, testing, and optimization tools
Should you do optimization and personalization within the same team?
Leveraging first- and third-party data for your optimization activities
Do You Want to Listen to More Talks With Airline Digital  Leaders?
If you want to learn from leaders like Matt about airline digital optimization or want to be the first to know when our next Airline Digital Talk will be published, please:
Iztok Franko
I am passionate about digital marketing and ecommerce, with more than 10 years of experience as a CMO and CIO in travel and multinational companies. I work as a strategic digital marketing and ecommerce consultant for global online travel brands. Constant learning is my main motivation, and this is why I launched Diggintravel.com, a content platform for travel digital marketers to obtain and share knowledge. If you want to learn or work with me check our Academy (learning with me) and Services (working with me) pages in the main menu of our website.