Airline Data Science Talk [LATAM Airlines case – Part II]
Iztok Franko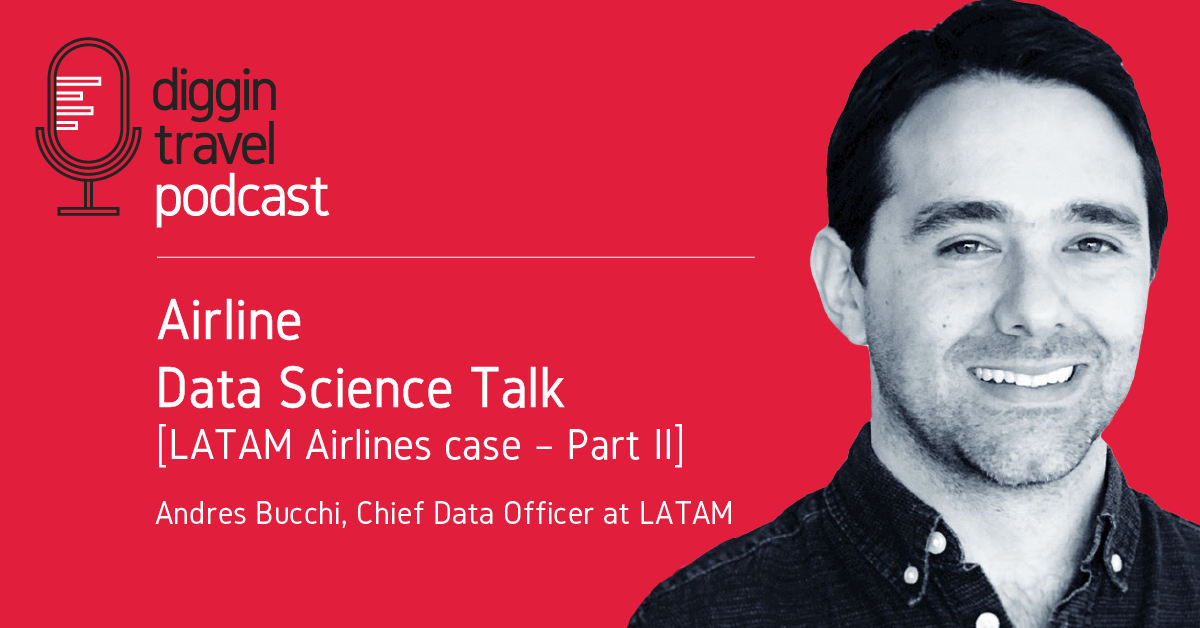 This is the second part of our series of talks about airline data science with Andres Bucchi, Chief Digital Officer at LATAM. If you missed the first part, where we talked about experimentation and scientific decision-making, you can find the summary and full podcast audio here.
In the past, I've talked with airline chief digital officers and chief data officers about how to build a data-driven culture in airline organizations.
But we'll talk about taking the next step here.
We'll talk about how to establish data science practices that we mostly see in Big Tech organizations in a large airline environment. Or, to put it in the words of Andres, how to make a cultural change towards a more scientific organization.
ChatGPT has taken the world by storm (and yes, we talked about ChatGPT at the end of our chat), so I strongly believe that there couldn't be a better moment for the cultural change Andres talked about.
Airline Data Science – Talk with Andres Bucchi, Chief Data Officer at LATAM
Listen to the new episode of the Diggintravel Podcast to learn about how to build a data science organization in the airline environment, or read on for key highlights from our talk:
And don't forget to subscribe to the Diggintravel Podcast in your preferred podcast app to stay on top of the latest airline data science, digital optimization, and UX trends!
Learning from Big Tech: Building Data Science Teams and Culture
Based on my previous interactions with Andres and some very smart members of his data science team, I was impressed by the scale and velocity of embedding data science into various parts of LATAM Airlines organizations. So, I was curious, based on Andres' past experience at Uber, about whether he's trying to implement some Big Tech principles at LATAM.
We have a lot to learn from Big Tech, and there are big gaps we can fill. There are three things you can grab from Big Tech that would help most of the businesses that are traditional businesses like airlines and are going through the digitization process.
One of the key questions when you try to implement a new way of working, be it experimentation, digital optimization, or data science, is what kind of organizational model to adapt. This is especially relevant in a large organization like LATAM Airlines.
Democratized data science model
This is why it was not a surprise to me that the first thing Andres highlighted was the way to structure and organize airline data science.
The first one [first learning] is the operational model, meaning how you work with people. Things in Big Tech are very nimble and very democratized. You lever on your power to bring talent. If you're good at bringing talent, then you give them the tools and orientation for you to move faster.
We've written about similar models in the past when it comes to experimentation and digital product, so I wanted to be sure Andres was talking about a similar democratized model: not a big, centralized airline data science unit, but rather having data science skills spread across the organization.
Exactly. And you make sure that everybody has some sort of skill. Maybe you're not going to have the most talented data scientists in a specific thing everywhere. That's not only expensive, but there are probably not so many around, and if they are, they are probably working on huge problems at Amazon. Not to look down on our industry; the problems we are facing are awesome, but we're not there yet.

Organize around results
I was intrigued by this model, so I wanted to learn more – or rather, see an example of how that works in practice.
Examples of that [democratized model] is what I mentioned, Big Tech organizations are organized around results. There is this conception that there are organizational models you can stick with and are going to work. That's true for a while, but after you're following results you realize that Big Tech companies reorganize themselves constantly.

You would end up seeing two teams doing the exact same thing with different approaches competing against each other. And when one team has more evidence in favor of their strategy, the next day the other team is reassigned to a new challenge. This does not happen in most traditional companies that are on their digital journey. Maybe big and constant changes are something people are afraid of.
My experience with most airlines is that changes don't happen fast, and most organizations are very hierarchical. How difficult is to establish a democratized environment where scientific principles are adopted across several teams?
Cultural change towards a more scientific organization is incredibly challenging. Bringing in talent that understand this problem has a huge benefit because once you bring people that understand how to do it and you see results, people around them learn. Because everybody wants to do things better.
Should everybody become a data scientist in the future?
I knew Andres was talking about democratizing data science, but I still wasn't 100% sure if the talent he was talking about was the talent needed in a data science department or in different business units. The other question that I couldn't stop thinking about was: Should everyone become a data scientist in such an environment?
If you really want to conquer this problem, that separation should go away. There should be no separation. There is just a continuous between people that get very involved with technical and people that get less involved with technical. There should be no extremes.

People that are incredibly technical and are away from business usually don't succeed. And people that today will remain away from the technical part and just focus on the business also are probably not going to be moving as quickly as they should. So things will naturally tend to converge in some point in between. But you need to help it. People need to see that it's productive to be more scientific.

That's why you need to bring people that are closer to the business and understand technical things.
But to establish such an environment, you probably need business people or leaders that understand the potential of doing things differently – the potential of doing things more scientifically?
Yes. And there is no need for them to code. How Big Tech works on this is they have very flexible career paths.

So, at some point if you are a data scientist, even if you are very technical, if you want to progress you'll have to choose. If you want to stay in the individual contribution side, you'll need to still be kind of a project manager, making sure that people are on track and you get end-to-end results. Or you're going to go managerial side, and you get first like apprentice technical, apprentice manager, then you go to manager. When you start doing things like that, you're pushed into the business side, into product side. So, you can become a very good product manager, you influence product managers that are not very technical, and they become better technically.

This way you end up with very complete talents that end up very high in the organization making the calls.
Airline Problems Are Fun – "Sell" Them to Bring in the Top Talent
For such a model to work, one would assume you need a lot of smart people who are open to learning about data science, and learning how to leverage it to solve complex business problems. This is where Andres offered another comparison to Big Tech.
The other big difference that we can work on to make this [transformation] quicker – and we're working on this at LATAM – is that we need to bring in the top talent.
This seems kind of obvious, but the challenge I see with airlines when it comes to digital talent is that our industry is not always perceived to be as digital or as data-driven as the Big Tech companies. Andres highlighted one aspect that airlines can leverage to attract talent.
This is a challenging thing for airlines because you don't always have the best brand as an employer for science. But you can work on it. Because problems in most other industries are not as fun as they are in the aviation industry. I come from retail, and I can say hands down that airline problems are much more fun.
In the end, we went full circle, back to where we started our chat: Andres mentioned experimentation and a scientific approach to decision-making as a key factor for attracting talent.
There is one more thing, going back to our talk about experimentation. The drive that experimentation has on product design is incredible. Mesmerizing. Everybody is thinking about the next experiment, and that's what's driving design. Expert opinion is important, but only for a few days until you get some evidence for a hypothesis and then you go ahead and test it.

So these things, if you look for them in your airline, you can really start pushing it towards how Big Tech looks. At least in the most common things, the common ground you should share. The other things depend probably on your airline business model. In our case, our CEO has a background in physics, so it's great to talk to him about science. And it's great that he has an open mind to change.
Do You Want to Listen to More Talks With Airline Digital and Data Leaders?
If you want to learn from leaders like Andres about data science and digital products or want to be the first to know when our next Airline Digital Talk will be published, please:
Iztok Franko
I am passionate about digital marketing and ecommerce, with more than 10 years of experience as a CMO and CIO in travel and multinational companies. I work as a strategic digital marketing and ecommerce consultant for global online travel brands. Constant learning is my main motivation, and this is why I launched Diggintravel.com, a content platform for travel digital marketers to obtain and share knowledge. If you want to learn or work with me check our Academy (learning with me) and Services (working with me) pages in the main menu of our website.