Airline Conversion Optimization Webinar: CRO is a Must for Airlines, But Where Should They Start?
Iztok Franko

This special Airline Conversion Optimization Webinar is a part of the Airline CRO 2017 Project which focused on conversion rate optimization in the airline industry.
In the webinar I used real, fresh, independent data that Diggintravel team gathered with the Airline Conversion Optimization Survey and research.
A Quick Overview of the Airline Conversion Optimization Webinar Content:
The webinar content is structured into three main parts:
Commentary on the key findings of the Airline CRO survey
Airline CRO Framework and key scenarios
Key challenges of airline CRO and suggested next steps
The Story Behind the Airline CRO 2017 Project
Most airline marketing and even e-commerce departments still focus primarily on customer acquisition and have developed mature digital processes around it. There is a multitude of materials and information on airline digital strategies that include paid advertising, email marketing, Search Engine Marketing (SEM), Search Engine Optimization (SEO), and even social media.
On the other hand, it is really difficult to find information on how airlines do conversion optimization (with a few exceptions). On the other hand, there is a lot of talk how airlines should become better digital retailers.
If using challenges of traditional retailers as an analogy, we have to translate in-store behavior, store organization and flows into user experience (UX), the booking funnel, online user behavior, and analytics.
If airlines don't know what customers are doing on their website, what are their frustrations, why and at what stage they are leaving, they can't help them nor optimize conversion. In order for airlines to become real digital and online retailers, mastering CRO is a must.
So, Diggintravel wanted to dig deeper. We wanted to be sure where exactly the Airline industry stands with CRO. We wanted to evaluate CRO maturity within airline organizations. So, in October 2017, we started the Airline CRO 2017 Project—by launching the first ever Global Airline CRO research.
Download your full copy of Airline CRO 2017 Research report here »
As a result of the research, we were able to create an Airline Conversion Optimization Maturity Model. By that, we managed to identify all the challenges and gaps, and find which examples and paradigms are the ones that will help airlines the most.
 How You Can Use Our Airline CRO 2017 Research Data and Webinar to Your Benefit
The Maturity Model helps airlines strategically plan the actions needed to advance their CRO process in each area. By listening the webinar and reading our Airline CRO research report PDF, you will be able to benchmark your airline, pinpoint your gaps, and then focus your strengths into most-needed optimizations.
From this webinar's presentation slide you can see key scenarios that could be a part of your future conversion optimization efforts: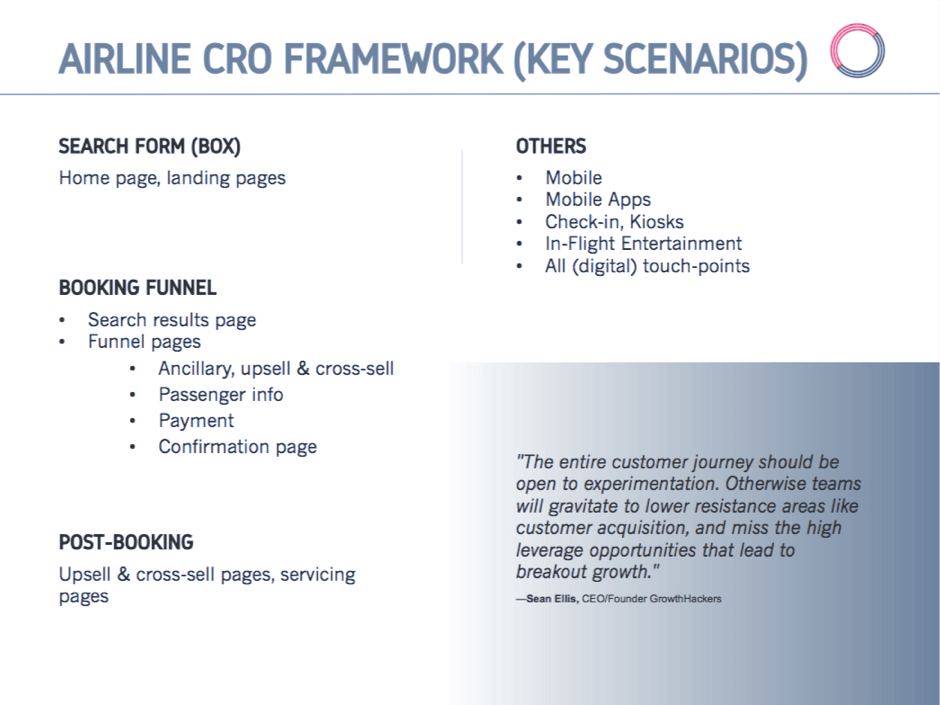 Want To Learn More About Airline Conversion Optimization?
Iztok Franko
I am passionate about digital marketing and ecommerce, with more than 10 years of experience as a CMO and CIO in travel and multinational companies. I work as a strategic digital marketing and ecommerce consultant for global online travel brands. Constant learning is my main motivation, and this is why I launched Diggintravel.com, a content platform for travel digital marketers to obtain and share knowledge. If you want to learn or work with me check our Academy (learning with me) and Services (working with me) pages in the main menu of our website.