Airline Ancillary Revenue Leaders Talks [Frontier Airlines Case]
Henry Harteveldt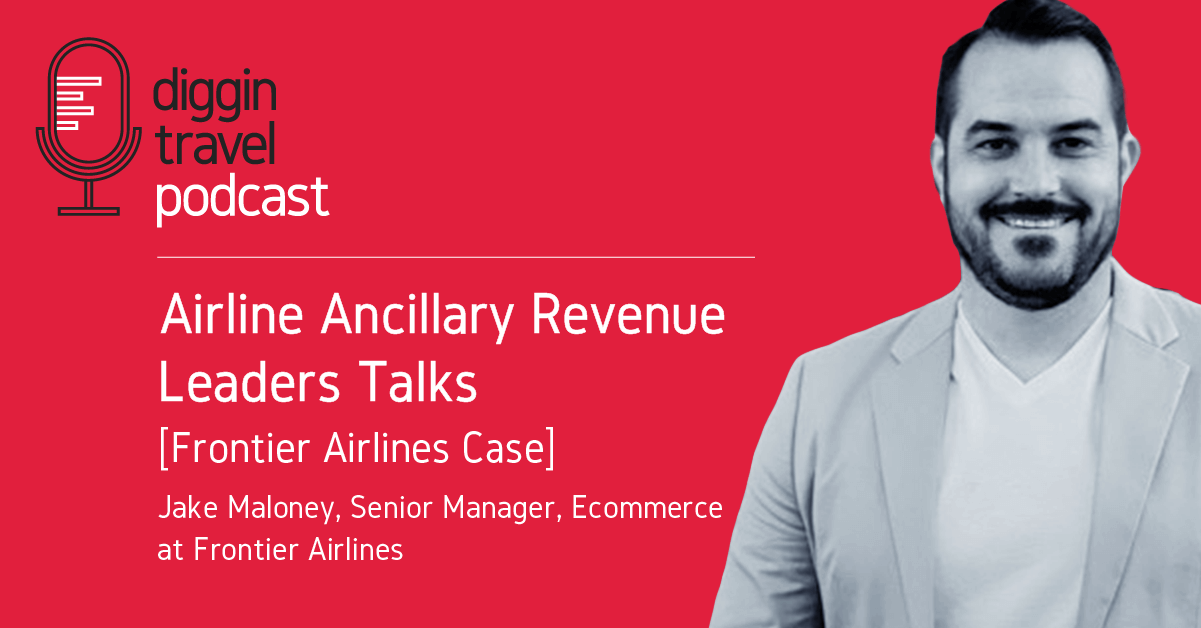 Welcome to our newest joint Diggintravel-Atmosphere Research "Digital Airline Cabin Talks" interview with airline ancillary revenue leaders, sponsored by SITA CrewTab. Recently, Iztok and I had the opportunity to talk with Jake Maloney, Frontier Airlines' Senior Manager, Ecommerce.
We were thrilled to speak with Jake because Frontier Airlines is a digital commerce powerhouse. In its Q1 2022 earnings release, the airline announced that it generated an average of $69.28 in ancillary product revenue per passenger. In its June 2022 quarter, Frontier reported a record $74.96 in ancillary revenue per passenger.
Airline digital innovation and transformation – Talk with Jake Maloney, Senior Manager, Ecommerce at Frontier Airlines
Listen to the new episode of the Diggintravel Podcast and get insights from airline ancillary revenue leaders via the audio player below, or read on for key highlights from our talk with Jake:
And don't forget to subscribe to the Diggintravel Podcast in your preferred podcast app to stay on top of airline digital innovation, experimentation, digital products, ancillary and other trends!
Airline Ancillary Revenue Leaders Merge Marketing, Ecommerce, Merchandising, Pricing and UX
Jake joined Frontier nearly five years ago and is responsible for all of the airline's consumer-facing digital commerce activities, including its website, mobile app, and airport kiosks. His background spans not just digital commerce, but also advertising, digital design, email marketing, product marketing, and business analysis, enabling him to bridge the many gaps between digital commerce and other functions, especially marketing and IT.
Our far-reaching conversation with Jake ranged from his professional background to how his group achieves its impressive digital commerce results to the challenges of collaborating with colleagues in the airline's hybrid work environment.
We began our conversation with Jake by asking him to share some insight into his background, especially not having worked at an airline before joining Frontier. He responded:
Coming from outside of the airline industry certainly gives you the true view into the customer and the end user, so it really is all about not just providing a great customer experience from a digital perspective, but the entire journey, whether that be driving to the airport, sitting on the plane, getting ultimately to your final destination and that full journey that the customer experiences.

It goes far and beyond digital, so I think certainly my experience brings a lot of that to bear. And then obviously on the technical side of things, airlines operate on a lot of different systems, some of which are very legacy-based. There's a lot of technological hurdles to overcome when you're thinking through really great integrated customer experiences.
At Frontier, digital commerce is part of the airline's marketing organization. Jake's team is responsible for Frontier's digital customer experience, including design, UI, and digital UX. The group has a "hub-like" role across the airline, working with departments such as pricing, revenue management, ancillary product, and loyalty to incorporate their content in the various consumer digital channels.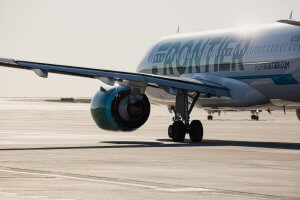 Experimenting with pricing and offering is the key to ancillary revenue growth
Frontier's website is its primary distribution channel. We asked Jake to share some of what he and his colleagues do to be so successful in getting many of the airline's passengers to attach so much to their "shopping carts" beyond just the base fare.
We are indeed one of the most successful in selling ancillary and bringing in that revenue. A big part is really thinking through how we merchandise things and when we merchandise things, but also pricing variations and really intelligently thinking through how pricing affects that attachment and the propensity of the customer to ultimately convert. So again, there's a lot of moving parts to that, but it's primarily pricing strategy and merchandising decisions.
Personalization isn't currently playing a role in Frontier's digital commerce (it's on the airline's digital roadmap), but dynamic pricing and cohort analysis are. What works well for Frontier, according to Jake, is "the magic of the customer experience that we have today and the pricing structure that we utilize."
Jake said that even minor user experience and pricing tweaks can produce major improvements in sales – illustrating the importance for airline digital commerce professionals to embrace continuous testing. Here at Diggintravel, we mostly talk about experimentation on the UX level when we analyze how airline ancillary revenue leaders are doing digital optimization, so we were curious if experimentation is a big part of Frontier's pricing and digital merchandising initiatives.
Absolutely. Those decisions are made multiple times a day, actually. There are pricing models and variations that are constantly being iterated through.
We discussed the challenge of finding and maintaining the ideal balance between ecommerce and merchandising. Doing so forces Jake to wear two hats: striving to increase conversion and sales while delivering the smoothest and best possible digital user experience. Jake shared:
It is difficult, and there is a very fine balance. On one hand you have people very concerned with the bottom line and just bringing in revenue, and on the other side you've got to balance good customer experience. It's a constant alignment, I guess you could say.
How to Build Innovative Ancillary Revenue and Subscription Products
Frontier is one of the few airlines worldwide that sells subscription products. Frontier's Discount Den product offers benefits such as access to exclusive discount fares, free flights for kids, and more for an annual fee. The product ideation, experience design, and implementation processes are complex but, if well planned and executed, can deliver sizable results.
The process is usually somebody, whether that's the ancillary team or the loyalty team, has an idea in their mind. It could also come from executive leadership, of course. And we are tasked with figuring out the 'how' – and not necessarily the 'why' all the time, but definitely the 'how.' You really just get in a room and you start whiteboarding and mapping things out and looking at the various scenarios.

Then on the other side of that is the customer experience. I think what we've shown…is that simple user experience and merchandising tweaks can have very, very big impacts for the customer and the company's bottom line. We recently did a redesign and overhaul of the Discount Den upsell experience through booking and the profile page, and it had a major impact. We initially saw a 50% or 60% increase in Discount Den signups and renewals, and that was just from minor user experience tweaks.
Something almost every digital marketer faces, in every business, is the growing challenge of obtaining third-party data and cookies given privacy laws and growing consumer concerns, and how this environment complicates targeting. For Frontier, the challenge – and opportunity – is to capture and aggregate the data in a usable manner:
Data is certainly a challenge and will continue to be so more and more as privacy takes more of a foothold on any industry that is heavily reliant on data. There's no shortage of data (the airline's loyalty program and subscription products like Discount Den play key roles in its data collection strategy). There's more than we could ever imagine to use.

Where we struggle is compiling [data] in a digestible format so that we can use it intelligently. That's probably the biggest hurdle from a data perspective. I think we can probably overcome it through a combination of technology and having the right people that can focus on it and aggregate the data in a truly intelligent way.
Regardless of the workplace model, collaboration is key
As a "hub-like" function, digital commerce is central to any airline. Like many companies, Frontier has embraced a hybrid work environment for many of its departments, digital commerce included. Has this affected the department's ability to collaborate with one another, and with its key partners across the airline?
We've found that collaboration is quite interesting when you're in a virtual world. We were so used to being in person and having that personal interaction while collaborating, and there was a ton of value to be had in being able to just pop down to somebody's cube or office or desk and talk through something really quick. So we adapted to this very virtual world. I think we've shown that it can certainly be done.

Now we're back to this hybrid [environment] where you're realizing, 'I'm not as efficient when I'm in the office and there's a lot more distractions.' It's harder to multitask. We got really used to being able to multitask and do a million things when you're on a call while still trying to engage and interact. Then you come into the office and it's like, 'Oh wait, now I can't multitask. I'm sitting in front of somebody. I can't just be plugging away on this or that while I'm talking to them.' It's been an interesting transition, and I think we're still getting used to that hybrid model.

We're grateful to Jake for generously sharing his time and perspectives with us. What we've shared here is just a portion of what we discussed. We invite, and encourage, you to listen to the complete podcast.
Do You Want to Listen to More Talks With Airline Ancillary Revenue Leaders?
If you want to learn from leaders like Jake about innovative airline digital products or want to be the first to know when our next Airline Digital Talk will be published, please:

Henry Harteveldt
Henry Harteveldt is a well-respected travel industry analyst and President of Atmosphere Research Group, an independent strategic travel industry marketing research and advisory firm. Prior to starting Atmosphere, Henry ran Forrester Research's global travel industry research. Henry's airline industry experience includes various Marketing roles at Continental, TWA, and American. To learn more about Henry's research, you can either email him (henry@atmosphereresearch.com) or get in touch via LinkedIn.